Zhenjiang Attractions - Things to Do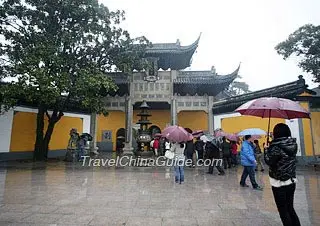 Jinshan Temple
Top Things to Do in Zhenjiang

Jiao Hill


Jinshan Hill Park

Ancient Zhenjiang has been embraced by green hills and clear waters for thousands of years while located at the junction of the torrential Yangtze River and the old Grand Canal. Nature has endowed her with abundant charming sceneries, and history has left her numerous cultural relics as well as a heavy cultural connotation.

Zhenjiang has three famous hills: Jiao Hill, 5 kilometers (3.1 miles) northeast of the city center, Jinshan Hill, 2.5 kilometers (1.6 miles) northwest of the urban area, and Beigushan Hill in downtown Zhenjiang. These were regarded by many poets and scholars in ancient times as the most attractive sites south of the Yangtze River. Today, numerous people are still attracted to the hills, each of which offers its own special characteristic: the majesty of Jiao Hill, the picturesque scenery of Jinshan Hill, and the steepness of Beigushan Hill.

Ancient charming hills are usually accompanied by ancient temples, especially in Zhenjiang, an ever prosperous city in Chinese history. The 1,500-year-old Jinshan Temple in Jinshan Hill Park and the 1,400-year-old Dinghui Temple in Jiaoshan Hill are significant places for Buddhism activities in China.

The Nanshan National Forest Park, located 2.5 kilometers to the city center, is an integration of peaceful landscapes and cultural relics. There are three ancient temples that were built in the Eastern Jin Dynasty (317-420), including Zhaoyin Temple, Zhulin Temple and Helin Temple, all of which offer lovely landscapes with the heavy green woods and bamboos, and reveal the trace of history.

The trace of history can also be found easily in downtown Zhenjiang. For example, the Xijin Ancient Ferry Street was built in 2nd century and has experienced numerous renovations in the later dynasties. Today, buildings in the architectural styles of many dynasties such as Yuan (1271-1368) and Qing (1644-1911) still can be found in this street.
- Last modified on Jun. 25, 2019 -