Jingdezhen Attractions - Things to Do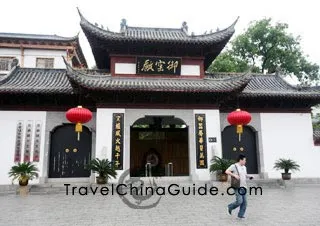 Jingdezhen is located in the transitional area between the Huaiyu Mountains and the Poyanghu (Poyang Lake) Plain and you can see the hills and plains from the city. The area has a subtropical monsoon climate, which means the weather there is generally fine but there is sometimes heavy rain in the monsoon season. This weather ensures that the natural scenery here is very beautiful. In addition there are human cultural attractions such as many ancient ceramic kiln sites. Therefore, the region always attracts a good many visitors with lots of things to do.



Ceramic History Museum


Jingdezhen Old Street

Top Attractions along Different Bus Routes
By Tour Bus No.1
Tour Bus No.1 starts from the People's Plaza and passes by Jingdezhen Ceramics Museum, the Longzhu Pavilion, the Imperial Kiln Site and the Ceramic History Museum.

Jingdezhen Ceramics Museum collects a lot of famous porcelain made in the ancient times. Through the exhibition, visitors can obtain a good understanding of the history of local ceramics industry.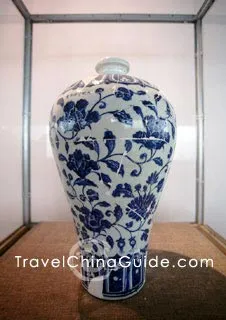 Longzhu Pavilion is located on the top of the Zhushan Mountain of Jingdezhen. It is a monument to local ceramic industry. In the Ming and Qing dynasties, it was a place for making ceramics for the imperial family which means there are a lot of precious culture relics of those two dynasties on display.

The Imperial Kiln was used to produce porcelain for the imperial palace in Yuan, Ming and Qing dynasties. In recent years, plenty of precious porcelain has been found there. Scientists have researched them and made many great discoveries which have a great influence on the archeological world.

The Ceramic History Museum (also Jingdezhen Ancient Kiln and Folk Museum) is located in the Panlongshan (near the Cidu Road), the western suburb of Jingdezhen. It has a rich collection of over 5,000 cultural relics.

By Tour Bus "People's Plaza ←→ Fuliang Ancient County Government"
The Fuliang Ancient County Government is in the suburb of Jingdezhen. It is a well preserved ancient county government site, which was set up 1,100 years ago. In it, you can see the official robes, sedan chairs and even instruments of torture. Visiting the site of the ancient county government is really a good chance to understand the politics of ancient China.

By Tour Bus "People's Plaza ←→ Yaoli Town"
Yaoli is in Fuliang County which is 50 kilometers (30 miles) from downtown Jingdezhen. With good forest coverage, abundant animal resources, characteristic lanes, the town is well-known for its beautiful natural scenery. Additionally, it is the cradle of the local ceramics industry. Gaoling (Kaolin) Village located in Yaoli once provided enough raw materials for making porcelain in the ancient times. Today, Kaolin, a world famous kind of clay, is named according to its Chinese pronunciation.

By Tour Bus "People's Plaza ←→ Moon Lake Scenic Area"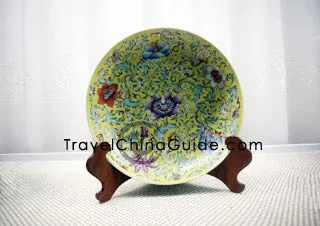 The Moon Lake Scenic Area lies in Liyang Town in Changjiang District. It is 10 kilometers (6 miles) from downtown Jingdezhen. There are many hills and lots of wild birds inhabit the area. It got the name because of its moon-shape. Besides the charming scenery, it has some entertainment facilities, such as motorboats and luxury speed boats and also you can enjoy fishing there.

In addition to the above attractions, you can go to stroll on the famous Jingdezhen Old Street (Sanlumiao Gujie), which is made up of the Ming Street, Qing Street and the Old Pier. There, you will get a deep insight into the ancient Chinese ceramic culture.

Tip: You can take the city buses Nos.1, 4, 5, 6, 8, 11, 12, 16, 18, 20, K26, K35, or K106 to the People's Plaza (Renmin Guangchang) which is also called Xiuxian Plaza.
- Last updated on Apr. 08, 2021 -
Questions & Answers on Jingdezhen Attractions
Asked by Dani77 from CHINA | May. 23, 2011 21:57

Reply
Where is the best and cheapest place in Jingdezhen to buy ceramics?
Vase, plates, tea set, etc.?

Answers (4)
Answered by James from CHINA | May. 24, 2011 02:54

0

0

Reply
Ceramics World in Lianshe North Road, and that is a ceramics street, good place for ceramics artwork. For tea set and plates, you can find them in this street too. Beside Jinchangli Ceramics Market (金昌利陶瓷市场) in Lianshe South Road is a better place.
Answered by Mr.TOURGUIDEDING from CHINA | Aug. 05, 2013 10:27

0

0

Reply
Hi, Dani

There are two ceramic market have the best and cheapest ceramic pruducts that you want, one name is JingChangLi, the other one named GuoMao.
I would like to help you if you arrival in JDZ
Please feel free if you have any questions about JDZ, I am a local tour guide.

Best wishes
Ding
Answered by Guest from USA | Oct. 14, 2013 02:04

0

0

Reply
English speaking local guides can be very useful. Some students can readily offer you FREE guide service to improve their English.

For professional guides expect to pay per day 200RMB to 250RMB or 20-25RMB per hour (maximum)

Enjoy your Jingdezhen - porcelain city visit.
Mark
USA
Answered by Christine | Jul. 09, 2014 19:55

0

0

Reply
Ding, would you be available Monday, July 14th as a guide?
Asked by Ms.Joanna from CHINA | Mar. 12, 2010 01:11

Reply
The fine ceramics from Jingdezhen are rightly famous. I am thinking of visiting to see for myself. Do you know whether the coloured tiles used on pavilions are made there? Also, can one find tables and stools such as you see in gardens? Is it easy to find such things by just walking the streets?
Answers (4)
Answered by Mr.Kevin | Mar. 12, 2010 04:05

0

0

Reply
Ms.Joanna,

There are manufacturers that produce colored titles used on pavilions. But I have no idea if they make stone stools and tables.

Answered by Ms.Joanna from CHINA | Mar. 12, 2010 21:24

0

0

Reply
Thank you for your quick answer. I once bought a ceramic table and stool set so I just wondered. I'll have to go and look around. Good to hear they do have the tiles.
Answered by Mr.TOURGUIDEDING from CHINA | Aug. 05, 2013 10:23

0

0

Reply
Hi, Ms.Joanna

I am a tour guide in the city and l living this city 7 years already, I graduated from JDZ Ceramic Institute. Yes, we have the tile factory and the studios to make the coloured tiles and the tables and stools. The factory is not easy to find it by yourself, but the tables and stools will be easy to find it, there is a ceramic market named Guo Mao Ceramic Market have lots this kind product.
I would like to help you if you need a help for shopping.
Plesase feel free if you have any questions about this place
Ding
Answered by Joanna | Aug. 07, 2013 19:52

0

0

Reply
Many thanks Ding for your kind offer to help. You are a great ambassador! Actually I plucked up courage and set off for an adventure, taking a train from Shanghai and then a bus and another bus. After a visit to the museum and much unsuccessful hunting among a million shops selling a purple sand teapots (- many really pricey and exquisite, as well as cheaper everyday sets), I managed to find a ceramics table thanks to some wonderful people at an export teaware company. A worker knew a friend who used to have a jv in the same place as a specialist ceramics workshop making beautiful tables. The worker's boss entertained me with fine tea while the friend was called. He arrived by bike and and took me across town to introduce me to the ceramics workshop where I was able to buy a wonderful table set - emblazoned with magnificent dragons. The friend also took me to the tile factory where I saw the newly manufactured tiles come out of the furnace. People on the buses were friendly too and helped me get a taxi back to the town with the train station when I missed the last bus! I and my table are now back in the UK but I shall remember my adventure and the warm people of JDZ every time I see my table.