Qingyuan Travel Guide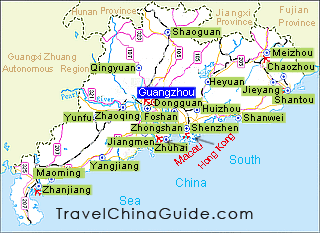 Qingyuan Facts
Chinese Name: 清远 (qīng yuǎn)
Population: 4,100,000
Area: 190,000 square kilometers (6,125 square miles)
Location: in the north of Guangdong Province, southern China
Administrative Division: 2 districts (Qingchen, Qingxin); 2 counties (Fogang, Yangshan); 2 autonomous counties (Lianshan Zhuang Autonomous County, Liannan Yao Autonomous County); 2 county-level cities (Yingde, Lianzhou)
Area Code: 0763
Zip Code: 511500
GDP (2018): CNY 156.52 billion (USD 23.65 billion)
Nationalities: Han, Yao, Zhuang

Township of Drifting with World's Widest Glass Bridge
Qingyuan is the largest prefecture level city in Guangdong Province. It is situated in the north of Guangdong, bordering with Guangzhou to the south, Hunan and Guangxi provinces to the north. Qingyuan has developed many rafting scenic spots due to abundant rainfall, numerous canyons and rivers, becoming the township of drifting. The most famous and large-scale ones are Gulong Canyon Rafting, Huangteng Canyon Rafting, Qinglong Canyon Rafting and XuanZhen Rafting, etc. The rafting course at the Gulong Canyon ranks first for its largest rafting fall and most exciting rafting experience. The Gulong Canyon also highlights the world's widest glass bridge. Travelers can also visit mystic Sanpai Yao Village to enjoy local traditional buildings, costumes, and folk activities. It is also available to take a weekend trip from Guangzhou as it only takes 20 minutes by bullet train.
Qingyuan Attractions - Things to Do
Gulong Canyon is composed of Great Glass Canyon, an International rafting course, Gulong Nine Waterfalls and Jungle Flight. The glass skywalk bridge is a total length of 1,314 meters (4,311 feet) long. Also, you can experience the most exciting and fastest rafting at the rafting course.
Guangdong Number One Peak: Situated in Nanling National Nature Reserve, Yangshan County, the peak is 1,902 meters (6,240 feet) ranking the highest peak in Guangdong. In this scenic area, there are several other scenic spots, such as the Yao's villages, waterfalls, alpine springs and drifting sites.
Sanpai Yao Village and Lianzhou Underground River
Sanpai Yao Village: Lies on the mountainside of the Sanpai Mountains, 11 kilometers (7 miles) south of the Liannan County, this Yao Village is a vivacious scenic resort comprehensively reflecting the history, culture, customs, residential buildings, costumes and folk entertainments of the Yao ethnic minority.

Lianzhou Underground River: 26 kilometers (16 miles) northeast of Lianzhou City, this scenic spot is characterized by the subtropical karst cave and the underground river inside the cave. It is a well known summer resort with stunning karst landscape.

Other Scenic Spots: Qingxin, Hot Spring Tourism & Holiday Resort, Daxushan Waterfalls
How to get to/around Qingyuan
In downtown Qingyuan, there are two main bus stations, the old one and the new one. From these bus stations, visitors can get to local scenic spots scattered all over the counties and cities there, and they can also take buses to
Hong Kong
for 4.5 hours, Guangzhou for about 1.5 hours and
Shenzhen
for 2.5 hours. Generally speaking, getting in and out of Qingyuan City is much convenient. Noted is that the city is only 30 kilometers (19 miles) from the
Guangzhou Baiyun International Airport
. Also, tourists can take train to Qingyuan.
See More
Yingde to Guangzhou Train
Weather
-
Qingyuan enjoys a subtropical monsoon climate, with an annual average temperature of 21

C (70

F). January and July has the extreme weather of the city. April to October is a damp season and the rainfall mainly concentrates on this period. Usually, the city do not have cold winters.

When to Go: It is an all-year-round destination. During April to October, adequate rainfall and beautiful natural sceneries contribute to the most charming time in a year.
Qingyuan Travel Tips

History: Before the Qin Dynasty (220BC-206BC) united China, this area was inhabited by many ancient minorities in South China, generally called Bai Yue. Qingyuan region partly belonged to Nanhai Shire and Changsha Shire during the Qin Dynasty. In the early Han Dynasty (206BC-220AD), it was governed by the Nanyue State, and the central government conquered it and brought this region into the Guiyang Shire later. Present Qingyuan City was established in 1988.



Physical Features: Lying in the linking area between the Pearl River Delta and the mountainous region in northern Guangdong, Qingyuan boasts the vastest area among cities in the province. The terrain is higher in the northwest and lower in the southeast. Plains, hills, mountains and karst landform coexist in the city.



Special Local product: tea, crystal pear, Shatian pomelo
- Last updated on Jul. 26, 2023 -
Questions & Answers on Qingyuan Travel
Asked by Deborah from CHINA | Jul. 26, 2023 21:40

Reply
Bus from Huadu to Qingyuan
What bus do I take? I live in Huadu centre. What is the cheapest way to get to Qingyuan?
Answers (1)
Answered by Lisa | Jul. 26, 2023 23:13

0

0

Reply
You can take a bus from Huadu District Bus Passenger Station to Qingyuan, which takes about 1 hour. The bus departs at 7:50, 9:00, 13:45,16:00 and it costs CNY25 per person.
Asked by Hens Putt from INDONESIA | Dec. 07, 2019 11:20

Reply
Hi, we have a plan to stop in Qingyuan (from Yangshuo) to visit the Huangteng bridge.
Do they have luggage storage in Qingyuan station? We will take the train again to GZ in the evening. Is that doable?
Thanks in advance
Answers (1)
Answered by Gina from CANADA | Dec. 10, 2019 16:50

0

0

Reply
Generally speaking, there is luggage storage place in railway station. You can ask for help from staff when you get there.
Asked by WinniePoon from MALAYSIA | Nov. 25, 2019 19:26

Reply
End of April until early of May suitable travel Qingyuan ?
May i know which month suitable for travel to Qing yuan ?
Thanks.
Answers (1)
Answered by Edith from CANADA | Nov. 27, 2019 22:30

0

0

Reply
April to September will be the suggested sightseeing time. Thus don't worry. Have a nice trip!
Asked by Nazrey from MALAYSIA | Nov. 08, 2019 02:32

Reply
The best way to go huangteng canyon glass bridge
Can i know the best way to go huangteng canyon glass bridge? Between Speed train

Bus, And what time for total journey? And if i choose to by bus, then what name of connections station to get huangteng canyon glass bridge? Tq for advance. ☺️
Answers (3)
Answered by Jennet from THAILAND | Nov. 11, 2019 00:00

0

0

Reply
I don't know where you start off, so I can only tell you that you could take bus 24/206 and let the driver remind you to get off at the HuangTengxia road junction and take a taxi to the scenic spot.
Answered by Nazrey from MALAYSIA | Nov. 13, 2019 01:09

0

0

Reply
My plan journey started from the Baiyun airport. What do you mean the bus is from guangzhou center?
Answered by Jennet from THAILAND | Nov. 13, 2019 17:25

0

0

Reply
Maybe you can take bus from Guangzhou City Coach station to Qingyuan station with CNY35, then take taxi to scenic area.
Asked by JS90712 from US | Oct. 31, 2019 20:34

Reply
Holyton Hotel-(35 Beijiang 2nd Rd, Qingcheng, Qingyuan) to Xinjunyue Hotel (126 Fengming Lu)
I plan to take bus from Baiyun Airport to Qingyuan (Xicheng District). Bus stops at Holyton International Hotel and I am staying at Xinjunyue Hotel- 126 Fenming Lu. How far is it from the bus stop / bus station to Xinjunyue Hotel- 126 Fenming Lu? How do I reach my hotel?
Answers (1)
Answered by Monica from AUSTRALIA | Nov. 04, 2019 18:33

0

0

Reply
The distance is around 1.5km so you are suggested to take taxi with around CNY5.