Qingyuan Travel Guide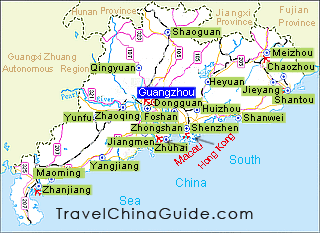 Qingyuan Facts
Chinese Name: 清远 (qīng yuǎn)
Population: 3,900,000
Area: 19,015 square kilometers (7,342 square miles)
Nationalities: Han
Location: Situated in northern
Guangdong Province
, Qingyuan belongs to the north end of the Pearl River Delta in geography. It is bordered by
Guangzhou
in the south, neighboring
Hunan
and
Guangxi
provinces in the north.
Administrative Division: 1 district (Qingchen); 3 counties (Fogang, Yangshan, Qingxin); 2 autonomous counties (Lianshan Zhuang Autonomous County, Liannan Yao Autonomous County); 2 county-level cities (Yingde, Lianzhou)
Useful Telephone Numbers:
Tourist Complaints: 0763-3364098
Tourist Inquiries: 0763-3123811, 3123822, 6816628
Weather Forecast: 121
Zip Code Inquiry: 184
Qingyuan Attractions - Things to Do
Guangdong Number One Peak: Situated in Nanling National Nature Reserve, Yangshan County, the peak is 1,902 meters (6,240 feet) ranking the highest peak in Guangdong. In this scenic area, there are several other scenic spots, such as the Yao's villages, waterfalls, alpine springs and drifting sites.
Sanpai Yao Village and Lianzhou Underground River
Sanpai Yao Village: Lies on the mountainside of the Sanpai Mountains, 11 kilometers (7 miles) south of the Liannan County, this Yao Village is a vivacious scenic resort comprehensively reflecting the history, culture, customs, residential buildings, costumes and folk entertainments of the Yao ethnic minority.

Lianzhou Underground River: 26 kilometers (16 miles) northeast of Lianzhou City, this scenic spot is characterized by the subtropical karst cave and the underground river inside the cave. It is a well known summer resort with stunning karst landscape.

Other Scenic Spots: Qingxin, Hot Spring Tourism & Holiday Resort, Daxushan Waterfalls
How to get to/around Qingyuan
In downtown Qingyuan, there are two main bus stations, the old one and the new one. From these bus stations, visitors can get to local scenic spots scattered all over the counties and cities there, and they can also take buses to
Hong Kong
for 4.5 hours, Guangzhou for about 1.5 hours and
Shenzhen
for 2.5 hours. Generally speaking, getting in and out of Qingyuan City is much convenient. Noted is that the city is only 30 kilometers (19 miles) from the
Guangzhou Baiyun International Airport
.
Weather
-
Qingyuan enjoys a subtropical monsoon climate, with an annual average temperature of 21

C (70

F). January and July has the extreme weather of the city. April to October is a damp season and the rainfall mainly concentrates on this period. Usually, the city do not have cold winters.

When to Go: It is an all-year-round destination. During April to October, adequate rainfall and beautiful natural sceneries contribute to the most charming time in a year.
Qingyuan Travel Tips

History: Before the Qin Dynasty (220BC-206BC) united China, this area was inhabited by many ancient minorities in South China, generally called Bai Yue. Qingyuan region partly belonged to Nanhai Shire and Changsha Shire during the Qin Dynasty. In the early Han Dynasty (206BC-220AD), it was governed by the Nanyue State, and the central government conquered it and brought this region into the Guiyang Shire later. Present Qingyuan City was established in 1988.



Physical Features: Lying in the linking area between the Pearl River Delta and the mountainous region in northern Guangdong, Qingyuan boasts the vastest area among cities in the province. The terrain is higher in the northwest and lower in the southeast. Plains, hills, mountains and karst landform coexist in the city.



Special Local product: tea, crystal pear, Shatian pomelo
- Last modified on Apr. 22, 2019 -
Questions & Answers on Qingyuan Travel
Asked by Ann from SINGAPORE | Apr. 21, 2019 20:09

Reply
How to go the Guangzhou glass bridge?
I stay around Zongyuanjian metro how to go glass bridge.
Answers (1)
Answered by Jenny from AUSTRALIA | Apr. 22, 2019 02:21

0

0

Reply
Do you mean Gongyuanqian Station? You can take Metro Line 2 to Guangzhou Railway Station and then walk west about 500m to take Qingyuan Shijiao Bus Line (清远石角) to Chini Station. After that, take Bus Line 15 to Zhongdongcun Station. Walk about 300m to Zhihui Farm where the Glass Bridge located.
Asked by jy from HK | May. 02, 2018 21:39

Reply
Hi, is there a train to take from Hong Kong to Qingyuan or is it better to take a bus there from HK?
Answers (1)
Answered by Emery from CANADA | May. 04, 2018 04:07

0

0

Reply
There is no direct train that operates between these two places. Thus you need to take a bus directly. The bus schedules are 07:00, 08:00, 13:00, 15:30, 17:30 and 18:30. It costs 130HKD per person.
Asked by ASI from PAKISTAN | Sep. 22, 2017 05:52

Reply
QingYuan Info
I am planing go, and plan to stay Kingdom Hotel located at No.6 Qinghe Ave. Qingxin County.

can anyone please advice me the nearest bus station and address ?

Answers (4)
Answered by William from AUSTRALIA | Sep. 25, 2017 01:01

2

0

Reply
The nearest bus station is Kaiyi Jiudian Station, in the front of the hotel, and you can take bus 106/107/108/109/210/307/309/ 312 to get there.
Answered by ASI from PAKISTAN | Sep. 25, 2017 05:47

0

0

Reply
thanks
kindly advice me, from GUANGZHOU the bus go any nearest place to HOTEL KINGDOM ?
Answered by William from AUSTRALIA | Sep. 25, 2017 20:50

0

0

Reply
Oh, you are trying to find a bus from Guangzhou to QY, and then another bus to Kingdom Hotel, right?
If so, you can take a long-distance bus from the Province Bus Station in 147-149 West Huangshi Rd, it takes CNY35 and about 70 minutes. After arrival, you can take bus 106 directly to your hotel (Kaiyi Jiudian). It takes about 15 minutes and CNY2.
Answered by asi from PAKISTAN | Sep. 26, 2017 06:08

0

0

Reply
oh really thanks, i appreciate your answer
Asked by ASI from PAKISTAN | Sep. 18, 2017 08:07

Reply
Kindly advised me the complete address of Qingyuan Bus Station.
If go by bus from Guangzhou and QY Train Station, if go with Guangzhou South
Answers (5)
Answered by Alex from GERMANY | Sep. 20, 2017 02:42

0

0

Reply
Well, do you refer to QY Xincheng Bus Station? It is located at No.8 Fengming Rd, Qingcheng District.
Answered by ASI from PAKISTAN | Sep. 21, 2017 09:00

0

0

Reply
your answer is so helpful for me, THANKS
kindly please advice me , from Guangzhou, i can take bus from any where to arrive QY ?
and near Bus Station can you suggest any 2-3 hotels , my budget is 250 RMB
Answered by Alex from GERMANY | Sep. 21, 2017 20:29

0

0

Reply
Well, you can take a bus from GZ Bus Station in 158 West Huanshi Rd, Yuexiu District, which takes CNY32 and about 1 hour.

Near it you can stay in Huangsheng Hotel in 27 West Guangyuan Rd, about 400 meters northwest to the station and costs around CNY220 per night. Or you can stay Zhanxi Hotel in 71 Zhanxi Rd, which is about 400 meters north and costs about CNY150 per night.
Answered by ASI from PAKISTAN | Sep. 23, 2017 06:15

0

0

Reply
i appreciate
and get your point to get bus from 158 West Huanshi Rd, Yuexiu District from there i will go to QY

but do you know where i can get off and any nearest hotel there ?

Answered by Alex from GERMANY | Sep. 24, 2017 21:03

0

0

Reply
Well, you will get off at QY Bus Station (Xincheng Bus Station), and there are many hotele nearby. You can stay in XinJunyue Hotel in 126 Fengming Rd, which takes about CNY100 per night.