Qingyuan Travel Guide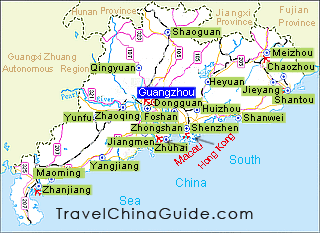 Qingyuan Facts
Chinese Name: 清远 (qīng yuǎn)
Population: 3,900,000
Area: 19,015 square kilometers (7,342 square miles)
Nationalities: Han
Location: Situated in northern
Guangdong Province
, Qingyuan belongs to the north end of the Pearl River Delta in geography. It is bordered by
Guangzhou
in the south, neighboring
Hunan
and
Guangxi
provinces in the north.
Administrative Division: 1 district (Qingchen); 3 counties (Fogang, Yangshan, Qingxin); 2 autonomous counties (Lianshan Zhuang Autonomous County, Liannan Yao Autonomous County); 2 county-level cities (Yingde, Lianzhou)
Useful Telephone Numbers:
Tourist Complaints: 0763-3364098
Tourist Inquiries: 0763-3123811, 3123822, 6816628
Weather Forecast: 121
Zip Code Inquiry: 184
Qingyuan Attractions - Things to Do
Guangdong Number One Peak: Situated in Nanling National Nature Reserve, Yangshan County, the peak is 1,902 meters (6,240 feet) ranking the highest peak in Guangdong. In this scenic area, there are several other scenic spots, such as the Yao's villages, waterfalls, alpine springs and drifting sites.
Sanpai Yao Village and Lianzhou Underground River
Sanpai Yao Village: Lies on the mountainside of the Sanpai Mountains, 11 kilometers (7 miles) south of the Liannan County, this Yao Village is a vivacious scenic resort comprehensively reflecting the history, culture, customs, residential buildings, costumes and folk entertainments of the Yao ethnic minority.

Lianzhou Underground River: 26 kilometers (16 miles) northeast of Lianzhou City, this scenic spot is characterized by the subtropical karst cave and the underground river inside the cave. It is a well known summer resort with stunning karst landscape.

Other Scenic Spots: Qingxin, Hot Spring Tourism & Holiday Resort, Daxushan Waterfalls
How to get to/around Qingyuan
In downtown Qingyuan, there are two main bus stations, the old one and the new one. From these bus stations, visitors can get to local scenic spots scattered all over the counties and cities there, and they can also take buses to
Hong Kong
for 4.5 hours, Guangzhou for about 1.5 hours and
Shenzhen
for 2.5 hours. Generally speaking, getting in and out of Qingyuan City is much convenient. Noted is that the city is only 30 kilometers (19 miles) from the
Guangzhou Baiyun International Airport
. Also, tourists can take train to Qingyuan.
See More
Yingde to Guangzhou Train
Weather
-
Qingyuan enjoys a subtropical monsoon climate, with an annual average temperature of 21

C (70

F). January and July has the extreme weather of the city. April to October is a damp season and the rainfall mainly concentrates on this period. Usually, the city do not have cold winters.

When to Go: It is an all-year-round destination. During April to October, adequate rainfall and beautiful natural sceneries contribute to the most charming time in a year.
Qingyuan Travel Tips

History: Before the Qin Dynasty (220BC-206BC) united China, this area was inhabited by many ancient minorities in South China, generally called Bai Yue. Qingyuan region partly belonged to Nanhai Shire and Changsha Shire during the Qin Dynasty. In the early Han Dynasty (206BC-220AD), it was governed by the Nanyue State, and the central government conquered it and brought this region into the Guiyang Shire later. Present Qingyuan City was established in 1988.



Physical Features: Lying in the linking area between the Pearl River Delta and the mountainous region in northern Guangdong, Qingyuan boasts the vastest area among cities in the province. The terrain is higher in the northwest and lower in the southeast. Plains, hills, mountains and karst landform coexist in the city.



Special Local product: tea, crystal pear, Shatian pomelo
- Last modified on Aug. 29, 2019 -
Questions & Answers on Qingyuan Travel
Asked by Budi from INDONESIA | Sep. 29, 2019 06:01

Reply
How to get huangteng canyon glass bridge/suspended corridor
Dear sir

How to get huangteng canyon glass bridge from canton tower

Regards
Budi nio
Answers (1)
Answered by Mia from USA | Oct. 07, 2019 23:21

0

0

Reply
You can take metro line 3 from Canton tower to Tianhe station (Exit C), and take bus from Tianhe Coach station to Qingyuan. Then you can take bus 24/206 to Huangteng Canyon Bridge.
Asked by Rachelle from HONG KONG | Aug. 08, 2019 08:03

Reply
With the new HS railway from HK, can I travel by train directly from Hong Kong to Qingyuan?
Alternatively changing in Shenzhen or Guangzhou. Thank you.
Answers (1)
Answered by Gemma from MALAYSIA | Aug. 11, 2019 23:19

0

0

Reply
There is no direct train between Qingyuan and HK. You can take high speed train from West Kowloon Railway Station to North Shenzhen Railway Station, then still take high speed train to Qingyuan Station.
Asked by Annie from PHILIPPINES | Jun. 28, 2019 01:59

Reply
Entrance Fee of Gulongxia Glass Platform and Bridge and how to get there from Canton Tower?
Hi,

We are staying near Canton Tower and we would like to know how to get to Gulongxia Glass Bridge? How much is the entrance fee and where I can buy the ticket?
Answers (1)
Answered by Max from USA | Jun. 30, 2019 22:49

0

0

Reply
1. You need to go to Qingyuan firstly. Take high speed train from South Railway Station to it. It departs from 16:25 to 21:21 with interval of 30 mins to 2 hours. Then take bus No.111 to Taihezhen Government Station, and transfer to bus No.312 to Gulongxia Station. It takes around 3 hours.
2. You can buy it on the spot. Ticket fare is CNY238.
Asked by Ann from SINGAPORE | Apr. 21, 2019 20:09

Reply
How to go the Guangzhou glass bridge?
I stay around Zongyuanjian metro how to go glass bridge.
Answers (1)
Answered by Jenny from AUSTRALIA | Apr. 22, 2019 02:21

0

0

Reply
Do you mean Gongyuanqian Station? You can take Metro Line 2 to Guangzhou Railway Station and then walk west about 500m to take Qingyuan Shijiao Bus Line (清远石角) to Chini Station. After that, take Bus Line 15 to Zhongdongcun Station. Walk about 300m to Zhihui Farm where the Glass Bridge located.
Asked by jy from HK | May. 02, 2018 21:39

Reply
Hi, is there a train to take from Hong Kong to Qingyuan or is it better to take a bus there from HK?
Answers (1)
Answered by Emery from CANADA | May. 04, 2018 04:07

0

0

Reply
There is no direct train that operates between these two places. Thus you need to take a bus directly. The bus schedules are 07:00, 08:00, 13:00, 15:30, 17:30 and 18:30. It costs 130HKD per person.