Xiangtan Travel Guide
Xiangtan Facts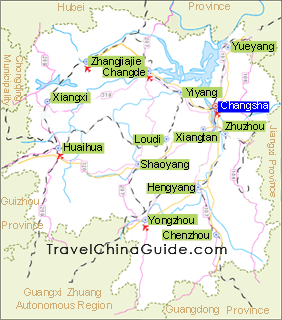 Chinese Name: 湘潭 (xiāng tán)
Population
: 2,820,000
Area
: 5,015 square kilometers (1,936 square miles)
Nationalities
: Han

Location
: Xiangtan is located in the central part of Hunan Province, the middle reach of the Xiang River. It is about 40 kilometers (25 miles) from Changsha and Zhuzhou. The three cities constitute the political, economic and cultural triangle of the province.
Administrative Division
: 2 districts (Yuetang, Yuhu); 1 county - Xiangtan; 2 county-level cities (Xiangxiang, Shaoshan)

Useful Telephone Numbers
:
Tourist Complaints: 0732-58239321
Weather Forecast: 121
Zip Code Inquiry: 184
Bank of China: 0732-58222758
Xiangtan Attractions - Things to Do

Mt. Shaoshan Scenic Area
: Shaoshan was a beautiful mountain village. It is well known as the home town of Mao Zedong. In the area, visitors can admire the Mao Zedong's Former Residence and the Water-dripping Cave.

Yuhu Park
: Located in the downtown, the Yuhu Lake (Rainy Lake) in the park is a pluvial lake. Gathering willows, pavilions and halls, it is one of the most distinguished attractions of Xiangtan.
How to Get to Changsha & Wuhan from Xiangtan
On Shaoshan Road (Middle) and Shaoshan Road (West), there are many buses to Changsha every 10 to 20 minutes taking about one hour. Buses to Wuhan in Hubei Province are also easy to get and the bus ride takes around 4 hours. In addition, high speed trains to Changsha and Wuhan are also available from Xiangtan North Railway Station.
Weather
-
Enjoying a subtropical humid monsoon climate, Xiangtan has rich rainfall and abundant sunshine. The annual average temperature is about 17

C (63

F).



When to Go: The April azaleas in Shaoshan and the red autumnal leaves in Zhaoshan Mountain are both attractive scenery of Xiangtan.
Xiangtan Travel Tips

History
: Establishing Xiangtan as a county began in the Tang Dynasty (618-907). From then on, its domain remains relatively stable in the following years. On the basis of the county, the government of the PRC established the Xiangtan City in 1950.

Physical Features
: Compared with other parts, the terrain of the city is low and flat in the eastern and central regions. However, its relative relief is meek. The city is various in land type composition, including mountain area, hilly land, knolls, plain and water. Nearly eighty percent of the city land is below the altitude of 150 meters (492 feet).

Special Local Products
: betel-nut, Dengxin Gao (wick rice cake), lotus seed