Xiangtan Travel Guide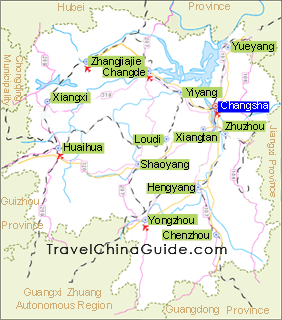 Xiangtan Facts
Chinese Name: 湘潭 (xiāng tán)
Population: 3,000,000
Area: 5,006 square kilometers (1,933 square miles)
Location: in the central area of Hunan Province, south-central China
Administrative Division: 2 districts (Yuetang, Yuhu); 1 county (Xiangtan); 2 county-level cities (Xiangxiang, Shaoshan)
Area Code: 0731
Zip Code: 411100
GDP (2018): CNY 216.14 billion (USD 32.66 billion)
Known as Chairman Mao's Hometown
Xiangtan is located in the central part of Hunan Province, the middle reach of the Xiang River. It is about 40 kilometers (25 miles) from Changsha and Zhuzhou. It only takes half an hour from Changsha Huanghua International Airport. The three cities constitute the political, economic and cultural triangle of the province. As an important birthplace of Hunan culture, Xiangtan has cultivated more than 140 historical and cultural celebrities, such as Chairman Mao, General Peng Dehuai and modern Chinese painting master Qi Baishi. The Mt. Shaoshan, the place where Mao Zedong grew up, has become the most famous scenic spot in Xiangtan, with Mao Zedong's former residence as the main highlight. Xiangtan is also the hometown of Xiang lotus seed. The plump Xiang lotus seed with fine texture and sweet fragrance in Xiangtan was once a tribute served to the emperors in ancient times. Besides, Xiangtan is an important industrial base in Hunan and even the whole country, featuring a strong scientific and educational strength.
Xiangtan Attractions - Things to Do

Mt. Shaoshan Scenic Area
: Shaoshan was a beautiful mountain village. It is well known as the home town of Mao Zedong. In the area, visitors can admire the Mao Zedong's Former Residence and the Water-dripping Cave.

Yuhu Park
: Located in the downtown, the Yuhu Lake (Rainy Lake) in the park is a pluvial lake. Gathering willows, pavilions and halls, it is one of the most distinguished attractions of Xiangtan.
How to Get to Changsha & Wuhan from Xiangtan
On Shaoshan Road (Middle) and Shaoshan Road (West), there are many buses to Changsha every 10 to 20 minutes taking about one hour. Buses to Wuhan in Hubei Province are also easy to get and the bus ride takes around 4 hours. In addition, high speed trains to Changsha and Wuhan are also available from Xiangtan North Railway Station.
Weather
-
Enjoying a subtropical humid monsoon climate, Xiangtan has rich rainfall and abundant sunshine. The annual average temperature is about 17

C (63

F).



When to Go: The April azaleas in Shaoshan and the red autumnal leaves in Zhaoshan Mountain are both attractive scenery of Xiangtan.
Xiangtan Travel Tips

History
: Establishing Xiangtan as a county began in the Tang Dynasty (618-907). From then on, its domain remains relatively stable in the following years. On the basis of the county, the government of the PRC established the Xiangtan City in 1950.

Physical Features
: Compared with other parts, the terrain of the city is low and flat in the eastern and central regions. However, its relative relief is meek. The city is various in land type composition, including mountain area, hilly land, knolls, plain and water. Nearly eighty percent of the city land is below the altitude of 150 meters (492 feet).

Special Local Products
: betel-nut, Dengxin Gao (wick rice cake), lotus seed
- Last modified on Dec. 24, 2020 -
Questions & Answers on Xiangtan Travel
Asked by Rusty from AUSTRALIA | Dec. 20, 2020 21:21

Reply
Xinjiangxi village
62 xinjiangxi village, guoyuan town, changsha city is where I have the address.
How do I get there from the changsha Airport.
Answers (1)
Answered by Samantha | Dec. 24, 2020 19:55

0

0

Reply
Upon landing, take bus no.114 from airport to Huanghua Industrial Park first. Then transfer to bus no.X210 to Huashan. After that, take bus no.XT16 to Guoyuan Town. Then you can hire a local car to the destination.
Asked by rusty from AUSTRALIA | Dec. 18, 2020 05:04

Reply
how do i get to xianjianxi village from changsha airport?
Answers (1)
Answered by Isabella | Dec. 20, 2020 18:37

0

0

Reply
Do you have the more detailed address about the Xinjianxi Village? Because I didn't find the exact location on the map.
Asked by Diana from UGANDA | Aug. 16, 2015 16:05

Reply
Wanted to find out how the lodging for the xiangtan university is like?
Hello, I will be staying with my daughter.
What are the recommended hotels that are near the university where one can stay?

Answers (1)
Answered by Gary from INDONESIA | Aug. 16, 2015 20:50

0

0

Reply
Near the university, there are a lot of economical hotels available; you can choose one for your stay.
Hongrutian Hotel, Yidu Hotel and Mengbali Hotel are all near the campus, and you can reach them with walking distance from the school.
Asked by Carol from UGANDA | Aug. 12, 2013 09:36

Reply
train from Guangzhou to xiangtan, hunan province
I want to catch a train from GZ to XT in hunan. Which is the fastest trainand its fares for first and second class?I want to travel during day.
Answers (1)
Answered by Lisa from UNITED KINGDOM | Aug. 13, 2013 00:54

1

0

Reply
Between the two places, there is no high speed train and there are only K-trains. The K-trains take about 8 to 9 hours. Most of the trains start in the afternoon and arrive in XT in the early monring.
The ticket fare for the hard sleeper is 163 to 174RMB. For more detail information, it is suggested to go to the Train section of this website to search for more detail information.
Asked by pierre from FRANCE | Nov. 25, 2012 12:40

Reply
Direct buses from Changsha (G trains) to Xiangtan
what is schedule (and duration and price) for direct buses from Changsha South railway station (G trains) to XT. And also for return trip. Merci
Answers (3)
Answered by Emily | Nov. 25, 2012 20:16

0

1

Reply
Hi, you can take the direct bus at Changsha South Bus Station. Many buses are on schedule for the journey every day. For the back journey, you can go to the local Long-distance Bus Station to take the bus to Changsha. The buses operate from 06:20 to 18:25 every 15min.


Answered by pierre from FRANCE | Nov. 26, 2012 04:39

0

0

Reply
Thank you for your answer, however may I bring again my question:
Schedules for DIRECT Buses from Railway Station Changsha South, DIRECT to XT . I do not want to go to Changsha downtown bus station, but DIRECT to XT from Railway Station Changsha South.
And return.
Schedules, and prices.
Thank you for such precisions.
Answered by Fanny | Nov. 27, 2012 19:15

0

1

Reply
As I know,only two buses are in service every day from the railway station to your destination city. The bus ticket fare is CNY12-14. Therefore, I also suggest you go to Changsha South Bus Station, where many buses are available.
For the back journey, also two buses can take you to the G railway station, at 12:00 and 17:00 respectively.