Zhuzhou Travel Guide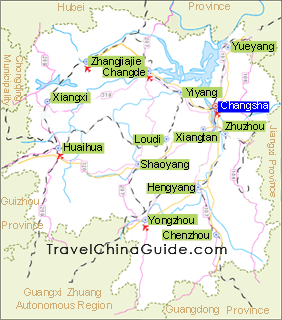 Zhuzhou Facts:
Chinese Name: 株洲 (zhū zhōu)
Population: 3,720,000
Area: 11,262 square kilometers (4,348 square miles)
Nationalities: Han

Administrative Division: 4 districts (Tianyuan, Hetang, Lusong, Shifeng); 4 counties (Zhuzhou, Youxian, Chaling, Yanling); 1 county-level city (Liling)

Seat of the city government: No.58, Tiantai Road, Tianyuan District

Useful Telephone Numbers:
Tourist Complaints: 0733-28815059
Weather Forecast: 121
Zip Code Inquiry: 184

Bank of China Zhuzhou Branch: No.95, Xinhua Road (West), Hetang District
China Post Zhuzhou Branch: No.266, Tiantai Road, Tianyuan District
Location: The city is situated in the east of Hunan Province, on the middle reaches of the Xiangjiang River. It is bordered by Jiangxi Province in the east. Changsha, the capital city of the province, is adjacent to its north, only 50 kilometers (31 miles) far away. Together with Changsha and Xiangtan, they constitute the most important economic development zone of Hunan.
History: Zhuzhou is a time-honored city. In the early 1980s, ruins of four and six thousand years ago were discovered here. One of the primogenitors of Chinese nation and the initiator of Chinese agrarian culture, Yan Emperor, is at the rest in Yanling County. Jianning is the old name of the city, and the name of Zhuzhou was initially used in the Southern Song Dynasty (1127-1279). During the initial post-liberation period, Zhuzhou is just a small town under Xiangtan, but the city now is a big city of Hunan with millions of population.
Physical Features: The region has a typical hilly landform with the terrain generally slopes downwards from southeast to northwest. The Xiangjiang River winds south-north through the city. On the whole, plain and hill make up the main components of Zhuzhou's territory.
Climatic Features: This region is definitely a fertile land enjoying favorable humid monsoon climate in subtropical zone. The annual average temperature falls between 16 and 18 degree centigrade (60.8 and 64.4degree Fahrenheit).
When to Go: all the year round
Special Local Products: pear, Nai plum, konjak, Chinese mushroom, chilli and ceramics of Liling City, angelica dahurica root (herbal medicine) of Chaling County

Attractions:
Yan Emperor Mausoleum
: Chinese people often say they are the offspring of Yanhuang. Huang refers the Yellow Emperor, while the Yan is the Yan Emperor. The tomb is in Luyuan Town, 17 kilometers (11 miles) west of Yanling County. It was first built in the Song Dynasty (960-1279) with a history of over two thousand years. Present mausoleum was rebuilt in the 1980s to resume the grand pomp of visiting by numerous admirers. Surrounded by forest and mountains, the mausoleum looks significant with a floor area of 3836 square meters. With other spots around, the Yan Emperor Mausoleum is undoubtedly the top attraction of the city.
| | |
| --- | --- |
| Admission Fee: | CNY 80 |
| Transportation: | take regular bus from Zhuzhou Central Bus Station to Yanling, get off at Yandiling Memorial Archway and then change local public bus to Yan Emperor Mausoleum. |
Shennonggu National Forest Park
(formerly Taoyuandong National Forest Park) located at the boundary area between Yanling County and Jiangxi Province, 45 kilometers from the Yanling county seat. Average temperature of the hottest July is about 24

C (75

F). Obviously, it is ideal mountain resort for visitors in summer. Microclimate in the park is favorable and air is fresh and of superior quality. April to November is the best time to visit this enlivening land of forest and water.
| | |
| --- | --- |
| Admission Fee: | CNY 75 |
| Transportation: | take bus from Zhuzhou South Bus Station to Yanling and then change bus from there to Shennonggu. |
Other Scenic Spots
: Dajing Scenic Area (Zhuzhou County), Yunyang Forest Park (Chaling County)
Zhuzhou Travel Tips:
1. This city is, in a way, the largest traffic hinge in southern China. Zhuzhou Railway Station is one of China's five transport station of both passengers and goods. Ships can reach many cities on the Yangtze River running along the Xiangjiang River. Although it do not have its own airport, it is convenient to have the aid of Changsha Huanghua International Airport. Through the highway, only a few minutes are needed between Zhuzhou and Changsha.
2. Zhuzhou has five main stations in the city proper. The long-distance bus station east of Hongweiqiao and the central bus station in the south of the Hongqi Square are the largest.
3. Zhongguling commercial walking street in Husong District of the city proper is scattered with places of amusement, book stores and food shops. It is a good shopping destination where local specialities can be easily found, either.
Weather
-