President No.6

Rate & Booking

Discount Cruise Rate in 2021 (Based on double occupancy)
Season
High Season
(May, Sep, Oct)
Shoulder Season
(Mar, Apr, Jun, Jul, Aug, Nov)
Downstream
USD419.00
USD359.00
Upstream
USD419.00
USD359.00
Free Inquiry
Itinerary

Downstream: Chongqing - Yichang (Sailing Date 2021)
4DAYS /3NIGHTS DOWNSTREAM ITINERARY ( Chongqing -> Yichang)

Day
Times
Events
1
21:00
Set sail at Chongqing
2
12:30-14:30

Shore excursion to Shuangguishan National Forest Park

3
11:30-14:00
Passing through Qutang Gorge and Wu Gorge
16:00-19:00
Boat excursion to Shennong Stream
19:00
Passing through Xiling Gorge
4
08:00-11:30
Disembark at Maoping Port, Shore excursion to the Three Gorges Dam site
11:30-13:00
Bus transfer to Three Gorges Tourist Center in Yichang city and say goodbye

Upstream: Yichang - Chongqing (Sailing Date 2021)
5 DAYS/4 NIGHTS UPSTREAM ITINERARY ( Yichang -> Chongqing )
Day
Times
Events
1
19:00-24:00
Take free shuttle bus from Yichang City to Maoping Port; Pre-boarding and Reception
2
07:00-08:00
Buffet breakfast
14:00-18:00
Shore excursion to the Three Gorges Dam
18:30
Set sail
19:00-20:30
Captain's Welcome Party
3
07:40-11:00
Boat excursion to Shennong Stream
12:30-13:45
Wu Gorge
15:00-15:30
Qutang Gorge
4
13:00-15:00

Shore excursion to Shuangguishan National Forest Park

5
09:00
Disembark at Chongqing

Ship Information
Beginning her virgin sailing in April 2011, President No.6 opens a new chapter in cruise facilities and service standard which is quite different from the traditional president series fleet. As a new generation of super 5-star cruise, it creates a main rhythm of classical European style for the passengers perfectly mixed with the modern technology and comforts. Its spacious public area, all-round well-equipped facilities, splendid lobby, restaurant, banquet and conference facilities have distinctive features in design and decoration. The whole vessel is central air-conditioned and each cabin is equipped with the most advanced satellite TV and telephone which can receive HBO and CNN programs. A private balcony enables passengers to enjoy the great views of the Yangtze River at all times easily.


2021 Sailing Date:
Chongqing - Yichang
(Downstream),
Yichang - Chongqing
(Upstream)

Deck Plan
Second Floor (Upper Deck): Reception Desk, Bar, Shopping Center
Third Floor (Promenade Deck): Banquet Hall, Business Center
Fourth Floor (Bridge Deck): Ballroom
Fifth Floor (Recreation Deck): Sauna, Massage Room, Gym Room, Foot Massage Room, Beauty Salon, Clinic, Shopping Center
Six Floor (Sun Deck): Sunshine Bathing Place, View Ground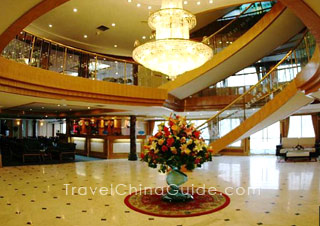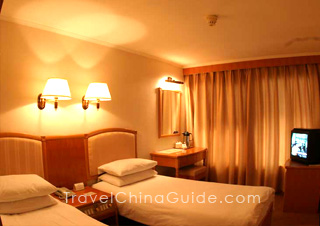 Fact-Sheet
| | | | |
| --- | --- | --- | --- |
| Entered Service: | April, 2010 | Passenger Capacity: | 374 |
| Length (m): | 135.2 | Width (m): | 19.6 |
| Gross Tonnage: | 8900T | Draft (m): | 2.8 |
| Standard Cabins: | 151 | Deluxe Business Suite | 32 |
| Presidential Deluxe Suites: | 2 | Deluxe Suites: | 2 |
| Electricity: | 220V, 50HZ | Star-Rating: | 5-star |

On-Board Service

Cabins
151-all with outer balconies;32 business Suite; 2 deluxe Suites; 2 presidential suites;
All cabins have private bathroom with shower, hair dryer, A/C, TV and ship phone, mini refrigerator
1) Standard Twin Cabin: 151, one bedroom with private bathroom and balcony; Room area: 25sqm, Balcony area: 2.8sqm
2) Business Suite: 32, one bedroom with private bathroom and balcony; Room area: 28.8 sqm, Balcony area: 4.3 sqm
3) Deluxe Suite: 2, one bedroom with private bathroom and balcony; Room area:58 sqm, Balcony area:3.6 sqm
4) Presidential Suite:2, one bedroom, one sitting room with private bathroom and balcony; Room area:78 sqm, Balcony area:30 sqm
Safety deposit box are available at the front desk.

Cabin Facilities
Active Window, TV, Mini Bar, Weight Balance, Life Jacket, Memo Pad, Mineral Water, Tea Bags, Bath Foam, Bath Towel, Face Towel, Comb, Toothpaste, Tooth Mug, Shoe Sponge, Telephone Directory, Mini Refrigerator, Hair Dryer, Cloth Line, Ball-Pen, Coffee Bags, Shampoo, Shower Cap, Bath Robe, Hand Towel, Soap, Toothbrush, Slippers, Laundry Bag.

Amenities
Cruise directors are all well-trained and friendly
Captain's welcome cocktail party is wonderful
Convenient facilities like bar, reading room, fitness area, gift shop, card room and beauty salon
Onboard activities feature lectures on Chinese history and traditions, appealing demonstrations and the teaching of Tai Chi
Professional river guides provide information while sailing
A laundry service is available apart from the last day of the cruise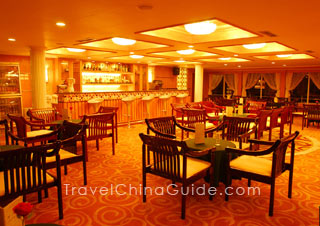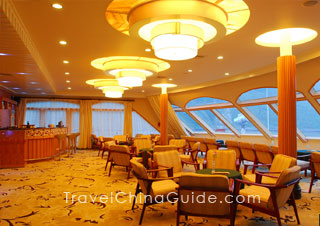 Restaurants and Entertainment
Breakfast: Chinese Western Buffet
Lunch: Chinese Western Buffet
Dinner: Chinese Western Buffet or Chinese style set-menu
Spectacular evening entertainment based on ancient Chinese traditions is provided.