Cyprus Discovery
TCY02: 7 Days Private Tour of Larnaca - Kyrenia - Famagusta - Nicosia - Paphos
Tour Type:
Private tailor-made tour, with experienced guide and driver
Accommodation:
Selected comfortable hotels
Highlights:
A classic itinerary covering both natural scenery and historical relics in Cyprus.
Visit mediaeval castles and mosques in Troodos Mountains, Larnaca, Nicosia and more.
Explore Akamas Peninsula with lush plants and amazing sea views.
Enjoy leisure time on Mediterranean beaches.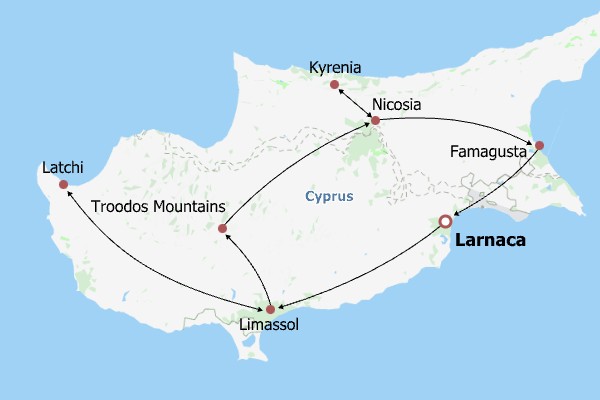 Day 1
Arrival in Larnaca, Airport Pick-up
Welcome to join us to explore Cyprus, an island country on Mediterranean Sea! Today, our local English-speaking guide will wait for you at Larnaca Airport ahead of your arrival. After picking you up, he or she will transfer you to the hotel we select for you in advance. As you may need some rest to get over the jet lag, we will not arrange sightseeing activities during the rest time of the day. If you feel fine, you may stroll around on your own.

Accommodation: Leonardo Boutique Hotel Larnaca or similar
After breakfast, our guide will pick you up from the hotel to start the guided sightseeing at the famous seafront - Finikoudes Beach. It will be a life-long memory to walk among the palm trees on the flat and wide beach while admiring the blue Mediterranean Sea. Next we will go to the Larnaka Medieval Castle, which is located at the end of the Foinikoudes promenade. Many rooms inside are used to display relics excavated from Kition Archaeological Site and Hala Sultan Tekke. After, send you back to the hotel.

Meals: Breakfast, Lunch
Accommodation: Leonardo Boutique Hotel Larnaca or similar
Day 3
Drive to Visit Famagusta
Today at the appointed time, we will set off to visit Famagusta, passing by Kyrenia Harbour to admire the unspoiled beauty of the northern part of Cyprus. Arriving in Famagusta, we will proceed to the Walled City to visit the magnificent Venetian Wall and the majestic medieval Cathedral of St Nicholas. Then, check into a local hotel to stay overnight.

Meals: Breakfast, Lunch
Accommodation: Novel Centre Point Hotel or similar
Day 4
Continue to Nicosia
After having breakfast at the hotel, drive out of Famagusta toward Nicosia. En route, pull over to visit the Castle of St Hilarion. It is actually a monastery and said to be the inspiration of the castle in the Walt Disney film "Snow White". Standing on a hill top, it is also a great place to have a bird's eye view of the surroundings. We will spend 1.5 hours exploring it thoroughly. Then, move on to Bellapais Abbey on the Five Finger Mountain. It is a 13th century French Gothic styled abbey.

In the afternoon after arriving in Nicosia, the guide will accompany you to visit the Cypriot Museum housing the most precious excavations in Cyprus, and St. John's Cathedral with all sorts of wonderful paintworks and artifacts.

Tonight, we will book a nice local hotel for you to have a good rest.

Meals: Breakfast, Lunch
Accommodation: Castelli Hotel Nicosia or similar
Day 5
Troodos Mountains Tour, Transfer to Paphos
Troodos Mountains is the most famous mountains and the highest point in Cyprus. In addition to scenic views, it has many mediaeval castles, churches and mosques and is famous for making wine.

Today, we will firstly visit 2 carefully selected wineries in the Troodos Mountains, where you will have a chance to taste various wine and learn the brewing process of different wine. After, continue to visit the Tomb of Archbishop Makarios III on the mountain top. Archbishop Makarios III is the first president of Cyprus. Next, the guide will lead you to admire the largest and most luxury monastery in the mountain- Kykkos Monastery. Do not miss appreciating the golden painting of the Virgin Mary inside.

In the end, transfer you to the hotel in Paphos.

Meals: Breakfast, Lunch
Accommodation: Avlida Hotel or similar
Day 6
Side Trip to Sea Caves & Akamas Peninsula
Today's escorted sightseeing will begin with Sea Caves, which are unique works of the nature on the sea shore. It will take about an hour to drive from Paphos downtown to get there. The next stop will be Akamas Peninsula National Park with rich biodiversity. There, the guide will accompany you to take a boat to appreciate the sea views. After going ashore, the guide will transfer you to the fishing village of Latchi. The rest time of the day will be free for you to enjoy yourself. You may visit a local fisherman's to learn their life, swim in the sea or enjoy sunshine on the beach.

Before dawn, transfer you back to the hotel in Paphos.

Meals: Breakfast, Lunch
Accommodation: Avlida Hotel or similar
Day 7
Departure from Paphos
This will be your last day in Cyprus. Please inform us your departure flight schedule in advance, so the guide can send you to the airport on time. If you are interested in visiting more countries like Turkey, Egypt, and Greece, feel free to contact us and we will try our best to work for your smiles.

Meals: Breakfast

B-- Breakfast
L-- Lunch
D-- Dinner
Itineraries you may also like: