Best Egypt Tour with Nile Cruise
TEG101: 8 Days Private Tour of Cairo - Luxor - Nile Cruise - Edfu - Kom Ombo - Abu Simbel - Aswan - Cairo
Tour Type:
Private tailor-made tour, experienced guide and driver
Departure:
Every Tuesday, Thursday and Saturday
Accommodation:
5-star handpicked hotels, also be open to your own choice
Highlights:
A hot deal to learn the ancient civilization of Egypt.
Admire world's best-known pyramids at close range.
Feast your eyes with pretty scenery on Nile Cruise.
Interior visits to ancient temples and tombs preserving colorful murals.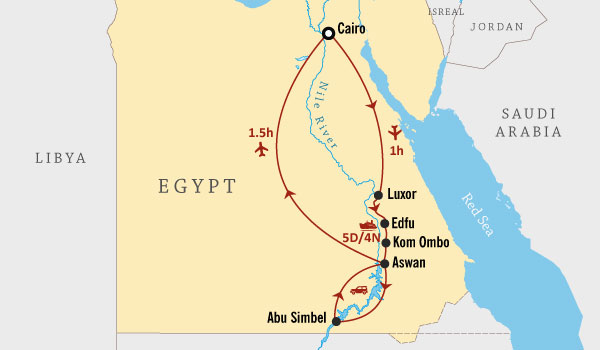 Day 1
Arrival in Cairo, Airport Pick-up
Airport pick-up & airport-hotel transfer.
Welcome to Egypt, one of the four ancient civilizations! Once upon your arrival at Cairo International Airport (CAI), our local representative will pick you up and transfer you to the selected hotel. After, you may spend the rest time of the day at leisure. You may either have a good rest, so as to start sightseeing energetically tomorrow, or explore around on your own.
►
Where to meet our representative at the airport?
Upon your arrival, please follow airport signs to the Arrival Hall where our local representative is waiting for you with the welcome board with your name on it. If needed, our representative will assist you to get a visa on arrival and purchase a phone card. Then you will be accompanied to go through Customs, pick up your luggage and finally be escorted to the hotel by a private car. Our presentative will handle the whole check-in process, confirm the following itinerary with you and briefly introduce the hotel facilities and surrounding restaurants and attractions.
►
Activities Suggestion:
The hotel is only 1.5 km (0.9 mi) from Giza Pyramids, from which the pyramids can be seen clearly. Enjoying sunbath by the swimming pool or capturing your first picture of the pyramids at sunset would be awesome. In addition, the hotel is just opposite the Grand Egyptian Museum which has not opened yet. Walking for around 10 minutes, you can appreciate its spectacular appearance. If you want to sample some Egyptian dishes, there are several fine restaurants around the hotel for your choice.
Accommodation: Steigenberger Pyramids Cairo





Steigenberger Pyramids Cairo
Day 2
Pyramids and Cairo City Exploration
Great Pyramids of Khufu, Khafre, Menkaure, Great Sphinx and Valley Temple, Egyptian Museum, Khan El Khalili. (B+L)
The guided sightseeing will officially begin after breakfast. Our Egyptologist guide will firstly lead you to admire the Giza Pyramids at close range, including the great Pyramids of Khufu, Khafre and Menkaure. The Pyramid of Khufu, the best-known and the biggest one of the three, was built in 2560 BC as the Pharaoh Khufu's mausoleum. If you are interested, you could opt to get inside to see its enigmatic burial chamber by paying extra entrance fee. After that, visit the Great Sphinx with a lion's body and man-like head and the nearby Valley Temple, where the bodies of pharaohs were made into mummies before being moved into the pyramids.
★
Privilege of Our Guests:
Looking to ride camels to leisurely stroll among the pyramids while listening to legends about the pyramids from friendly locals just like in postcards? In fact, that may not be true. Crafty camel men often set tricks and traps. They may keep the change, suddenly increase the price at the last minute, not deliver you to the designated place as agreed, or not let you off the camel without tipping, and the negotiated price in Egyptian pound becomes "pound". What you may lose is not only money but also your good mood.
However, we have carefully arranged everything for our valued guests and you don't have to worry about anything. Just get your camera ready and enjoy this 30-minute fantastic camel riding!
►
Is it worth going inside the pyramid or not?Affirmative:
With a history of 4,500 years, the Great Pyramid of Khufu is the world's most famous, mysterious, and magnificent pyramid. Exploring it inside would be an unforgettable lifetime experience.
Negative:
As you struggle to climb steep steps, hunch through a stuffy and narrow passageway and finally see the empty chamber with an empty sarcophagus, you may feel disappointed.
Advice from TravelChinaGuide:
That depends on your strength and physical conditions. If you are physically able, we still suggest exploring the inside of the world's wonder. After all, seeing is better than hearing.
Pyramid of Khafre
Local Life in Khan El Khalili
Then, we will proceed to Egyptian National Museum displaying cultural relics from the Pharaonic period. Then continue to explore Cairo's old bazaar, Khan El Khalili, which is a good place to learn the daily life of the locals. You will enjoy a cup of classical Egypt coffee at El Fishawy Café. At last, send you back to the hotel.
★
Privilege of Our Guests:1. The Grand Egyptian Museum:
The world's largest archeological museum, the stunning Grand Egyptian Museum constructed for 20 years, is set to officially open in 2023. There will be more than 100,000 ancient Egyptian artifacts on display. It is said that about 5,200 treasures found in King Tut's Tomb will all be exhibited for the first time, including Tutankhamun's golden mask, most of which were preserved in warehouses before due to limited exhibition area. At present, it enters the test phase and has not officially opened yet. Once it opens, we will be the first to guide our honored guests to visit!
2. Experience Centuries-old Café:
In Khan El Khalili, we handpicked one of Egypt's oldest cafes for you, El Fishawy Café. The iconic café was built in 1797. Differing from other cafes, you may feel a little noisy here rather than quiet or elegant. Nevertheless, this is the place where you can experience authentic passionate Arab atmosphere. Here you can taste coffee while seeing locals playing instruments, singing and chatting…
Tip: If you are not fond of gritty Egyptian coffee, then try a cup of mango juice, which would never disappoint you.
Meals: Breakfast, Lunch
Accommodation: Steigenberger Pyramids Cairo





Day 3
Cairo to Luxor, Luxor East Bank
Fly to Luxor, airport pick-up. Board the Nile cruise, Karnak Temple, Luxor Temple. (B+L+D)
After exploring Cairo, move on to explore another top destination of the country - Luxor. Our driver in Cairo will transfer you to the airport and help you board the flight to Luxor.
On arrival, you will be escorted to board your luxury Nile cruise ship by a private vehicle. Then follow our local guide to visit the scenic spots on its east bank. First, we will visit the 3,900-year-old Karnak Temple, the biggest temple in Egypt and the biggest ancient colonnaded temple in the world. Inside the columned hall of the temple, you will find 134 giant stone pillars engraved with well-embossed reliefs and murals. Then, a visit to the Luxor Temple will round off the day. It was built for the Sun God Ammon, his wife Mut and son Khonsu. The current temple is 262 meters (287 yards) long and 56 meters (61 yards) wide, consisting of gate, yard, column hall and sacred hall, etc. Finally, send you back to the cruise.
Meals: Breakfast, Lunch, Dinner
Cruises: MS Concerto





Nile River Cruise
Luxor Temple under the Light
Day 4
Luxor West Bank Trip, Nile Cruise: Luxor - Edfu
Visit Valley of the Kings, Temple of Queen Hatshepsut and Colossi of Memnon. Sail to Edfu. (B+L+D)
In the morning, disembark to explore the west bank of Luxor. The first stop will be the Valley of the Kings. There are a total of 63 imperial mausoleums there, where 64 pharaohs from 1539 BC to 1075 BC dynasties of the ancient Egypt are buried. The pharaohs chose to build tombs and bury themselves in this remote valley to avoid tomb raiders. We will be allowed to choose three of them to pay visits.
After that, head to the majestic Temple of Queen Hatshepsut. She was the first female pharaoh in ancient Egypt and ruled the country for more than 20 years. Today's last stop will be the Colossi of Memnon. The ruins of the temple are now nowhere to be found, and only two of the giant statues in front of king Amenhotep III's pharaoh temple are left standing on the ground now. We will stop for 10 to 15 minutes here. After that we will escort you back to your cruise and sail to Edfu.
Meals: Breakfast, Lunch, Dinner
Cruises: MS Concerto





Day 5
Nile Cruise: Edfu - Kom Ombo - Aswan
Visit Temple of Horus and Temple of Kom Ombo, Sail to Aswan. (B+L+D)
After breakfast, disembark to visit the primitive archaic buildings inside the well-preserved Temple of Horus, which is also called the Temple of Edfu. We carefully arrange the 'Ferrari of Egypt', a kind of horse-drawn Horse Carriage for you, throughout the 3 km (1.9 mi) long journey from the pier to the Edfu Temple. A single trip takes only around 10 minutes. If you wish, it is possible to drive it by youself under the guidance of the coachman.
Next, your cruise ship will continue to Kom Ombo, where we will visit the Temple of Kom Ombo. It is an over 2000-year-old temple complex dedicated to crocodile god Sobek and falcon god Haroeris. After the visit, we will come back to your cruise, which will take you to Aswan.
►
Where is the hospital in ancient Egypt?
Where did the ancient Egyptians see a doctor? The answer is a temple. The Kom Ombo Temple is not only the most famous temple but also the most well-known hospital in the area, and the world's first maternity ward. The mural of the temple shows how the ancient Egyptians gave birth and various surgical tools at that time, some of which are surprisingly similar to modern surgical tools, such as scissors, surgical forceps, and spoons. What else could you find? Looking at the crouching lady in the below picture, is she a doctor or a patient? Follow our Egyptologist guide to the Kom Ombo Temple where more secrets would be revealed!
Meals: Breakfast, Lunch, Dinner
Cruises: MS Concerto





Horse Carriage in Edfu
How many surgical tools can you find ?
Day 6
Nile Cruise: Private Abu Simbel Tour
Drive to visit Abu Simbel, Temple of Hathor, return to Aswan and reboard Nile Cruise. (B+L+D)
Today, we will make a private shore excursion to Abu Simbel, which needs an about 3-hour's drive on the way. Getting there, the guide will accompany you to visit the Abu Simbel Temple and the Temple of Hathor, which were both built during the reign of Pharaoh of Ramesses II, and dedicated to himself and his wife - the Queen Nefertiti respectively. The most renowned part of this grand temple complex must be the gigantic statues of sitting Ramesses II, which was built more than 3,000 years ago and is now recognized as the name card of Abu Simbel. Inside this huge cave temple complex, many exquisite reliefs, stone columns, and images of gods can be clearly seen. Meanwhile, the temples are dedicated to other gods and goddesses, and their legendary stories can be learned through the murals inside the temples.
After visiting the Abu Simbel, drive back, reboard the Nile cruise.
★
Travel Different: Get up at 4:00 to Abu Simbel? NO!
Different from most group tours getting up at 4:00 to visit Abu Simbel, our orchestrated private tour leaves more rest time for our guests. We start today's trip at around 7:00 and arrive at Abu Simbel at 11:00 when most tour groups have finished visiting, offering a less hectic experience for you. Still feel too early to start off at 7:00 and want to depart later? We are sorry to tell you that 7:00 is the latest departure time as the highway between Aswan and Abu Simbel keeps closed between 17:00 and 5:00 everyday for security reasons.
Meals: Breakfast, Lunch, Dinner
Accommodation: MS Concerto





Temple of Abu Simbel
Day 7
Aswan Highlights, Fly to Cairo
Visit Aswan High Dam, Temple of Philae, the Unfinished Obelisk, Felucca ride on the Nile River. Fly to Cairo, airport-hotel transfer. (B+L+D)
In the morning, disembark after breakfast. Our guide will lead you to visit the landmark there - Aswan High Dam, a 3,830 meters (12,566 feet) long hydropower project stretching over the Nile like a giant rainbow. The next stop will be the Temple of Philae decorated with beautiful reliefs. To protect it from the rising Nile caused by the construction of the High Dam, it was cut into pieces and reassembled on the current Agilkia Island. This has been a world famous case of protecting historical relics. Then we will proceed to the Unfinished Obelisk, through which you can learn how the magnificent Obelisks were constructed. At last, board a traditional felucca to enjoy the beautiful scenery along the Nile.
Then, our guide will send you to the Aswan airport for you to take a flight back to Cairo. Upon arrival, you will be picked up and transferred to the hotel.
★
Privilege of Our Guests:
The most beautiful part of the Nile River stretches from Aswan, which features a wide water surface with clear and slow water flows. A traditional felucca Nile Cruise is one of the most popular activities in Aswan. Unlike other travel agencies who arrange a felucca tour as an add-on or optional tour for an extra charge, we have attentively included a felucca tour in your itinerary. Our valued guests don't have to haggle with the ship owner, or wait in the sun, because we have arranged everything for you in advance.
Meals: Breakfast, Lunch
Accommodation: Steigenberger Pyramids Cairo





Felucca Ride on the Nile
Day 8
Departure from Cairo
Hotel-airport transfer & See you off. A nice Journey home! (B)
This best tour of Egypt will come to an end today. In accordance to your departure flight schedule, our driver will escort you to Cairo International Airport (CAI). We wish you a nice journey home! We also arrange sightseeing activities in other parts of the world and we will be ready to serve you again anytime.

Meals: Breakfast
B-- Breakfast
L-- Lunch
D-- Dinner
This trip can be customized to meet your individual needs!
Tour Prices
Christmas & 2024 Special:
12% off
- Book before Dec 31, 2023
Travelers
2-3 travelers
4-5 travelers
Year Round

USD2299

USD2023

USD2069

USD1820
Prices are per person on twin sharing basis.
The prices in red reflect 12% discount.
Any part of the itinerary e.g. tour length, activities & hotels can be tailored to your individual interests.
Above prices are based on the sailing dates of 5-star cruises: MS Concerto/ Blue Shadow/ AL Hambra/ Nile Style/ Princess Sarah.
The above prices are not applied for Christmas, New Year, Easter and other holidays.
Price Includes
Domestic airfares (economy class): Cairo/ Luxor & Aswan/ Cairo
Hotel accommodation in Cairo for 3 nights
Nile Cruise, 5 stars deluxe for 4 nights full board
Private English-speaking guide on land tours
All transfers in air-conditioned vehicles as per the itinerary
Meals as listed in the itinerary
Entrance fees to the mentioned sites
Free bottle of water
All service charges and taxes
Price Excludes
International airfares into and out of Cairo
Personal expenses (such as laundry, telephone, drinks, etc.)
Tips for guides and drivers
Personal travel insurance
Egypt visa fee
Comparison with Other Sellers
Top-notch Services
All our tours are private family tours, which means you will not join tours with other people and no strangers will join yours. Each of our guides is a historian with expert knowledge of the archaeological aspects of our tours. All your itineraries can be tailor-made, and requests can be met within 24 hours.
Surprisingly Low Price
If you spare a few minutes to compare our prices with those of our competitors, you will find our prices are at least 50% lower. Why? No secret! Our company works with low profit margins, as low as 6% rather than 50% like other operators. In most cases, our competitors' prices for group tours are higher than those for our private tours. So, you can imagine what they might charge for a private trip. We strongly recommend that you make a comparison with our competitors online or in your local community. Pay attention to our well-selected five-star hotels and luxurious Nile cruises.
No Annoying Shopping Stops
Shopping tours will not only take your time from sightseeing, but also waste your money on overpriced items. Our no shopping promise will enable you to thoroughly enjoy the trip without facing aggressive selling. All our guides are well-paid so they will concentrate on delivering the holiday experience you expect.
Some companies claim they have "No Obligatory Shopping", please be cautious as they just give their shopping tours a happy gloss. Some do not mention any shopping in itineraries, which doesn't mean they are shopping-free tours. You are advised to ask the operators directly before booking.
Explore the Spectacular Abu Simbel
Take a private trip to visit the Abu Simbel Temples, the most impressive and unique temple complex to be seen in Egypt. It is neither an optional tour, nor an add-on trip, since we have included it for you. We will always show you the very best and will not leave you with any regrets in your trip!
Felucca Ride on the Nile River
The most beautiful part of the Nile River is in Aswan, where you will enjoy a one-hour Felucca Ride. It is a wonderful experience to drift on the Nile River, especially at sunset.