Nile Cruise and Lake Nasser Cruise
TEG108: 12 Days Private Tour of Cairo - Luxor - Nile Cruise - Edfu - Kom Ombo - Aswan - Abu Simbel - Lake Cruise - Kasr Ibrim - Wadi El Seboua - Aswan - Cairo
Tour Type:
Private tailor-made tour, experienced guide and driver
Departure:
Every Friday, Flexible upon request
Accommodation:
5-star handpicked hotels, also be open to your own choice
Highlights:
Exciting cruises on Nile, world's longest river and Lake Nasser, world's largest artificial lake.
Giza Pyramids and Great Sphinx, the landmarks of Egypt.
Karnak Temple, the biggest temples complex in the world.
Abu Simbel Temples, the pinnacle of ancient Egyptian architecture.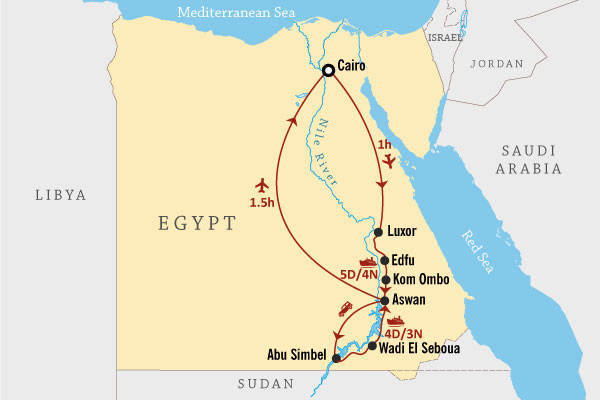 Airport pick-up & airport-hotel transfer.
If you are curious about the mysterious pyramids, interested in the life of the ancient pharaohs, eager to appreciate the scenery of the world's longest river, join us and we will show you a wonderful Egypt. Today, after you arriving in Cairo International Airport, you will see our local representative waiting for you at the Arrival Hall. Depending on your needs, he/she will assist you with visa on arrival, money exchange, local phone card purchase, customs, baggage collection, and so on. After then, we will transfer you to the hotel by a private vehicle and help you check in. Then, the rest of the day will be your free time. You may have a good rest in the hotel to restore energy after the long flight, or go out to get familiar with the city on your own.
►
Activities Suggestion:
We have carefully selected a hotel in Giza District for you, only 1.5 km (0.9 mi) from the iconic Giza Pyramids. You can see the magnificent pyramids from the hotel directly. What's more, the Grand Egyptian Museum, which takes about 20 years to build, is just across the street from the hotel. You can easily walk there in 10 minutes. The Lotus Restaurant of the hotel can provide you with various international cuisines, and the outdoor swimming pool and pool bar are good places for you to relax. If you are interested in authentic Egyptian dishes, some fine local restaurants can be found near the hotel, such as the Moghul Room, Restaurant El Dar Darak, and BBQ Mawlana.
Accommodation: Steigenberger Pyramids Cairo





Steigenberger Pyramids Cairo
The Grand Egyptian Museum
Day 2
Cairo Pyramids Tours
Great Pyramids of Khufu, Khafre and Menkaure, Great Sphinx & Valley Temple, Step Pyramid of Saqqara, Memphis Ruins. (B+L)
Have a big breakfast. After, our local guide will escort you to admire the most famous pyramids in Egypt, the Giza Pyramids, including the Pyramids of Khufu, Khafre and Menkaure. The biggest of them, the Pyramid of Khufu is as high as a 40-floor-high modern building. It took 100,000 people over 30 years to build. You can also pay extra fee to enter it for a further exploration. To the southeast, the Great Sphinx has stood for about 4,500 years, guarding those mausoleum of the pharaohs. We will also visit the nearby Velley Temple to learn some funeral culture in ancient Egypt.
★
Privilege of Our Guests:
When you visit the Giza Pyramids, we will especially include a 30-minute camel ride. What are the advantages of riding a camel? First, you can take a classic postcard shot on a camel with a pyramid in the background. Second, you can avoid large crowds to enjoy the pyramids from a higher angle. Last, ride a camel to a hillside behind the pyramids, which is a perfect spot for panoramic views and you can take a 'family photo' of the 6 pyramids.
Pyramid of Khafre
The Great Sphinx with pyramid
After that, move onward to the Step Pyramid of Saqqara, also named "Pyramid of Djoser", the earliest pyramid in existence in Egypt. Then, we will conclude the day at Memphis, ruins of the capital of ancient Egypt with relics of broken stone sculptures. You will see the huge stone statue of Ramesses II lying on the ground there. Finally, transfer you back to the hotel.
►
Are You Curious About What The Great Sphinx Really Looks Like?
We will visit the Great Sphinx this morning. It is magnificent and imposing, but it is a pity that the nose and beard are missing. Don't be upset. This afternoon, we will show you the complete statue of the Sphinx, which is well preserved in the Memphis Museum. Carved out of white limestone, the statue is said to be the earliest surviving complete statue of the Sphinx, with a distinct face, a straight nose and a cylindrical beard symbolizing a pharaoh's status. Memphis Museum also has another rare artifact, a fallen statue of Ramses II, which originally had a height of 14 meters (46 ft.). However, both his legs and left hand were broken due to the earthquake. Fortunately, the delicate hieroglyphics on the statue are still visible and the pharaoh's face is exquisitely carved. And thus it is also known as the most handsome Ramses II.
Meals: Breakfast, Lunch
Accommodation: Steigenberger Pyramids Cairo





Day 3
Cairo City Highlights
Egyptian Museum, Salah El Din Citadel, Mohamed Ali Alabaster Mosque, Hanging Church, Ben Ezra Synagogue, Khan El-Khalili. (B+L)
In the morning, we will visit the Egyptian Museum, one of the most famous museums in the world. It houses 120,000 cultural relics including Papyrus coins, stone carvings, wood carvings, daily necessities and mummies. The Golden Mask and Golden Throne of King Tutankhamun are the most precious treasures there.
★
Privilege of Our Guests:
The Grand Egyptian Museum will finally open in 2023, which is said to have taken 20 years and cost USD 1 billion to construct. It is also reported that most of the rare artifacts would move from the original Egyptian Museum to the new museum, among which the 5,400 pieces of King Tutankhamun's tomb are highlights, including the most precious golden mask. Previously, most of the funerary artifacts just lie dormant in warehouses due to the limited area of the Egyptian Museum. Once the new museum is opened, visitors can see the full treasures of Tutankhamun for the first time. How exciting! Please rest assured that if the new museum is open when you come to Egypt, we will guide you to visit this bigger and better one.
The Golden Mask
Khan El Khalili Market
Then head to the Salah El Din Citadel, also known as Cairo Citadel, which was built in the 12th century to resist against the invasion of crusaders. Next, we will pay a visit to the Mohamed Ali Alabaster Mosque. Located at the highest point of the Citadel, it offers a fantastic panoramic view of the old Cairo town. After, visit the Hanging Church, also named "Cathedral of the Blessed Virgin Mary", and then the Ben Ezra Synagogue to learn some different religious backgrounds of the region. Finally, we will go to the prosperous Khan El Khalili Market, the oldest market in Egypt to experience the locals' life and customs.
Meals: Breakfast, Lunch
Accommodation: Steigenberger Pyramids Cairo





Day 4
Fly to Luxor; Check into Nile Cruise; Luxor East Bank Discovery
Fly to Luxor. Transfer to embark Nile cruise, Karnak Temple & Temple of Luxor. (B+L+D)
After breakfast, our local representative will transfer you to the airport for you to take the onward flight to Luxor. Upon arrival, our local guide will send you to the cruise to check in and have lunch.
After a short break, disembark and follow the guide to visit the Karnak Temple and Luxor Temple, both on the east bank of the city. Karnak Temple is the largest ancient religious site in the world and dedicated to the sun god Amun, Amun's wife Mut and their son Khonsu. The temple complex is not only large in area, but also grand. For instance, the biggest gate there is 44 meters (144 feet) high and 131 meters (143 yards) wide; the biggest columns are 23 meters (75 feet) high with the circumference of 15 meters (16 yards), each allowing 50 people to stand on. Luxor Temple is also dedicated to Amun, his wife and son. The two were once connected by a road, where you can still see some stone statues of animals with goats' heads but lions' bodies.
After, send you back to the cruise to have dinner and stay overnight.
Meals: Breakfast, Lunch, Dinner
Cruises: MS Concerto





Nile River Cruise
Luxor Temple
►
What are the Must-visit Sites at Karnak Temple?
As the largest temple complex in the world, the Karnak Temple is half the size of Manhattan of New York City and has more than 20 shrines of various sizes. So for common visitors, what are the most unmissable attractions in the temple?
• Avenue of Sphinxes: It stretches around 2.7 km (1.7 mi) to connect with the Luxor Temple and there are about 1,200 sphinxes statues along two sides.
• Great Hypostyle Hall: Composed of 134 giant sandstone columns, the grand hall covers an area of around 5,000 square meters (1.24 acres), with vivid relief decorations including cruel wars, a beautiful pastoral life, the talking between the Pharaoh and the God, making it the most striking draw of the temple.
• Obelisk of Queen Hatshepsut: It is the tallest existing obelisk in Egypt with a height of 29 meters (95 ft.).
• Sacred Scarab Statue: It is the largest scarab statue in existence. As the incarnation of the Sun God, many people circle around it every day to pray for good luck.
Day 5
Luxor West Bank Trip; Set Sail to Edfu
Valley of the Kings, Temple of Hatshepsut, Colossi of Memnon. Sail to Edfu. (B+L+D)
Today, the guide will accompany you to explore the west bank of Luxor. The highlight will be the Valley of the Kings. By now, more than 60 imperial tombs have been excavated there and we will be allowed to choose three of them to go inside. The most eye-catching parts inside are the colorful murals. The next stop will be Temple of Hatshepsut famous for elegant architectural style and exquisite reliefs. The last stop will be Colossi of Memnon featured by two giant statues of Ramses II in sitting gesture.
Returning to the cruise, it will start sailing towards Edfu along Nile, world's longest river.
Meals: Breakfast, Lunch, Dinner
Cruises: MS Concerto





Valley of the Kings, Luxor
Colossi of Memnon, Luxor
►
The Singing Statue - Colossi of Mennon
Two giant rock statues stand at an open field on the west bank of the Nile at Luxor with the height of around 20 meters (66 ft.). The faces are unrecognizable due to severe weathering. No one knows whom the statues belong to and why they stand there alone. The only thing to know is that the huge rock statues sing at silent dawn or night. The sounds are melodious and deep, and it seems to tell their own old stories.
Nowadays, according to archaeological studies, the statues belonged to the Amenhotep III Temple. It has been lost due to natural and man-made destruction, with only two statues surviving. The so-called "singing" is a natural phenomenon caused by the wind passing through the weathered stone crevices. Now, the statues have been restored and better preserved, but they no longer sing, which is a pity!
Day 6
Nile Cruise: Edfu - Kom Ombo - Aswan
Temple of Horus in Edfu. Sail to Kom Ombo, visit the Temple of Kom Ombo. Sail to Aswan. (B+L+D)
Today, the cruise will sail to its final destination, Aswan. Before that, it will pull in to the shore twice. One in Edfu for you to visit the Temple of Edfu, also called Temple of Horus. It is the best-preserved temple in Egypt and worships Horus, the god of the sky with eagle's head but human's body. The other in Kom Ombo for you to admire the Temple of Kom Ombo which shrines Horus and the Sobek at the same time. Our guides based in the two places will accompany you all the way on land.
Meals: Breakfast, Lunch, Dinner
Cruises: MS Concerto





Aswan High Dam, Unfinished Obelisk, Temple of Philae, Felucca on the Nile River. (B+L+D)
We will spend this whole day in Aswan and it will no doubt be a wonderful day. Our local guide will lead you to visit Aswan High Dam, the Unfinished Obelisk, and the Temple of Philae one by one. If the pyramids are the wonders of ancient Egypt, the High Dam is the pride of modern Egypt. It not only protects Egypt from the flood of Nile, but also provides electricity, and help irrigating the land. The Unfinished Obelisk with a height of 40 meters (131 feet) and a weight of 1,200 tons, is the largest one in Egypt, even in the world. Temple of Philae is featured by delicate carvings and reliefs. Located on Agikia Island, we need to take a motorboat to get there.
★
Privilege of Our Guests:
The Felucca is a traditional Egyptian sailing boat on the Nile River with a classic appearance since the time of the Pharaohs. Driven by the wind, it sails slowly but steadily. As the Nile comes to Aswan, it slows down, and becomes wider and clearer, making it the best part to take Felucca. Finish visiting today's attractions, our guide will accompany you to enjoy a relaxing felucca ride on the Nile, during which you can appreciate the amazing view of the river bathing in the golden sunset.
After that, send you back to the cruise ship for overnight stay.
Meals: Breakfast, Lunch, Dinner
Cruises: MS Concerto





Temple of Philae
Felucca on the Nile River
Day 8
Check out from Nile Cruise; Aswan - Abu Simbel; Board Lake Nasser Cruise
Transfer to Abu Simbel. Embark Lake Nasser cruise ship, Temple of Abu Simbel. (B+L+D)
After breakfast, please check out from the Nile cruise ship. Then, our guide will send you to Abu Simbel about 3 hours' drive away, to connect to another cruise on Lake Nasser, world's largest artificial lake formed after the construction of Aswan High Dam. After check-in, have lunch. In the afternoon, follow the cruise guide to visit Abu Simbel Temples, consisting of the Temple of Ramses II and a smaller one for his beloved queen, Nefertari. They are two huge and exquisite carving works composed of arch gates, giant Ramses II cliff statues, front and rear pillar halls and shrines. As part of the Nubian ruins, the Abu Simbel Temples have been designated a World Heritage Site by UNESCO.
Tip:
During the travel high season, flights fly daily between Aswan and Abu Simbel, most of which are operated in the morning. If you want to avoid the 3.5-hour long car journey, taking a 45-minute early morning flight from Aswan to Abu Simbel is a good choice. If you need it, please contact your travel consultant in advance.
Meals: Breakfast, Lunch, Dinner
Cruises: Movenpick Prince Abbas Lake Nasser Cruise





Temple of Abu Simbel
Sun Festival of Abu Simbel
Day 9
Lake Nasser Cruise: Kasr Ibrim - Wadi El Seboua
Dock by Kasr Ibrim. Sail to Amada, Temples of Amada and Derr, Tomb of Pennut. Sail to Wadi El Seboua. (B+L+D)
Today, the cruise ship will dock next to Kasr Ibrim Island for a while. Please go to the deck beforehand so as to take a good position to see the ruins on the island clearly. Then, the ship will continue to sail towards Amada, where the cruise guide will escort you to visit the Temple of Amada, the Temple of Derr and the Tomb of Pennut. After the visits, go back to the cruise and sail to Wadi El Seboua.
Meals: Breakfast, Lunch, Dinner
Cruises: Movenpick Prince Abbas Lake Nasser Cruise





Lake Nasser Cruise
Lake Nasser Cruise
►
More Information about Lake Nasser
Lake Nasser, also known as the Nasser Reservoir, is one of the largest water conservancy projects in Africa. This is a huge artificial lake formed after the construction of the Aswan High Dam in 1971. With a total length of 501 kilometers (311 mi) from north to south and a storage capacity of 168.9 billion cubic meters, the lake has two-thirds of the north in Egypt, and the other one-third of the south in Sudan known as the Nubia Reservoir. Lake Nasser is rich in water and has a beautiful environment, and is home to many wild animals. Some rare birds can be spotted, like Pink-backed Pelicans, African Skimmers, African Pied Wagtails, and Yellow-Billed Storks. In addition, many temples and remains from ancient Egypt are well preserved along the shores of the lake, including Egypt's most famous Abu Simbel Temples.
Day 10
Lake Nasser Cruise: Wadi El Seboua - Aswan
Temple of Wadi El Seboua, Temples of Dakka and Meharakka. Sail to Aswan. (B+L+D)
Today's onshore sightseeing stops in Wadi El Seboua include Temple of Wadi El Seboua, the second largest temple in Nubia, and temples of Dakka and Meharakka. The Temple of Dakka is famous for its 12-meter-high (39 feet) pylon, which provides stunning views of the lake and the temples nearby; while the unfinished Temple of Meharakka is the only temple in Egypt with a spiral staircase. After that, sail to Aswan and spend the last night onboard.
Meals: Breakfast, Lunch, Dinner
Cruises: Movenpick Prince Abbas Lake Nasser Cruise





Aswan High Dam
Restructure of Abu Simbel
►
Aswan High Dam and Temple Rescue
If the pyramids and temples were the wonders of ancient Egypt, then the Aswan Dam is the pride of modern Egypt. However, its construction was once faced with a large problem. Up to 22 magnificent ancient Egyptian temples along the banks might be flooded and sink into the lake when the dam was built, including the most famous Abu Simbel Temples and Philae Temple. Luckily, UNESCO came to the rescue, and an expert team of archaeologists from 24 countries undertook the great task of cutting up and moving the temples to safe places. All the temples were successfully rescued and resettled. When we visit the temples, we can not only feel the glory of ancient Egypt, but also feel the modern people's respect and protection of the ancestral heritage. Perhaps this spirit is even grander than the Aswan Dam.
Day 11
Check out from Lake Nasser Cruise, Half-day Aswan Trip, Fly to Cairo
Kalabsha Temple, Beit El Wali and Kiosk of Kertassi. Drive to Aswan Airport & Cairo airport-hotel transfer. (B)
After breakfast, check out from the lake cruise. Then, our local guide in Aswan will escort you to visit Kalabsha Temple, the only completely preserved temple in Egypt because it was once buried underground by the clay of the Nile; Beit El Wali, the oldest Egyptian temple; and the Kiosk of Kertassi with two Hathor-headed columns not far from Aswan High Dam.
After the guided sightseeing, transfer you to Aswan Airport for you to take the flight back to Cairo. On arrival, our local representative will pick you up on time and transfer you to the hotel by a comfortable vehicle.
Meals: Breakfast
Accommodation: Steigenberger Pyramids Cairo





Day 12
Departure from Cairo
See you off at Cairo airport. We wish you a nice trip home! (B)
Today at your requested time, our driver will send you to Cairo Airport. We wish you a safe journey home! If you have any travel plan to other world's destinations in the future, we will be very delighted to serve you again. Hope to see you soon!

Meals: Breakfast

B-- Breakfast
L-- Lunch
D-- Dinner
This trip can be customized to meet your individual needs!
Tour Prices
Christmas & 2024 Special:
12% off
- Book before Dec 31, 2023
Travelers
2-3 travelers
4-5 travelers
Year Round

USD4099

USD3609

USD3879

USD3409
Prices are per person on twin sharing basis.
The prices in red reflect 12% discount.
Any part of the itinerary e.g. tour length, activities & hotels can be tailored to your individual interests.
Above prices are based on the sailing dates of 5-star cruises: MS Concerto/ Blue Shadow/ AL Hambra/ Nile Style/ Princess Sarah.
The above prices are not applicable for Christmas, New Year, Easter and other holidays.
The shore excursions on the Lake Nasser Cruise is sharing the cruise group.
Price Includes
Domestic airfares (economy class): Cairo/ Luxor & Aswan/ Cairo
Hotel accommodation in Cairo for 4 nights
Nile Cruise & Lake Nasser Cruise, 5 stars deluxe for 7 nights full board
Private English-speaking guide on land tours
All transfers in air-conditioned vehicles as per the itinerary
Meals as listed in the itinerary
Entrance fees to the mentioned sites
Free bottle of water
All service charges and taxes
Price Excludes
International airfares into and out of Cairo
Personal expenses (such as insurance, laundry, telephone, drinks, etc.)
Tips for guides and drivers
Personal travel insurance
Egypt visa fee
Comparison with Other Sellers
Top-notch Services
All our tours are private family tours, which means you will not join tours with other people and no strangers will join yours. Each of our guides is a historian with expert knowledge of the archaeological aspects of our tours. All your itineraries can be tailor-made, and requests can be met within 24 hours.
Surprisingly Low Price
If you spare a few minutes to compare our prices with those of our competitors, you will find our prices are at least 50% lower. Why? No secret! Our company works with low profit margins, as low as 6% rather than 50% like other operators. In most cases, our competitors' prices for group tours are higher than those for our private tours. So, you can imagine what they might charge for a private trip. We strongly recommend that you make a comparison with our competitors online or in your local community. Pay attention to our well-selected five-star hotels and luxurious Nile cruises.
No Annoying Shopping Stops
Shopping tours will not only take your time from sightseeing, but also waste your money on overpriced items. Our no shopping promise will enable you to thoroughly enjoy the trip without facing aggressive selling. All our guides are well-paid so they will concentrate on delivering the holiday experience you expect.
Some companies claim they have "No Obligatory Shopping", please be cautious as they just give their shopping tours a happy gloss. Some do not mention any shopping in itineraries, which doesn't mean they are shopping-free tours. You are advised to ask the operators directly before booking.
Explore the Spectacular Abu Simbel
Take a private trip to visit the Abu Simbel Temples, the most impressive and unique temple complex to be seen in Egypt. It is neither an optional tour, nor an add-on trip, since we have included it for you. We will always show you the very best and will not leave you with any regrets in your trip!
Felucca Ride on the Nile River
The most beautiful part of the Nile River is in Aswan, where you will enjoy a one-hour Felucca Ride. It is a wonderful experience to drift on the Nile River, especially at sunset.