Egypt Heritages & Red Sea
TEG102: 10 Days Private Tour of Cairo - Alexandria - Aswan - Nile Cruise - Abu Simbel - Kom Ombo - Edfu - Luxor - Hurghada - Cairo
Tour Type:
Private tailor-made tour, experienced guide and driver
Departure:
Every Tuesday, Friday and Sunday
Accommodation:
5-star handpicked hotels, also be open to your own choice
Highlights:
Learn ancient Egypt civilizations through pyramids, temples, obelisks…
Enjoy leisure time by Red Sea in Hurghada.
Include cruise on world's longest river - Nile.
Visit Alexandria on the southern shore of Mediterranean Sea.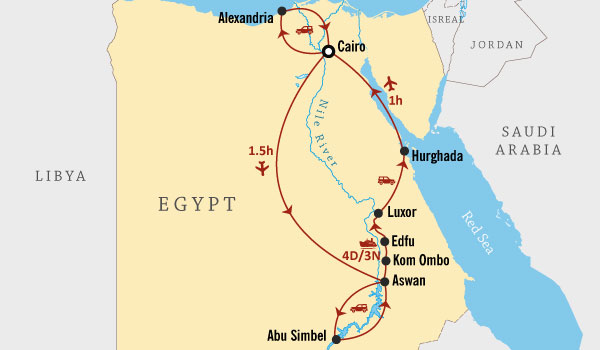 Airport pick-up & airport-hotel transfer.
Welcome your arrival today! Our local representative will wait for you ahead of time at Cairo International Airport (CAI).After picking you up, he or she will transfer you to the hotel, the rest of day is free on your own.
★
Where to meet our representative upon arrival?
Feel anxious about traveling to a foreign country? How to apply for a visa on arrival; where to buy a local SIM card; where to exchange money; and where to claim my baggage…You don't need to worry because we have arranged everything for you. Our local representative will meet you at the arrival hall with a paging board of your name, and assist you to deal with all the things above. After that, you will be escorted by a private car to check in at the hotel.
►
Activities Suggestion:
The hotel we've booked for you is not far from the Giza Pyramids, about 1.5 kilometers (0.9 mi) away. In fact, you can see the pyramids from our selective hotel. If you want to relieve fatigue, you can sunbathe in the poolside lounge while admiring the pyramids in the distance. In addition, one of the world's largest museums, the Grand Egyptian Museum, is just opposite your hotel. The museum is said to cost USD 1 billion and it is now still in the trial phase. It is possible for you to walk for about 10 minutes to enjoy its majestic appearance.
If time permits, you can also take a taxi to the Cairo Old Town to see the iconic Islamic Salah El Din Citadel, the beautiful and ancient Hanging Church, and the historical Jewish site Ben Ezra Synagogue.
Tip:
The traffic in Cairo is quite chaotic and the locals seem not to care about the traffic rules. Please be careful when crossing the road.
Accommodation: Steigenberger Pyramids Cairo





Steigenberger Pyramids Cairo
The Hanging Church
Pyramids of Khufu, Khafre and Menkaure, the Great Sphinx and Valley Temple, Egyptian Museum, Khan El Khalili Market. (B+L)
After breakfast, our local professional Egyptologist guide will pick you up and show you around Giza. There, we will visit the three most eye-catching pyramids, Great Pyramid of Khufu, Pyramids of Khafre and Menkaure; the Great Sphinx and the Valley Temple. The Pyramid of Khufu is the largest, built with 2,300,000 rocks each measuring 2.5 tons. It is really a miracle to build these giants in the old times without any modern advanced facilities.
In the afternoon, continue to visit Egyptian Museum with hundreds of thousands of relics showcasing the ancient Egyptian civilization, including mummies and the golden mask of Tutankhamun. After that, feel the folk atmosphere at Khan El Khalili Market, the biggest Islamic market in Middle East. You will also be guided to taste a cup of authentic Egyptian coffee in the centuries-old El-Fishawy Café.
★
Privilege of Our Guests:
The Grand Egyptian Museum, taking more than 20 years to construct, is finally set to open in 2023. When it officially opens, there will be more than 100,000 ancient Egyptian artifacts displayed, which are all authentic. It is said that most of the treasures now in the Egyptian Museum, including the world's most expensive artifact, the Golden Mask of Tutankhamun, will display here. If it is open when you come to Egypt, rest assured that we will arrange this bigger and better museum for our valued customers!
►
Can We Go inside the Pyramid?
Of course you can! Extra ticket at EG100/around USD4 is needed to explore inside Pyramid of Khufu. Then should I enter it to visit? There is no doubt that entering the pyramid and exploring the tomb of the pharaoh would be the experience of a lifetime. However, as the passages are narrow and the steps are steep, you have to bend over to get through and climb up sloped ramps. The activity is energy-consuming and the air is hot inside, so it all depends on your interest and physical condition. People with back problems or claustrophobia are not suggested.
Meals: Breakfast, Lunch
Accommodation: Steigenberger Pyramids Cairo





Pharaoh's Mirror & Jewels
Khah El-Khalili, Cairo
Day 3
Cairo - Alexandria - Cairo
Private trip to Alexandria including the Pompay's Pillar, Citadel of Qaitbey and Library of Alexandria. (B+L)
After breakfast, our guide and the driver will pick you up from hotel and drive for 2.5 hours to Alexandria, which is located by the Mediterranean Sea.
On arrival, we will directly go to admire the Pompay's Pillar in southwestern Alexandria, which is a 27-meter-high (88.6 feet) pink granite pillar and known as the city symbol. It has been standing there for over 1,600 years. Then walk to the nearby Catacomb of Kom El-Shoqafa, a large burial site combining the style of the Pharaoh Period and ancient Greek.
★
Seafood lunch in Alexandria
How can we miss a seafood feast in Alexandria? As a coastal city, Alexandria features fresh and delicious seafood. Today's seafood lunch is specially arranged for you, including fish, shrimp, crab and various shellfish. Though the cooking method is mainly based on the traditional Egyptian roasting and stir-frying, it is also mixed with Mediterranean cooking style. The light and fragrant creamy seafood soup should not be missed in particular. Also, drink a cup of mint tea or mango juice. The delicious meal will not only satisfy your taste buds, but also leave the most unforgettable memories of today's trip to Alexandria.
Afterwards, go to the Citadel of Qaitbey. In addition to appreciating the building itself, you can admire the entire city as well as the Mediterranean Sea there. Finally, you will be led to the famous Bibliotheca Alexandrina, commemorating the Library of Alexandria. Built in 3rd century BC, the old library was the largest library. Then drive back to Cairo.
Meals: Breakfast, Lunch
Accommodation: Steigenberger Pyramids Cairo





Fly to Aswan, airport pick-up and board the Nile Cruise. Visit the High Dam, Temple of Philae, Unfinished Obelisk, Felucca on the Nile River. (B+L+D)
Today, our local representative will transfer you to the Cairo Airport and help you catch the flight to Aswan, upon your landing, you will be escorted to check into the Nile Cruise. Later, lunch will be served onboard at around 1 PM.
Then, our local guide will accompany you to explore Aswan, including the High Dam sitting across the Nile like a huge rainbow; the Temple of Philae, also called Temple of Isis, dedicated to Priest Goddess Isis and famous for vivid reliefs and carvings; and Unfinished Obelisk, the hugest one in Egypt although it has not been finished. The Temple of Philae is on Agikia Island, so we need to take a motorboat to see it. Finally, enjoy a one-hour Felucca Ride on the Nile River at dusk, when the river will be bathed in golden sunshine.
★
Privilege of Our Guests:
Aswan is known as the colorful city of Egypt, featuring a blue sky, dark land, green palms, golden deserts, and white feluccas. The section of the Nile River in Aswan is wide and clear, nearly the most beautiful part of the river. And thus a felucca ride has become the most popular activity in Aswan. As our valued guests, you don't have to negotiate the route or bargain with the ship owner under the big sun as we have arranged everything for you. At dusk, it would be the most enjoyable time to float on the ancient river under golden sunset, watch the water birds fishing, see the children splashing in the water, and enjoy the white sails dotted on the river…
Meals: Breakfast, Lunch, Dinner
Accommodation: MS Concerto





Nile Cruise of Egypt
Philae Temple
Day 5
Abu Simbel; Nile Cruise: Aswan - Kom Ombo - Edfu
Private tour to Abu Simbel, back to cruise. Sail to Kom Ombo and visit Kom Ombo Temple. Sail to Edfu. (B+L+D)
In the early morning, the guide will accompany you to Abu Simbel by an air-conditioned car. After arriving 3 hours later, go directly to visit the Abu Simbel Temple, a temple complex for Ramesses II. Built in 1233 - 1300 BC, it has been over 3,300 years old. But the 4 giant sitting statues of Ramesses II at the temple gate are well preserved. Not far from the temple, stands a smaller temple dedicated to Ramesses II's wife Nefertari.
After visiting the Abu Simbel, drive back, reboard the Nile cruise and sail to Kom Ombo. Along the way, the pretty tropical scenery on both sides of this longest river in the world will be a visual feast for you. On arrival, go ashore and follow our local guide to pay respect to the gods Sobek and Haeroris in the Kom Ombo Temple. Then, return and continue to sail to Edfu.
►
Kom Ombo Temple - Good & Evil
Kom represents hill while Ombo means gold in the ancient Egyptian language, and Kom Ombo means a golden hill. It is said that the Temple of Kom Ombo was like a gold processing plant to make all the gold coffins, masks, and funerary objects. What makes it so special is that the temple is dedicated to two gods: the falcon god Haroeris and the crocodile god Sobek, respectively symbolizing good and evil. There are also a lot of crocodile mummies in the temple, which also reflects the unique religious concept of ancient Egyptians. They like to worship the "good" God who brings them happiness and protection, and they also worship the "evil" God they fear!
Meals: Breakfast, Lunch, Dinner
Cruises: MS Concerto





Day 6
Nile Cruise: Edfu - Luxor; Luxor East Bank Trip
Visit Temple of Horus. Sail to Luxor and go ashore to visit Karnak Temple and Luxor Temple. (B+L+D)
This day will begin with an onshore visit to the Temple of Horus in Edfu, which is the 2nd largest Egyptian temple for the local protector, the God Horus. There is about a 3km (1.9 mi) distance from the shore to the temple, and we will take a local horse-drawn carriage. If you want, you can also try driving yourself! After the visit, continue your sailing to Luxor.
In Luxor, our local guide will accompany you to explore the Temple of Karnak and Luxor Temple, the two most famous scenic spots on the east bank of the city. After, return to the cruise ship to have dinner and stay overnight.
Meals: Breakfast, Lunch, Dinner
Cruises: MS Concerto





Karnak Temple
Luxor Temple
Day 7
Check out from Nile Cruise, Luxor (West Bank) - Hurghada
Valley of the Kings, Temple of Queen Hatshepsut, Colossi of Memnon. Transfer to Hurghada and check in. (B+L+D)
After having breakfast on the cruise ship, please pack your luggage and check out. Then, our guide will escort you to explore Luxor West Bank. The first site will be the Valley of the Kings, where the ancient pharaohs and nobles were buried. Next, we will visit the Temple of Queen Hatshepsut, dedicated to the first female who ruled ancient Egypt. Today's last stop will be Colossi of Memnon, where nowadays only two huge sitting statues of Ramses II preserve.
►
Which are the Best Tombs to Visit in the Valley of the Kings?
So far, there are 63 mausoleums found in the Valley of the Kings. To protect the murals, all the tombs are opened by rotation, depending on the date. The ticket included in our itinerary allows you to visit 3 of them. There are also three other tombs that are open daily for an additional charge:
KV62 - Tomb of Tutankhamun: costing EGP300 (about USD10)
It's not very large but this is the only tomb that hasn't been stolen. It's where the famous Tutankhanun's gold mask came from, and the mummy of the young pharaoh can be seen.
KV9 - Tomb of Ramesses V/VI: costing EGP100 (about USD4)
As one of the most spectacular tombs in the valley, it features a lot of beautiful murals and been called as the most cost-effective tomb by tourists.
KV17 - Tomb of Sety I: costing EGP1,000 (about USD33)
This is undoutedly the largest and most beautifully decorated mausoleum in the valley.
Afterwards, we will escort you to Hurghada by a private vehicle for 3.5 hours. Check in at your hotel. Then, the rest time of the day and the next following day will be your free time to have fun in this famous tourist resort also by the Red Sea.
Meals: Breakfast, Lunch
Accommodation: Hilton Hurghada





KV17 – Tomb of Sety I
The Beach of Hurghada
Day 8
Free Day in Hurghada
Full Day at you own leisure. (B)
Situated by the Red Sea, Hurghada is a great destination for diving and snorkeling. Coming here, we highly recommend you to try them while discovering the bizarre coral reefs and meeting with the lovely sea creatures. In addition, you may go swimming in the coastal areas or take a ship to go fishing or chase after the dolphins in the sea. Also, the bright sunshine, blue sea and sky can be incomparably backgrounds to take beautiful photos.
►
Activities Suggestion:
Scuba diving:
The clear sea water and colorful coral and fish life make scuba diving one of the most popular activities in Hurghada. Generally, it takes one day, including hotel transfers, one dive in the morning and the other in the afternoon, plus diving equipment, a dive instructor and a lunch.
Glass bottom boat tour:
The hull is usually painted a bright yellow, forming a delightful contrast with the sapphire water. The ship is generally divided into two levels, with the upper deck offering sea views, and the lower level with many glass windows, like a moving aquarium, offering a close-up view of underwater life. The whole tour takes about 2 hours, suitable for families with children.
Desert activities:
Apart from water activities, a half-day desert tour including exciting activities is suggested, such as sandboarding, a quad desert safari, and paying a visit to Bedouin villages.
Hurghada food:
Hurghada is a coastal city offering great seafood feasts. Also, if you have a sweet tooth, don't miss the Egyptian dessert, Rice Pudding, made of rice and cheese. You will be amazed by its milk fragrance wrapped in fresh rice fragrance.
Meals: Breakfast
Accommodation: Hilton Hurghada





Hurghada Marina
Enjoy a Sunbath
Free morning in Hurghada. Hotel-airport transfer and fly to Cairo, airport-hotel transfer. (B)
The morning is still left for your own arrangements. In the afternoon, you will do the check-out and then be escorted to the Hurghada Airport for your flight back to Cairo. On your arrival, we will offer you a transfer to your hotel.
★
Privilege of Our Guests:
Flights from Hurghada to Cairo are available every morning, afternoon and evening and it takes around 1 hour. In general, we will arrange an afternoon flight so that you will have more time to enjoy the Red Sea view. However, we offer tailor-made private tours. If you prefer a morning or an evening flight, we are glad to arrange it for you!
Meals: Breakfast
Accommodation: Steigenberger Pyramids Cairo





Day 10
Departure from Cairo
See off at the airport. We wish you a nice trip home! (B)
Your trip in Egypt will draw to a perfect end today. Please inform us your departure flight information beforehand. Then according to the flight schedule, our driver will send you to Cairo International Airport (CAI) on time. Wish you a pleasant journey! If you plan to explore more places in the world, please feel free to contact us and we will try our best to satisfy you.

Meals: Breakfast
B-- Breakfast
L-- Lunch
D-- Dinner
This trip can be customized to meet your individual needs!
Tour Prices
Christmas & 2024 Special:
12% off
- Book before Dec 31, 2023
Travelers
2-3 travelers
4-5 travelers
Year Round

USD2709

USD2379

USD2419

USD2129
Prices are per person on twin sharing basis.
The prices in red reflect 12% discount.
Any part of the itinerary e.g. tour length, activities & hotels can be tailored to your individual interests.
Above prices are based on the sailing dates of 5-star cruises: MS Concerto/ Blue Shadow/ AL Hambra/ Nile Style/ Princess Sarah.
The above prices are not applicable for Christmas, New Year, Easter and other holidays.
Price Includes
Domestic airfare (economy class): Cairo/ Aswan & Hurghada/ Cairo
Hotel accommodation in Cairo and Hurghada
Nile Cruise, 5 stars deluxe for 3 nights full board
Private English-speaking guide on land tours
All transfers in air-conditioned vehicles as per the itinerary
Meals as listed in the itinerary
Entrance fees to the mentioned sites
Free bottle of water
All service charges and taxes
Price Excludes
International airfares into and out of Cairo
Personal expenses (such as insurance, laundry, telephone, drinks, etc.)
Tips for guides and drivers
Personal travel insurance
Egypt visa fee
Comparison with Other Sellers
Top-notch Services
All our tours are private family tours, which means you will not join tours with other people and no strangers will join yours. Each of our guides is a historian with expert knowledge of the archaeological aspects of our tours. All your itineraries can be tailor-made, and requests can be met within 24 hours.
Surprisingly Low Price
If you spare a few minutes to compare our prices with those of our competitors, you will find our prices are at least 50% lower. Why? No secret! Our company works with low profit margins, as low as 6% rather than 50% like other operators. In most cases, our competitors' prices for group tours are higher than those for our private tours. So, you can imagine what they might charge for a private trip. We strongly recommend that you make a comparison with our competitors online or in your local community. Pay attention to our well-selected five-star hotels and luxurious Nile cruises.
No Annoying Shopping Stops
Shopping tours will not only take your time from sightseeing, but also waste your money on overpriced items. Our no shopping promise will enable you to thoroughly enjoy the trip without facing aggressive selling. All our guides are well-paid so they will concentrate on delivering the holiday experience you expect.
Some companies claim they have "No Obligatory Shopping", please be cautious as they just give their shopping tours a happy gloss. Some do not mention any shopping in itineraries, which doesn't mean they are shopping-free tours. You are advised to ask the operators directly before booking.
Explore the Spectacular Abu Simbel
Take a private trip to visit the Abu Simbel Temples, the most impressive and unique temple complex to be seen in Egypt. It is neither an optional tour, nor an add-on trip, since we have included it for you. We will always show you the very best and will not leave you with any regrets in your trip!
Felucca Ride on the Nile River
The most beautiful part of the Nile River is in Aswan, where you will enjoy a one-hour Felucca Ride. It is a wonderful experience to drift on the Nile River, especially at sunset.