China Embassy in Macedonia

Visa Application Form of PRC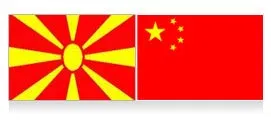 Ambassador: Mr. Zhang Zuo
Address: No. 2, Street Lermontova, Skopje, Macedonia
Tel: +389-2-3213163
Fax: +389-2-3212500
Email: chinaemb_mk@mfa.gov.cn
Office Hours: 08:30-12:00, 13:00-17:00, Monday-Friday (except holidays)
Consular Department of Chinese Embassy in Macedonia
Tel: +389-2-3215852
Fax: +389-2-3212500
Office Hours:
For Application: 9:00 a.m.-11:30 a.m., Tuesday
For Pick-Up: 10:00 a.m.-11:30 a.m., Friday
Note: Usually, it takes bout seven days for processing the applications of visa, passport and legalization of documents. But you can also pick up your documents on the same day if you apply for the expedited service.
Economic & Commercial Counselor's Office
Address: Street Lermontova NO.2,1000 Skopje, North Macedonia
Tel: +389-2-3069658, 3069668, +389-70764275
Fax: +389-2-3069688
Email: mk@mofcom.gov.cn

People: It has a population of 2,037,000 in 2005. Macedonia is a multi-ethnic country. The main minority Macedonians make up 64.18%, Albanians 25.17%, Turks 3.85%, Gypsies 2.66% and Serbians 1.78%.



Language: The official language is Macedonian tongue.


Religion: Most of residents believe in Orthodox Church, and a few embrace Islam.



Geography: It is a mountainous inland country, occupies 25,713 square kilometers in area. It lies in the middle part of Balkan Peninsula, bordered Bulgaria on the east, Albania on the west, Greece on the south, Serbia and Montenegro on the north.



Climate: It is temperate continental climate in most areas. Affected by the Mediterranean climate, the annual mean temperature of the west area is 10 degrees Celsius. In most of agricultural districts, the temperature in summer can reach as high as 40 degrees Celsius, in winter as low as minus 30 degrees Celsius.
2021 Public Holidays of the Embassy

Please contact Embassy of Macedonia in China if Macedonians are in distress there.



Related China Embassies in Europe: Malta, Moldova, Monaco
---
Selected Questions and Answers:

Asked by Mr. irena(Macedonia)
I would like to know, what standards i have to fulfill to get Chinese visa of any kind!
I am looking forward for your response! Thank you!

Answered by Ms. Ashley
You can get one if you could provide all of the required documents such as your valid passport, a fulfilled application form, a certificate-style photo, round-way air tickets, hotel booking and so on.
---

Asked by Mr. farhan(Macedonia)
Dear sir, I have applied in china for studying medicine in Chinese language .my university has already send me admission letter, which other documents I need for visa? Is there any fee for it?



Answered by Ms.Monroe
You should apply for an X(study). The required documents are as below:
1. original passport, which must have at least 6 months validity and enough blank pages
2. a completed blankpage with a passport photo
3. JW202 Application Form
4. Physical Examination Record for Foreigners
5. Admission letter from your Chinese university
The fee is 50 Euros.
- Last modified on Jan. 19, 2021 -
Questions & Answers on China Embassy in Macedonia
Asked by Simran from FIJI | Dec. 05, 2019 15:21

Reply
Hong Kong Transit Visa
Kindly advise if Macedonian passport holder traveling to Fiji and transiting through Hong Kong, will need to check-out and check-in for the next flight, would that require to obtain a visa prior to arrival in Hong Kong?

Answers (2)
Answered by Johnson from AUSTRALIA | Dec. 08, 2019 18:36

0

0

Reply
You don't need a visa for Hong Kong.
Answered by Simran from FIJI | Dec. 09, 2019 11:42

0

0

Reply
Thanks alot.
Asked by Lidija from MACEDONIA | Oct. 24, 2019 22:52

Reply
Visa
Dear Madam/Sir
I want to travel in China for business in order to find trims and fabric suppliers, my trip will be 9 to 14 days.
Pls let me know what all is required to submit coz I'm waiting for my visa to book my flight
Answers (1)
Answered by Leo from AUSTRALIA | Oct. 27, 2019 23:48

0

0

Reply
Do you know some suppliers in China? If yes, you can apply for an M visa. If not, you can only apply for a tourist L visa.

The documents for M visa: passport, application form, photo, and an invitation letter from your supplier in China.

The documents for L visa: passport, application form, photo, and round-trip tickets and hotel bookings.
Asked by ivan from MACEDONIA | Sep. 10, 2019 02:07

Reply
hello i ha a question . do we need visa for infant baby for hong kong ?
Answers (1)
Answered by Neil from USA | Sep. 11, 2019 18:09

0

0

Reply
if you intend to stay in Hong Kong for less than 14 days, both the adults and the baby don't need to apply for the visas. But if you want to stay more than 14 days, you need to apply in advance and you should add the baby's information on one of the parents' passport when apply for the visas.
Asked by bysera from PRINCEZA5
| Sep. 05, 2019 13:00

Reply
MINOR needs visa
Im a 16 year old minor who has to get a visa till end of september.I have all of the needed documents and tickets but I want to ask does it take the 2 parents of a minor to sign the application,or it can be only one because my father isn't here at the moment?
Answers (1)
Answered by Wendy from UNITED KINGDOM | Sep. 06, 2019 00:43

0

0

Reply
One of your parents should sign the application form. However, both of your parents may need to sign on a consent letter for your leave.
Asked by Aneta from MACEDONIA | Sep. 01, 2019 01:28

Reply
Multi business visa
Hi , I would like to ask, what kind of documents I need for multi business visa , how much it cost and should I apply first online to mace a appointment, or I can just show up in embassy on Tuesday? Thank you
Answers (1)
Answered by Phoebe from USA | Sep. 02, 2019 01:10

0

0

Reply
you will need your passport, a completed visa application form with a rencently-taken passport photo, the documents on the commercial activity issued by a trade partner in China, or trade fair invitation or other invitation letters issued by relevant entity or individual. The multiple-entry visa valid for 6 month costs MKD 6270 and valid for a year costs MKD 9400. You could go the embassy directly without an appointment.