China Embassy in Malta

Visa Application Form of PRC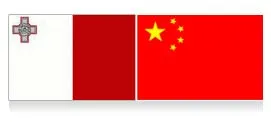 Ambassador: Mr. Cai Jinbiao
Address: Karmnu Court, Lapsi Street, St. Julian's, STJ 1264, Malta
Tel: +356-23798804, 23798822
Fax: +356-21364730
Office Hours: 08:30-12:30, 15:00-17:00, Monday-Friday (except holidays)
Email: chinaemb_mt@mfa.gov.cn
Consular Section of Chinese Embassy in Malta
Address: Karmnu Court, Lapsi Street, St. Julians' STJ1264
Tel: 00356-23798805 (only answered between 09:00 -12:00 on Monday, Wednesday and Friday,except public holidays)
Fax: 00356-21380251
E-mail: chinaemb_mt@mfa.gov.cn
Opening Hours: 09:00-12:00, Monday, Wednesday & Friday
(except Maltese public holidays and Chinese public holidays)
Visa Application
Applications by post are not accepted. Applicants should submit their applications in person or entrust a third party to submit their applications on their behalf to the consular office of the Chinese Embassy in Malta. Appointments are not required. Interviews may be required by the officer if necessary.
Fees (€)
The embassy has not accepted cash payment from 1st March, 2011, either of the following methods of payment will be accepted by the Embassy.
1) Counter Payment: calling at the BOV branch network with pink Pickup Form to effect payment
2) Online Payment: using BOV internet banking to effect payment
The consular officer will give you instructions on payment when you submit your application at the consular office.
Fee for Regular Service (4 working days processing)
| Types | Maltese Citizens | U.S. Citizens | Citizens of Other Countries |
| --- | --- | --- | --- |
| Single-Entry | 60 | 88 | 26 |
| Double-Entry | 60 | 88 | 39 |
| Multi-Entry with 6-month Validity | 60 | 88 | 52 |
| Multi-Entry with 12-month Validity | 60 | 88 | 78 |
Extra Fee for Express Service
| | |
| --- | --- |
| 2-3 working days processing | 18 |
| 1 working day processing | 26 |

Please contact Embassy of Malta in PRC if this country's people are in distress there.



Related China Embassies in Europe: Moldova, Monaco, Montenegro
---
Selected Questions and Answers:

Asked by Mr. francis
Greetings, I applied a university and i have got my admission letter and other document for my application. Please i would like to know what type of visa should i apply for and also what document would i need to attached to my document for me to able secure it. Thanks.

Answered by Ms. Lilian
Mr.francis, you should apply for Student X
(1) Application for Study in China (JW 101 or JW202 Form) from an authorized governmental apparatus/organization;
(2) Admission Letter from your university
(3) The original passport with validity more than six months and more than 2 blank pages;
(4) One fully completed application form in Chinese or English, attached with one of the applicant's recent color photograph (30mm X 40mm)
---

Asked by Ms. Judy Ng
I am holding a Malta passport and plan to travel to Tibet next month. Please advise if it is necessary for me to apply Visa. The lenght of stay is 11 days in Tibet.



Answered by Ms. Betty(Singapore)
You do need to apply for a tourist L. If you will go to Tibet, you will also need a Tibet travel permit, you should join in a tour group organized by a qualified travel agency who will arrange a Tibet Travel Permit for you.
- Last modified on Sep. 10, 2018 -
Questions & Answers on China Embassy in Malta
Asked by Frank from MALTA | Oct. 12, 2017 02:37

Reply
I intend to visit some friends in China.For how long would the Chinese entry permit (visa) be valid?
Answers (1)
Answered by Brigitte from DENMARK | Oct. 12, 2017 04:43

1

0

Reply
Hi, as I know, usually, a Chinese visa is valid for 3 months.
Asked by Jeroen from MALTA | Jun. 05, 2017 14:01

Reply
Mixed business/tourist
Dear Reader,
I'm a Dutch citizen but reside in Malta.
I'm a frequent visitor and after many short Visa I received a 1 year Visa last year which is ending soon.
I need to go to China for business visit end of june for which I have an invitation letter. I expect more visits this year but nothing firm yet. I have a letter from my Singapore employer to confirm this.
Further I plan travel in China.
Can you please inform what to bring to apply for a new 1 year visa?
And can you inform if this type of Visa can be given in the 1 day or 3 days procedure?
Many thanks
Jeroen
Answers (1)
Answered by Kate from FRANCE | Jun. 05, 2017 21:05

2

0

Reply
Hi, it's possible for you to get multi-entry business M type in Malta for that.
First, prepare your passport and copy of its data page, the completed application form attached with a passport-style photo, your Malta visa and its copy, an invitation letter, and other required documents.
Next, submit the application to China embassy to apply for Chinese business M type.
You can choose the rush service to get the result within 3 days.
Asked by Drew Garlick from MALTA | Feb. 03, 2016 04:29

Reply
question about Spouse visa
My (future) French wife has secured a job in China. We have been advised that as a spouse I may be attached to her working Z type. Is this correct? If no, which type of entry permit do I apply for? I am a UK citizen.
Many thanks,
Drew.
Answers (2)
Answered by Dylan from USA | Feb. 03, 2016 21:54

1

0

Reply
Drew, I'm afraid not because according to what you said, you two haven't gotten married yet. And the spouse S type is issued to those who visit their family members work or study in PRC.
Considering your case, I think you can apply for tourist L type.

Answered by Drew Garlick from MALTA | Feb. 04, 2016 05:00

0

0

Reply
Hi Dylan,

we will be married by the time we go to China, hence I will be a spouse!

Thanks for your help on this.

Drew.
Asked by Christine Cassar from MALTA | Jan. 06, 2016 13:53

Reply
Visa for short stays in China
My husband and I are going on a Cruise and will be stopping in Hong Kong for less than 48 hours and Xiamen for 8 hours and Shanghai for less than 72 hours. Do we need an entry permit please?
Thank you
Christine Jennifer Cassar (Malta)£
Answers (1)
Answered by Ray from USA | Jan. 07, 2016 19:20

0

0

Reply
Christine, you need an entry permit and you can apply for a tourist L type in advance of your trip.