China Embassy in Maldives

Visa Application Form of PRC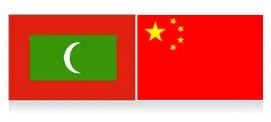 Ambassador: Mr. Wang Fukang
Address: H. Nookurikeela, Dhunbugas Magu, Henveiru, Male
Tel: 00960-3010640
Fax: 00960-3010637
Email: chinaemb_mdv@mfa.gov.cn
Office Hours: 08:30-12:00, 13:30-16:00, Sunday to Tuesday (except holidays)
Website: http://mv.china-embassy.org/eng/
Consular Office of Chinese Embassy in Maldives
Address: H.Nookurikeela, Dhunbugas Magu, Male
Tel: 00960-3010645, 3010635 (Visa inquiry, from 9:00-11:00 on Monday, Wednesday)
00960-7458160 (for Chinese citizen only)
Fax: 00960-3010642
Office Hours: Sunday, Tuesday and Thursday from 09:00-11:00 (except holidays)
Procedure of Visa Application
1. Take a number first and wait for your number to be called.
2. Then, you can submit your application when your number is called.
3. Please return to the embassy for collection on the date mentioned on the pick-up slip.
4. Pay processing fee (if applicable) and check carefully about the information on your visa before you leave.
Fee per Person
| Types | Maldivian Citizen | Citizen of Other Countries | USA Citizen |
| --- | --- | --- | --- |
| Single-Entry | N/A | USD 40 | USD 140 |
| Double-Entry | N/A | USD 60 | USD 140 |
| Multi-Entry with 6-month Validity | N/A | USD 80 | USD 140 |
| Multi-Entry with 12-month Validity | N/A | USD 120 | USD 140 |
| Service Fee for Same-day Collection | USD 40 | USD 40 | USD 40 |
| Service Fee for the 2nd-3rd Working Day Collection | USD 30 | USD 30 | USD 30 |
Notes:
1. Regular service: Visas can be obtained on the fourth business day after application.
2. Maldivian passport holders do not need to pay any visa fee when apply from Embassy of China in Male.
3. Diplomatic and Service Passport holders are exempted from visa requirement into China.
4. Maldivians enjoy free entry to HK for a stay no more than 90 days, and they can get visa on arrival to Macao.
5. No express service would be provided unless in case of emergency. Express service needs approval of consular officials, and extra fee may have to be paid.
6. Even if you want to use urgent service, the consular officer has the right to decide whether to provide the service or not.

Basic Information about Maldives:


Climate: Maldives spans equator and has the characteristic of tropical climate. It is hot all the year around, thus, the sunscreens is necessary.



Safety Situation: The status of public security there is good and the crime rate is relatively low.



Local Customs: Maldives is a Muslim country and its nationals pray for five times every day, respectively in sunrise, at noon, between 3.00p.m. and 4:00.p.m., in sunset and at night. At such time, the store will stop business for 15 minutes.



Medical Treatment: Dengue fever is a prevalent disease in the islands country. The local status of medical treatment is limited, so it is better to take some commonly used medicines.



Price Level: Many items in daily use are imported, so the price level here is high. The present currency is Rufiyaa. One America dollar can exchange 12 Rufiyaa. The dollar can directly circulate in market.



Please contact Embassy of Maldives in China if Maldivians are in troubles there.



Related Chinese Embassies in Asia: Mongolia, Myanmar, Nepal
- Last modified on May. 05, 2019 -
Questions & Answers on China Embassy in Maldives
Asked by Nash from SRI LANKA | Jul. 03, 2019 05:02

Reply
I am a sri lankan working in maldives. Can i apply for Hong kong visa from maldives china embassy?
Answers (1)
Answered by Rita from USA | Jul. 03, 2019 20:10

0

0

Reply
Nash, you can apply at Chinese Embassy in Maldives.
Asked by Rojen from MACAU | Jun. 06, 2019 00:36

Reply
My friend want to visit Macau but he is in Maldives. Working there. How can he apply from maldives
Answers (3)
Answered by Biber from USA | Jun. 09, 2019 22:52

0

0

Reply
As long as he isn't a citizen from Bangladesh, Nepal, Nigeria, Pakistan, Sri Lanka or Vietnam, he can apply Macau VOA.
Answered by Rojen from MACAU | Jun. 10, 2019 20:16

0

0

Reply
He is from Nepal...so meaning he need to go back to Nepal?
Answered by Billie from USA | Jun. 11, 2019 02:47

0

0

Reply
He can apply at Chinese Embassy in Maldives. Have a try!
Asked by amr safwat from MALDIVES | May. 19, 2019 04:36

Reply
visa requirments
good day what are the supporting documents needed to have a tourist visa for a non Maldivian citizen living and working in Maldives ? Thank you
Answers (1)
Answered by Mario from MALDIVES | May. 21, 2019 01:09

0

0

Reply
Hi, you should offer your passport, application form and recent photo, Maldivian visa, round-trip airlines tickets and your China itinerary.
Asked by Balaji from INDIA | May. 11, 2019 22:52

Reply
Hi i am an Indian working in maldives as a Teacher.
My sister is living in china, her husband is working there in IT company. can i apply visit visa from here itself?
Answers (1)
Answered by Karen from SPAIN | May. 13, 2019 00:59

0

0

Reply
Yes, you can apply from Maldives if you have valid reisdence permit there.
Asked by Arshad from MALDIVES | May. 10, 2019 09:01

Reply
Visa fee in Thailand for a Maldivian
I'm a Maldivian living in Bangkok, when I apply for the Visa at Chinese Embassy in Bangkok, do I have to pay any fee?
Answers (1)
Answered by Monica from THAILAND | May. 12, 2019 20:48

0

0

Reply
Arshad, you need to pay THB1,750 for a single-entry visa.