Classification of China Silk Textiles
The China silk textiles are generally known as ling (twill damask), luo (gauze), juan (silk tabby) and duan (satin). They are further subdivided into juan (silk tabby), qi (damask on tabby), luo (gauze), sha (plain gauze), ling (twill damask), jin (polychrome woven silk) and kesi (silk tapestry with cut designs). Today, according to the silk material, texture, weave structure and texture, the silk textiles can be divided into ling (twil damask), luo (gauze), juan (silk tabby), zhou (crepe), jin (brocade), duan (satin), ni (matelassé), fang (habotai), xiao (chiffon), ge (bengaline), rong (velvet), sha (plain gauze) and ti (crepons).

Ling (twill damask)

The basic character of ling is the diagonal lines on China silk textiles. The diagonal lines have two types: simple twill and twill damask. The simple twill is the basic or irregular twill, and the twill damask refers to the use of twill weave as the silk ground. It was very popular in Tang Dynasty (618-907), among which the best-known type was Liaoling damask.
| | |
| --- | --- |
| Twill Damask (ling) | Gauze (luo) |

Luo (gauze)
Luo refers to the textiles woven with stranded warps. It appeared in Shang Dynasty (16th - 11th century BC). In Tang Dynasty, the Yueluo gauze, produced in Yue State in today's Zhejiang Province, and single-warp gauze are quite famous.

Juan (silk tabby)
In ancient times, juan is the general name for the light plain weave fabrics with close texture. It was originated in Neolithic period (6,000 BC to 2,000 BC) and is still practiced today.

Duan (satin)
Duan refers to the silk fabrics where only one silk thread (weft or warp) floats on the surface, making the surface of the cloth extremely bright and smooth. It was first seen in the Yuan Dynasty (1271-1368) and became chief product in Ming (1368-1644) and Qing (1644-1911) dynasties.
| | |
| --- | --- |
| Silk Tabby (juan) | Satin (duan) |
Famous China Silk Products

Yun Brocade
Yun Brocade was developed during the Yuan Dynasty although its origin could date back to the Southern Dynasty. Historical records suggest that prior to the Southern Dynasty there was no brocade in Nanjing until Emperor Liu Yu (363-422) had workers move to Jiankang (today's Nanjing) and established production there. Yun Brocade features quality material, refined weaving and the wide use of gold and silver threads. This magnificence gained the name of Yun, which is Chinese for 'cloud'. Elegant Yun Brocade ultimately became a precious artwork and no longer a fabric for day to day wear. In the Yuan, Ming and Qing Dynasties Yun Brocade was a royal tribute.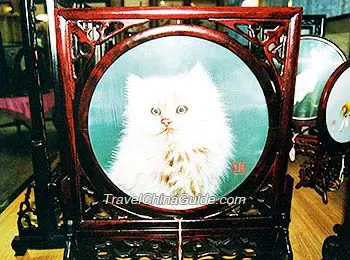 Shu Brocade
Shu Brocade made in Sichuan originated from Han and reached its heyday in the Wei, Jin, Sui and Tang Dynasties. With red as the predominate color, Shu Brocade has a variety of designs, fully reflecting the flowery nature of Shu Culture. In the Tang Dynasty, Dou Shilun, Duke Lingyang, created a set of designs for Shu Brocade, which was known as the "Duke Ling Yang Pattern".
As the unique weaving skill cannot be undertaken by modern machinery, Yun Brocade remains very expensive.

Song Brocade
Song Brocade, as the name implies, originated from the end of Northern Song. Record has it that a Mr. Ji used Song Brocade for the paperhanging of some precious calligraphy copies. In all there were twenty different designs of this brocade. When the Ji family declined, they wanted to sell the copies but failed to do so due to the high price they demanded. Later some rich man bought them and used the brocade as patterns in workshops in Wu (today's Suzhou area). He made a substantial profit from it! This is regarded as the origin of Song Brocade. And it inherits the old tradition---today Song Jin is mainly used for paperhanging.

Brocades by Ethnic Groups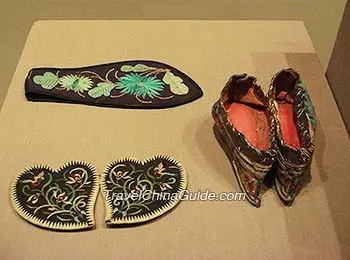 Zhuang Brocade
Zhuang Brocade is the creation of the Zhuang ethnic group in Guangxi. Zhuang Brocade features rich colors, as this is the artistry of Zhuang people. The patterns vary from waves, clouds, grass and flowers to animals. Phoenix, the symbol of auspiciousness, takes a dominant role in these designs. Zhuang Brocade is durable and can be widely used in beddings, belts, bags and clothes.

Dong Minotiry Brocade
Dong Brocade from Hunan features softness and neatness.

Li Minority Brocade
Li Brocade from Hainan is firm with bold primitive designs.

Tujia Minority Brocade
Tujia Brocade from the west of Hunan and Hubei is known for its mass, variety of designs and gorgeous colors.

Yao Minority Brocade
Yao Brocade from Hunan is notable, too. The Brocades for bedding are neat and light in color with simple designs while those for clothes are flowery. Some of the symbols woven into Yao Brocade are regarded as the legendary "female characters", which are limited among women. Women use these special symbols or characters to convey messages. Though there is no way of telling if the female character is a branch of an ancient oracle system or that of Yao words, Yao Brocade has become a medium of such a mystery.

Hang Brocade made in Hangzhou, Jing Brocade from Jiangling, Hubei, and Ning Silk from Nanjing, Jiang Silk form Zhenjiang, Jiangsu Province, Hu Crape from Huzhou, Zhejiang Province all occupy outstanding roles in the history of Chinese silk.
- Last modified on May. 16, 2019 -
Questions & Answers on Classification of China Silk Textiles
Asked by Mr.ashwani davar from INDIA | May. 02, 2010 09:32

Reply
hi...i m from india and m interested in buyin china silk (plain) of 60 grams per meter. From where could we get it in bulk quantity and what is the price per meter...

thanks
Answers (1)
Answered by Mr.Barbarla | May. 02, 2010 20:13

1

0

Reply
Will you buy silk online or in person in China?
Asked by Mr.nevin from TIRANA, ALBANIA | Aug. 23, 2009 11:41

Reply
Hi,

I am a trading co from Tirana, Albania and I am so interested in buying silk textile by meters and also woman dresses , made of silk. Could you pls let me know in which city of China this industry is more developed?

Thanks in advance


Answers (1)
Answered by Mr.jim from CN | Aug. 23, 2009 19:50

1

0

Reply
Hi, go to suzhou and hangzhou. The two cities are famous for that