Learn Chinese Kung Fu
Chinese Kung Fu learning gains popularity mainly because of its emphasis on fitness and self-defence. Earlier days, people had to apprentice themselves to the martial arts masters. Nowadays, many training centers, clubs or schools are open to enrolling enthusiasts. They have to pass tests to weed out the ill suited and retain the committed.

The training includes the basic skills, routines, weapons handling and others, among which the practice of internal and external skills are most important.

Internal skills are based on the theory of body channels in the traditional Chinese medicine. It's said that exercising the channels would strengthen organs. Practising for a long time is beneficial to the physical conditions. External skills apply traditional Chinese medicine as catalyst to improve the function of body parts and muscles through repetitive routines. It makes one agile and responsive to dangers.

Basics: All the basic themes taught by the different schools are similar, including standing-on-stake (pile-standing or Zhan Zhuang) and some flexibility practices. They emphasize the basic exercise on external training of hands, eyes, body, stances and steps coordination as well as internal training of energy, spirit, breath and strength. Hands' skills are presented in fists, palms and hook hands.

Routines: A routine refers to a series of motions concerning fighting, defensing and attacking skills. The routines advocated by one school may be far removed from another. The trainees progress from the easy ones to the difficult ones. The trainees have to go through the motions step by step to attain flexibility in tune with breathing and energy release. Gradually they are able to well grasp the skills to defence and attack.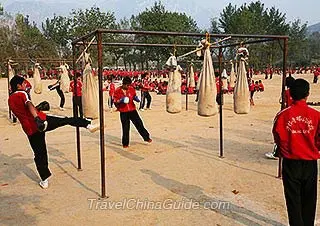 Weapon Training: It can be traced back to the cold weapon times, when the sabers, swords, spears and staffs were the main representatives. In ancient China, most masters used sabers and swords to improve their skills. Nunchakus, needles, stones, sickles, iron pans and umbrellas were also used as practicing tools. In the Kung Fu movies and novels, the innovation use of common objects as weaponry is an eye opener.
Recommended Kung Fu Schools
It is a long and arduous process to attain Chinese Kung Fu success, so commitment and strong will are a must. To attain professional standing, good masters are helpful. Hereunder are several well established schools in China:
1. Songshan Shaolin Temple Kung Fu School
Location:
Shaolin Temple
Scenic Area on Mt. Songshan, Dengfeng City, Henan Province
Consultation Hotline: 0371-62906336
Established to propagate Shaolin Temple culture as well
Shaolin Martial Arts
, this school recruits from home and abroad, as well as hosting promotional events. It has strong training facilities with more than 1,000 people registered.
2. Wudang Sanfeng Kung Fu School
Location: Eight Immortals Temple,
Mt. Wudang
Scenic Area, Shiyan City, Hubei Province
Consultation Hotline: 0719-5664355
Wudang School once had stringent standards to select its learners for
Wudang Martial Arts
. In the last thirty years, it has begun public recruitment drives. The school has brilliant masters among its alumni and they introduce Wudang skills to the world.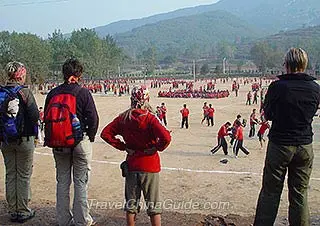 3. Liangshan Kung Fu Academy
Location: east section of Gongming Road, Liangshan County, Shandong Province
Over the more than 20 years' existence, the academy has turned out around 10 thousand students and trained over 80 martial arts coaches for Russia, France, southeastern Asia and other areas. Many of its students are playing prominent roles at domestic and international sports filed.
4. Quanzhou Southern Shaolin Kung Fu School
Location: Xingzhai Development Zone, Luojiang District, Quanzhou City, Fujian Province
The martial arts teams of this school have exchange programs with Japan, Philippines, Hong Kong and Macau. Over the recent years, many foreign people come to learn for visiting groups or summer camps.
Many other schools are also in the business, such as Shaolin Temple Tagou Kungfu School, Binzhou China Kungfu School and Beijing Shaolin Kungfu School. Nowadays, Chinese martial arts institutes are established world wide.
- Last updated on Aug. 09, 2022 -
Questions & Answers on Learn Chinese Kung Fu
Asked by Mayu from JAPAN | Oct. 27, 2015 23:57

Reply
Which school is belong to Shaolin temple monastery?
I have looked at many schools all over China. I am confused that which one is the school of inside of Shaolin temple and which one where I can learn Kungfu and witness real shaolin monk's real life?

Answers (3)
Answered by Mark from SINGAPORE | Oct. 29, 2015 02:17

5

0

Reply
Mayu, actually many schools can teach you Shaolin Kungfu. And there are several martial arts schools in Dengfeng City. Perhaps, you might go to the Tagou Martial Arts School which is just around 500 meters to the entrance of Shaolin Temple.

Tel:86-371-62749100/62749888
Answered by Mayu from JAPAN | Oct. 29, 2015 04:12

2

0

Reply
Thank you for answering my question.
I also looked at the website of "Songshan Shaolin Traditional Wushu Academy" and "China Shaolin Temple Kunfu school".
They are not close to the Shaolin temple?
Answered by Mark | Oct. 30, 2015 01:18

1

0

Reply
I didn't hear about the second school you mentioned. The first one you talked about is not close to Shaolin Temple.