Ancient Chinese Marriage Custom
Ever since ancient times, there has been a popular saying in China that the three most delightful moments in one's life come with success in the imperial examination, marriage and the birth of a son. From the Qin (221 BC – 206 BC) to Qing (1644 – 1911) Dynasties, the feudal system dominated over two thousands years. During this period, the importance of getting married was far more than that a person found his better half. For the male side, it determined the prosperity and even the future fame of their family; while for the female side, it meant that parents lost the chance of seeing their daughter for a long time. Thus to choose an ideal partner was vital for both the individual and the family. A set of marriage custom has been passed down and is still in used today.
| | |
| --- | --- |
| Bride and groom on marriage ceremony | The new couple bows down to each other. |
In feudal society, a marriage would be decided not by a young couple's love, but by their parents' desires. Only after a matchmaker's introduction and when parents considered the two family conditions were similar and could be matched, would the marriage procedures go forward. Conditions that should be taken into consideration included wealth and social status. If a boy's family was well-off or an official family, his parents would never permit him to marry a girl from a poor family. Essential to the marriage process were the commonly recognized 'three Letters and six etiquettes'.
Three Letters and Six Etiquettes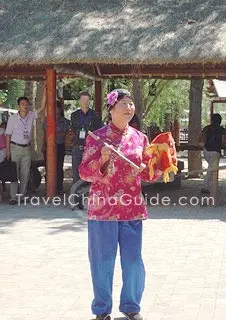 Woman Matchmaker
The three letters were the betrothal letter, the gift letter with a gifts list and the wedding letter used on the day the groom met his bride at her home.
Six etiquettes then led to the final wedding ceremony.

Proposing: when a boy's parents intended to make a match, they would invite a matchmaker to propose with them at the girl's home. It was the custom that the first time matchmaker went as a guest they could not be served tea in order not to 'lighten the marriage'. If the proposal was successful, however, the matchmaker (usually a woman) would be rewarded with profuse gifts and feasts to show the two families' gratitude. Many unmarried young people could not see and were unfamiliar with each other till their wedding day.

Birthday Matching: after knowing the girl's full name and birthday, they would ask a fortune teller to predict whether that could match their son's and whether there would be a happy marriage. The Chinese zodiac would be surely taken into consideration.

Presenting Betrothal Gifts: if the match was predicted to be auspicious, the matchmaker would take gifts to the girl's parents and tell them that the process could continue.

Presenting Wedding Gifts: This was the grandest etiquette of the whole process of engagement. Prolific gifts were presented again to the girl's family, symbolizing respect and kindness towards the girl's family as well as the capability of providing a good life for the girl.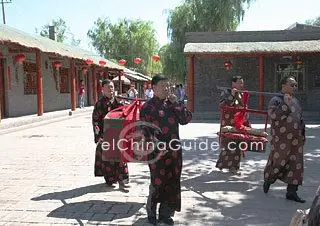 Presenting Wedding Gifts

Selecting the Wedding Date: the boy's family asked the fortune-teller to choose a date according to the astrological book when it would be proper and propitious to hold the wedding ceremony.

Wedding Ceremony: the wedding ceremony began with the groom and his party meeting the bride in her home. Before this day the bride's dowry would have been sent to the boy's house. The dowry represented her social status and wealth, and would be displayed at the boy's house. The most common dowries included scissors like two butterflies never separating, rulers indicating acres of fields, and vases for peace and wealth.
Before the meeting party's arrival, the bride would be helped by a respectable old woman to tie up her hair with colorful cotton threads. She would wear a red skirt as Chinese believed red foreshadowed delight. When the party arrived, the bride, covered by a red head-kerchief, must cry with her mother to show her reluctance to leave home. She would be led or carried by her elder brother to the sedan. In the meeting party the groom would meet a series of difficulties intentionally set in his path. Only after coping with these could he pass to see his wife-to-be.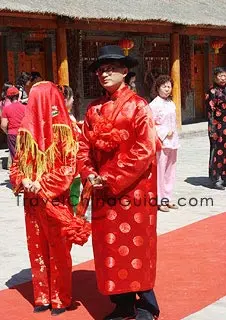 Ancient Chinese Wedding
On the arrival of the sedan at the wedding place, there would be music and firecrackers. The bride would be led along the red carpet in a festive atmosphere. The groom, also in a red gown, would kowtow three times to worship the heaven, parents and spouse. Then the new couple would go to their bridal chamber and guests would be treated to a feast. Wine should be poured to the brim of a cup but must not spill over.
On the night of the wedding day, there was a custom in some places for relatives or friends to banter the newlyweds. Though this seemed a little noisy, both of them dropped shyness and got familiar with each other.
On the third day of the marriage, the new couple would go back to the bride's parents' home. They would be received with also a dinner party including relatives.
Of course, marriage customs differed by region, but these were the most common. They have been maintained for thousands of years, but in recent years (especially after the founding of modern China), people have tended to discard some of the details and advocate simplified procedures and wedding ceremonies.



Related Readings:


Chinese Marriage Through a Foreigner's Eyes


Procedures and Requirements of International Marriage Registration in China


Share opinions and tips on how to date and marry Chinese in our International Marriage Forum
| | |
| --- | --- |
| The Marriage Bed | The Husband's Father and Mother |
- Last modified on Apr. 20, 2021 -
Questions & Answers on Ancient Chinese Marriage Custom
Asked by Karl from ITALY | Mar. 21, 2019 13:25

Reply
How many marriage in my life?
I'm born 9 November 1945 hour 21.00. I want know my future about love in 2019. Thank you.
Karl
Answers (1)
Answered by Lily from EMMA | Mar. 21, 2019 19:33

0

0

Reply
Well, this year may be a tough time for you in the love relationship. However, you can still have a try and take initiative when meeting someone you like. The best time for you is April, June and August.
Asked by Al from CANADA | Jul. 15, 2017 21:03

Reply
Does a foreigner have to give his Chinese fiancé 's parents money to marry her?
Answers (2)
Answered by Molly from CHINA | Jul. 17, 2017 01:22

0

0

Reply
Well, it depends on the different region and family. The money is called Bride Price in China. You should discuss this with your fiance in advance.
Answered by Sara from CHINA | Jan. 10, 2019 02:09

0

0

Reply
yes, no matter your background chinese culture says the man must pay bride price and the price of wedding
Asked by Charlotte from USA | Jan. 21, 2017 18:30

Reply
age, arrangement, that kind of thing
How old were girls and boys when they were married off? Who arranged them? What happened after?
Answers (1)
Answered by Amanda from FINLAND | Jan. 21, 2017 20:22

6

1

Reply
According to Chinese law, boys aged over 22 and girls over 20 are marriageable. In real life, people generally get married for love at the age of 25 or so. Their wedding ceremony is held mainly by their parents.
Asked by Lee from USA | Dec. 04, 2016 01:33

Reply
I'm confused. I was looking what the best date in the US would be to get engaged in December 2016.
When i click on December 22, December 21 shows up in the description. Please help me figure out which day is best in US this month. Thank you
Answers (1)
Answered by Ruby from NEW ZEALAND | Dec. 04, 2016 20:17

3

2

Reply
Dec. 9, 10, 12, 18, 21, 22, 25, 28, 30, and 31 are lucky dates for engagement.