Hangzhou - Shaoxing Private Day Tour
Shaoxing Inner River Cruise - Shenyuan Garden - Orchid Pavilion
In the morning, our guide and driver will pick you up from the hotel in downtown Hangzhou and transfer you to Shaoxing in about an hour's drive. Upon arrival, we will begin this private Hangzhou-Shaoxing day tour immediately by taking a cruise on the Inner River. Like the local people, you will view this quiet waterside town leisurely by black awning boat, which is also named as 'Chinese Gondolas'. En route, dwelling buildings with traditional Chinese styles and bustling local bazaars can be seen. At around noon, you will have lunch in a local restaurant.
After that, our guide will take you to the Shenyuan Garden to continue this one-day Shaoxing tour. As a place appeared in a tragic love story between the famous poet Lu You and his wife, Shenyuan Garden is an elegant Chinese classical garden with nice landscape and cultural atmosphere. The rest of the afternoon, we will accompany you to the Orchid Pavilion to get a close contact with Chinese calligraphy culture.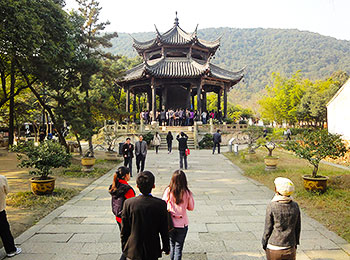 Visit the Orchid Pavilion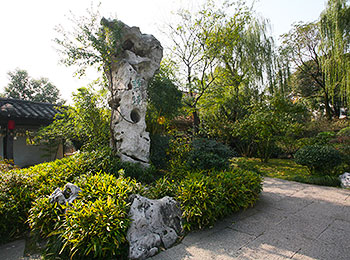 The elegant landscape in Shenyuan Garden
After visiting the Orchid Pavilion, we will escort you back to your hotel in Hangzhou. It's time to say goodbye and we hope you have spent a nice day!
Meals: Lunch
Shaoxing Inner River
A Shaoxing day tour is not complete without a cruise in the Inner River. Shaoxing is one of the oldest water cities in China, enjoying a reputation of "Oriental Venice". A lot of waterside towns and streets, stone bridges, and flagstone walkways form the distinctive view of this city. The black awning boats with unique appearances swinging along the waterways are a particularly beautiful scene. Taking the boat on the Inner River, you will enjoy the picturesque surroundings of the city, watch the special aquatic dwellings and see the local people's style of living.
Shenyuan Garden
With a long history of more than 800 years, Shenyuan Garden was a private garden belonged to a rich merchant in the Southern Song Dynasty (1127-1279). Covered by dense green trees, it is composed of pavilions, rockeries, ponds as well as bridges over the flowing streams, looking exquisitely and gracefully. In ancient times, many poets and literary men wrote popular poetries and created artistic paintings when facing the fine view and quiet environment here.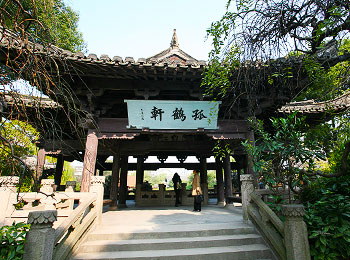 Solitary Crane Pavilion in the garden
A stele with poetry
Orchid Pavilion (Lanting Pavilion)
Located in the southwest of Shaoxing, Orchid Pavilion is well-known because of a calligraphy work Lantingji Xu - Preface to the Poems Collected from the Orchid Pavilion - written by Wang Xizhi, a famous calligrapher of the Easten Jin Dynasty (317 - 420). Orchid Pavilion is a small four-corner structure with a stone stele inside engraved with two Chinese characters 'Lan Ting' inscribed by Emperor Kangxi of the Qing Dynasty (1644 - 1911). Besides the fascinating natural scenery, a museum of calligraphy is built here, and you can see the ancient and modern famed calligraphy works on display in the exhibition hall.
Prices (US$ Per Person)
1 person

$359

2 persons

$197

3 persons

$197

4 persons

$156

5 persons

$156

6 persons

$109

7 persons

$109

8 persons

$109

9 persons

$109

10+

$88

Price Includes
Private English-speaking guide
Private driver & air-conditioned vehicle
Chinese lunch
Entrance fees to tourist sites
Price Excludes
Hotel accommodation with breakfasts
Tips or gratuities for guide and driver
Why Travel With Us
Itineraries you may also like: