Top Shanghai Attractions
More Things to Do
Top 10 City Tours
Code: SH30
Two Days in Hangzhou
Day 1
Shanghai - Hangzhou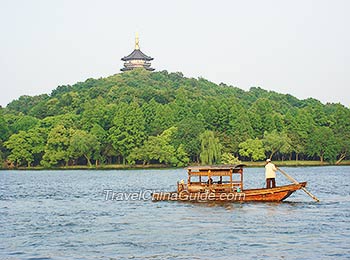 West Lake
Take subway line 2 to Shanghai Hongqiao Railway Station to catch a high speed train to Hangzhou. You will arrive at Hangzhou East Railway Station in around one hour. Then take subway line 1 from the train station to Longxiangqiao. Leave from Exit B and walk westwards along Xueshi Road for 300 meters (330 yards) to the West Lake Scenic Area.

Then follow this route to tour the lake counterclockwise: Broken Bridge - Bai Causeway - Moon over the Peaceful Lake in Autumn - Solitary Hill - Winery Yard and Lotus Pool in Summer - Dawn on the Su Causeway in Spring - Viewing Fish at Flower Pond.

After that, take bus 52 from the nearby Sudi bus stop to Hefangjie Hehuachitou after 4 stops. Then walk eastwards for 200 meters (220 yards) to Wushan Square. Also stop by the Qinghefang Ancient Street which is 350 meters (380 yards) east of the square.

When this day's backpacking itinerary is over, find a hotel near the Qinghefang Street to have a good rest.
Highlights:
| | |
| --- | --- |
| West Lake | It is the must-see attraction of Hangzhou, looking like a giant emerald lying in the arms of rolling hills. You can also see ancient pavilions and temples around the lake. It presents different charms in the four seasons, and scenery in summer is the most beautiful when a large scale of the lake is covered by green lotus leaves with pink flowers dotted on the surface. |
| Wushan Square | Against the lush Wushan Hill, the square is a good place for locals to spend their spare time. You are highly suggested to climb to the top of the hill to have a full view of the surroundings. |
| Qinghefang Ancient Street | It is a historical block housing many time-honored brands such as Kong Fengchun Cosmetics, Dachang Cigarette, Wanlong Ham, and Zhang Yunsheng Hats. There, backpackers can feast their stomach with authentic local snacks and pick distinctive souvenirs. |
Tips:
1. The West Lake is also a popular cycling tour destination. There, you can rent a bike at a cost of CNY 20 per day to enjoy the great views in a different way.
2. If interested, you can take a boat near the Bai Causeway to cruise the Beili Lake. A four-seat boat costs CNY 40 per hour while it takes CNY 50 per hour for a six-seat boat. The deposit charges CNY 200.
Cost:
| | |
| --- | --- |
| West Lake | Free to enter |
| Shanghai - Hangzhou high speed train | CNY 73 for a second-class seat |
| Subway ticket | CNY 2 |
| Bus no. 52 | CNY 4 |
Day 2
Peak Flown From Afar - Lingyin Temple - Yuhu Bay - Six Harmonies Pagoda - Shanghai
Peak Flown From Afar
Take a taxi to visit the Peak Flown From Afar and the nearby Lingyin Temple. After that, go down Lingyin Road to the east to take bus line Y2 from Lingyin Stop to Yuhu Bay. Then, go back to the alighting point to take bus no. 318 to the Six Harmonies Pagoda.

Your two-day Shanghai side trip to Hangzhou will end at this point. Take bus no. 4 from the Six Harmonies Pagoda to Longxiangqiao and transfer to subway line 1 to Hangzhou East Railway Station for your return high speed train to Shanghai.
Highlights:
| | |
| --- | --- |
| Peak Flown From Afar | You can enjoy the glamorous grotto art by visiting this site. Because of the water erosion, caves of different scales can be found on the cliffs. Over 340 Buddhist statues were placed inside these grottoes, among which the giant Laughing Buddha Statue is the most remarkable one built during the Song Dynasty (960 - 1279). |
| Lingyin Temple | This Buddhist temple has been there for over 1,700 years. It is one of the most prosperous temples in Hangzhou, leaning against the hill and shaded by lush plants. Three joss sticks will be offered for you at the entrance to pray for blessings. |
| Six Harmonious Pagoda | It was built in 970 at the northern bank of the Qiantang River. Because of the good location, you may have a perfect view of the Qiantang River Tide at the top floor of the pagoda. |
Cost:
Peak Flown From Afar
CNY 45
Lingyin Temple
CNY 30
Six Harmonious Pagoda
Entrance Ticket: CNY 20
*Additional CNY 10 is needed to climb the pagoda.
Bus line Y2
CNY 3
Bus no. 318
CNY 3
Six Harmonious Pagoda - Hangzhou East Railway Station
CNY 2 + 4

More Related Packages: