Top Xian Attractions
More Things to Do
Top 10 City Tours
Code: XA29
Xian Independent Tour to Luoyang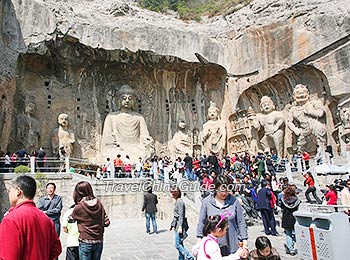 Longmen Grottoes
During or after your independent visit in Xian, you may schedule a side trip to Luoyang if your time permits. Please set out early and find your way to Xian North Railway Station this morning. You can take subway line 2 or buses No. 108, 263, 264, 265, 266, 329, 360, 362, 723, 727 which is convenient to you. Board a high-speed train to Luoyang Longmen. To save time, it is advisable to book the train tickets and have it delivered to you in advance. The high-speed train G1712 0810/0951 and G2002 0820/1017 are recommended for either of them rides less than 2 hours. Since the check-in usually starts 30 minutes before departure and stops 5 minutes before, you need to plan your time well.
Upon arrival at Luoyang Longmen Railway station, follow the station signs and you will be led to 1F transfer hall for exiting. Walk southward for about 30 meters from the exit, you will find bus No. 71, which can take you to
Longmen Grottoes
at a cost of CNY 1. Alternatively, you can also find a taxi in the front square of the exit, and then get to Longmen Grottoes in less than 20 minutes and the cost is about CNY 18. Longmen Caves is among the four most noted grottoes in China, showcasing the prosperity of Buddhism and Buddhist art in Northern Wei Dynasty 1,500 years ago. There were 2,345 grottoes with 2,680 statues, over 70 stupas and 2680 inscribed stone tablets densely carved on the cliff of the mountains. The recommended time for a visit here is 4 hours.
Afterwards, we suggest you take a taxi back to downtown area of Luoyang and find a hotel and check-in. For your information, Luoyang Longmen Youth Hostel is popular among backpackers. If you still have time, you may visit the
Museum of Luoyang Eastern Zhou Royal Horse and Chariot Pits
, which is located in the northeast part of Luoyang City. It was built on the archeological site to display the giant horses and chariots sacrificial pits of over two thousand years ago.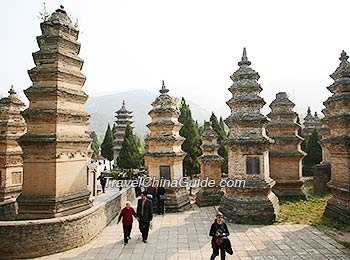 Pagoda forest in Shaolin Temple
Today we suggest you visit the famous
Shaolin Temple
, which is the birthplace of Chinese Kongfu. Please find your own way to Luoyang Railway Station first. Buses No. 6, 14, K2, 28, 33, 40, 46, 48, 50, 51, 52, 55, K56, K68, K81, 83, 103 all have stops at this station. Then you will easily find Luoyang Bus Station located on east of the railway station. Here you can take the regular bus for Xuchang/ Xinmi, which stops by Shaolin Temple. The bus is available every 30 minutes, and the fare is CNY 24. You will arrive at the Shaolin temple in two hours.
Highlight of Shaolin Temple is the Kungfu show performed by Shaolin monks. Besides, the Pagoda Forest on the west side of the temple, which is the largest group of ancient pagodas currently preserved in China, also deserves your time. It is the place where the abbots and eminent monks of Shaolin temple were buried. Generally speaking, 2 to 3 hours are needed for sightseeing here.
Afterwards, you can find bus back to Louyang from the parking lot at the entrance of Shaolin Temple. Now your 2-day independent Luoyang tour comes to an end. You can take high-speed train G861 1636/1817 or G1895 1649/1839 back to Xian. Alternatively, you may continue your trip to Beijing by taking the high-speed train G664 1619/2025 or G666 1734/2131. For those who want to travel to Shanghai, you can take high speed train G1938 1632/2126 or G1934 1638/2226.
Admission Fee for sightseeing spots for this 2-day independent travel plan:
Longmen Grottoes
CNY 100 (including grottoes on East and West Hills, Xiangshan Temple and Bai Garden)
Museum of Luoyang Eastern Zhou Royal Horse and Chariot Pits
Main site: CNY 30;
Branch site: CNY 10;
Join ticket : CNY 35
Shaolin Temple
CNY 110 (including CNY 10 for electric bus)

More Related Packages: