Qinghai Lake Pictures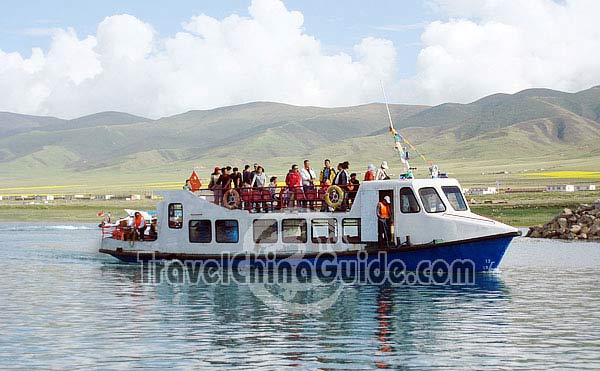 It is like a glittering and translucent sapphire mounted in the vast expanse of the plateau.
Qinghai Lake is the largest inland and the biggest saltwater lake in China. It is also known as 'kukunor' in Mongolian and as 'cuowenbu' in Tibetan, which both means 'blue sea' in English. This beautiful place is surrounded by high mountains. Green grassland stretches from the foot of mountain to the lakefront. Seen from afar, the place is like a blue sapphire embedded on the wonderful Plateau under the blue sky. Attraction Intro:
Qinghai Lake
- Last modified on Dec. 28, 2018 -
Questions & Answers on Qinghai Lake Pictures
Asked by Mr.Wong | Apr. 23, 2011 01:17

Reply
There are 7 trains from XINING to LHASA, which are the trains depart on Sunday from XINING? Can I buy the train tickets in advance from CHENGDU Railway Station?
Answers (1)
Answered by Mr.Clare | Apr. 23, 2011 02:00

28

0

Reply
The trains K9801, T23, T165 and T27 depart on August 8, 2010 from Xining. At Chengdu Railway Station, usually passengers can only buy the tickets for the trains departing from Chengdu such as T23.
Asked by Ms.Wu from SINGAPORE | Aug. 05, 2009 11:21

Reply
Hi I'll arrive in Xining sometime around noon in 2nd week of Oct and we'll be leaving the next day about late afternoon to catch the train to Lhasa..what do you suggest we do in this short period? We would rather see more scenic sites than temples or monasteries..Is Qinghai lake still worth a visit during this period with no rape flowers nor many birds?
Answers (1)
Answered by Ms.Hoo KY from SINGAPORE | Aug. 07, 2009 13:00

21

0

Reply
Hi Ms Wu,

I just returned from a trip to Xining-Golmud-Lhasa two weeks ago. Rape seed flowers were in full bloom along the way to Qinghai Hu. Although the pics turn out well, I didn't enjoy the secenary that much as the effect of high altitude became more profound as we got nearer to the lake (3200M). In my opinion, there's really nothing to see if flowers or birds are not there - and you are right that neither will be there by Oct. Furthermore it takes a good whole day to reach the Lake by bus from Xining and the same length of time back (I suppose you are traveling to Lhasa by train from Xining, so time will be really tight).

Having said all these, the main aim for us to stop overnight there was to acclamatise to the highlands so that we can much much better adapt to Lhasa (3600M). Hence we moved on to catch the train from Golmud instead. In total we spent 2 days on national Highway 109 (from Xining to Golmud, via the Lake Caka Salt Lake Qaidam Basin). The sceneries were worth the effort (a.k.a. suffering)

My advise is: get a good rest in Xining, don't strain yourself out as Tibet is physically demanding. If you really want to visit the lake, do make another trip when you are back from Lhasa. It's a wonderful place!