Guiyang Bicycle Tours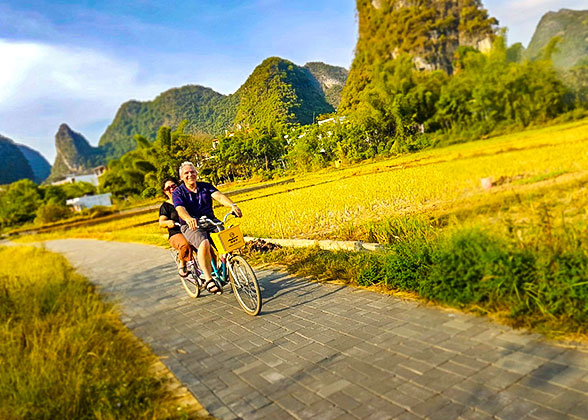 BC-GY01 : 1 Day of Guiyang - Huaxi - Qingyan - Guiyang
This short journey can be finished leisurely in one day. Set off in the morning, your first destination is Huaxi which is just 17 kilometers (11 miles) to the south of the urban area. This beautiful rural area is also an assembling place of Han, Buyi, Miao and other minorities. The Huaxi Garden in center is worth a visit, especially in the blooming spring. By the way, the beef rice noodle of Huaxi is so delicious to have a try. Later, you will continue the journey southward to Qingyan 12 kilometers (7.5 miles) away. It is an old city with a history of about 600 years. Wandering in the lanes, you will be attracted by those well-designed ancient buildings to a certainty. Afterwards, you can take a bus back to Guiyang quickly.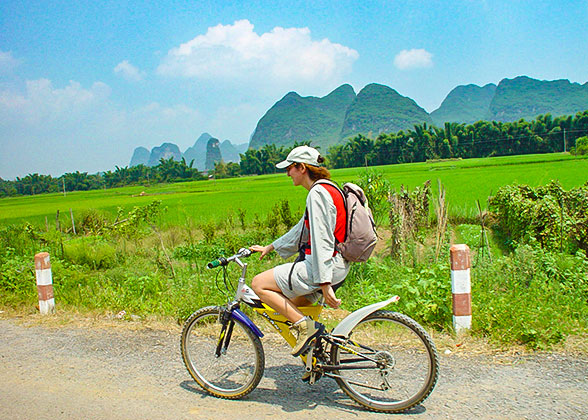 BC-GY02 : Guiyang - Longli - Guiding - Kaili - Taijiang - Sansui - Yuping - Tongren - Jiangkou - Tongren - Fenghuang
Upon arrival in Guiyang, you can cycle in the urban area to explore the Qian culture. If time is available, you could ride to the suburban Luosishan Mountain for a visit. Set off from Guiyang next morning, a 100-kilometer (62-mile) journey eastward will take you to Guiding, passing by Longli where you can have a budget lunch. You should depart early on the next morning because a 120-kilometers (75-mile) rolling road to Kaili should be finished today. En route, you will pass by some beautiful villages of Buyi people.

Stay over in Kaili and explore this Miao region in the next day. In the afternoon today, you cycle 45 kilometers (28 miles) to Taijiang which is also a living area of Miao people. This journey is flat that you can enjoy the rural beauties leisurely. The next day you should leave for Sansui County which is about 70 kilometers (43 miles) from Taijiang. Here, you could try the delicious Sansui duck and have a good rest for the next day's exciting trip.

Set off from Sansui, you will cycle about 80 kilometers (50 miles) westward to an old town called Zhenyuan. The beautiful town has charming natural sceneries and eye-catching architectural group for exploration. This night you can Today, you can continue to Yangping Town which is at the border of Tongren.

The next day, you will arrive in Tongren which is an assembling place of Tujia, Miao, Dong and other minorities. Then, you can arrange a tour to climb up the Fanjingshan Mountain of Wuling Mountains which is about 80 kilometers (50 miles) to the west of Tongren.

On the last day, you can cycle about 115 kilometers (71 miles) eastward to Fenghuang of Hunan Province directly. En route, you will pass by Tongren City. After visiting this tranquil town, you can extend the journey to Zhangjiajie, even to Changsha.