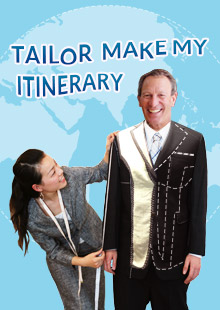 Jiangxi - Jingdezhen Hiking Tours
5 Days of Jingdezhen - Jiujiang - Mt. Lushan - Jiujian
On the first day upon arrival in Jingdezhen city, settle yourself down in a comfortable hostel. Then explore the in-city spots to get a feel for the porcelain culture of the city. Your first adventure should be a hike to the Jingdezhen Ceramic Museum. This porcelain museum has around 18, 000 valuable porcelain pieces produced through many dynasties. The Museum is located on Lianshe Road. It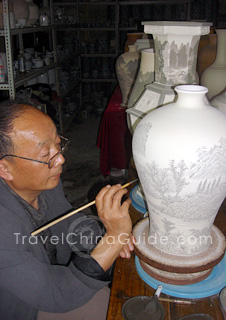 Porcelain-making in Jingdezhen
takes about 50 minutes for the tour. Then go to Dragon Pearl Pavilion, which lies southwest of the Ceramic Museum and takes about 30 minutes on foot. Proceed to Guyao (Ancient Kiln Site) and the Ceramic Historical Expozone. The two sites are located very near to each other and a tour of both sides takes about three hours. The travel bus U1 takes the same route. The bus stops along the route will assist you in finding the correct direction to each tourist spot.
On the second day, continue hiking to Yaoli, which is a small town in Fuliang County and is located 55 km east of Jingdezhen City. The regular coach from Jingdezhen city to Yaoli leaves at 07:30 and 14:30 daily. You can take the coach at Licun Coach Station and the coach fare is around CNY11.00. The through ticket which includes Yaoli scenic spots is CNY98.00. There you can appreciate the beautiful scenery of Yaoli Ancient Town, the Wanghu natural view and the Ancient Porcelain Resort. Returen to Jingdezhen City in the afternoon.
On the third day, take the long-distance coach to Jiujiang city to hike on Mt. Lushan. The coach from Jingdezhen city leaves every hour from 07:30 to 19:30. The coach fare is around CNY55.00 and it takes about 1 hour and 45 minutes to get to Jiujiang Long-distance Coach Station (Add: No. 30, Lufeng Road, Jiujiang City; Tel: 0792-8550299). Connect with the coach to Mt. Lushan directly from there. The coach rides along the Beishan Road for about an hour to reach Mt. Lushan and the fare is around CNY10.00. Start your hiking from the Small Tianchi to Wangjiang Kiosk, then head for the Flower Path, the Ruqin Lake and Jinxiu Valley. The exit of Jinxiu Valley is the entry gate of the Immortal's Cavern. If time permits, you can continue hiking to the Lulin Lake, the site of Lushan Conference, until you find your final destination of Guling Street where you can find a hostel for the night.
Mt. Lushan, Jiujiang
Since the tour spots are spread over Mt. Lushan, it is a good idea for you to let a local person accompany you. The cost is about CNY20.00. You can follow him/her and hike the shortest route between each spot. On the fourth day, the recommended itinerary is to get up early to see the sunrise from the Hanpo Pass which is located in the southeast of Mt. Lushan. Then hike to visit the Three-step Spring and the peak of the Five Old Men.
On the fifth day, take a car to the Xiu Peak in Xingzi County where the famous Xianglu Peak is located. Visit the Horse Tail Waterfall and the Yellow Cliff Waterfall. Continue by visiting the White Deer Cave Academy which was the top institution of higher learning in the Song Dynasty. Return to Jiujiang or leave according to your schedule.
Hiking in Other Destinations of Jiangxi:
Nanchang Hiking Routes