China Golden Triangle Tour
L-101: 9 Days Private Tour of Beijing - Xi'an - Shanghai - Suzhou - Shanghai
Tour Type:
Private Tour, any part of the itinerary can be customized
Guide & Driver:
English-speaking guide, experienced driver with an air-conditioned vehicle
Highlights:
Must-see sights in China - Mutianyu Great Wall, Forbidden City, Terracotta Army Museum
Visit a local Chinese family home, interact & dine with the hosts in their home
Try biking on the Ming Dynasty City Wall of Xi'an, or tour by electric car
Cruise on the Huangpu River to take in the impressive skylines of Shanghai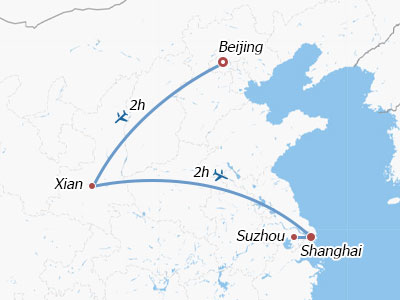 Welcome to Beijing, the first destination of your 9 days China tour. Our guide will meet you or your family outside Customs of Beijing Airport after your check-out procedures are fully completed. You will then be transferred to the hotel. The rest of the day is free for you to rest or explore.
Forbidden City
This morning, your 9 days guided tours of China starts from the world's largest
Tiananmen Square
, which is a site where many major historical and celebratory events took place. Walk through the square to the Golden Water Bridge, you will enter the best-preserved imperial palace complex,
Forbidden City
. Once the palace of twenty-four emperors from the Ming and Qing dynasties, it not only exhibits the incomparable architecture arts and precious cultural relics, but also shows how the ancient emperors administered the country and lived their lives 600 years ago.
It is our routine to arrange quality food whenever we arrange a meal for our guests. Today you will be served an
a la carte lunch
(valued at CNY150.00 per person and included in our price) of authentic Chinese dishes at a noted local restaurant, not a tourist-oriented eatery. In this trip, you will taste different flavors of Chinese food in different cities, just like a food tour.
In the afternoon, visit the
Temple of Heaven
, which is the largest ancient imperial worship architecture complex in the world. After that, take a rickshaw ride through the
Hutong
alleys to experience the old residential quarters of Beijing and people's life there.
Meals: Western buffet breakfast, A la carte lunch
Mutianyu Great Wall
After a good night's sleep, we hope you are as fresh as a Daisy. Have a hearty breakfast at the hotel and then you will head to the
Great Wall at Mutianyu
. During the 1.5 hours' drive, you can enjoy the views of the city and suburbs while listening to the guide's explanations on Chinese history and culture, or any topic you are interested in. Now we reach the Great Wall. As one of the greatest wonders of mankind, the majestic Great Wall is always a must for those visitors to Beijing. Mutianyu is one of the most famous and developed existing sections. A round-trip cable car is included to save your energy for later Great Wall hiking. You will have around 2 hours or more to appreciate the amazing views.
Today's lunch is on your own arrangement. Our guide will offer you some suggestions.
On the way back to downtown Beijing, we will drive by the
Bird's Nest
(the Olympic National Stadium), which is the major venue of the 2008 Olympic Games. Afterwards, we will set aside some time for you to relax at a local market before returning to the hotel.
Meals: Western buffet breakfast
Day 4
Beijing to Xi'an by Flight
Local people making clothes in the market
Explore the
Summer Palace
and the
Yonghe Temple
in the morning. The Summer Palace, built 260 years ago, is an imperial garden with natural scenery of mountains and lakes, as well as a temporary dwelling palace for the imperial family. The Yonghe Temple, also named Lama Temple, is the largest existing Tibetan Buddhist monastery in Beijing. Once the palace of Emperor Yongzheng and the birthplace of Emperor Qianlong in the Qing Dynasty, it has the style of the royal monasteries. And now it attracts tourists from all over the world with its profound Tibetan Buddhism culture.
Then fly to the famous ancient city - Xi'an and be transferred to the well-selected hotel by our Xi'an guide and driver.
Meals: Western buffet breakfast
Terracotta Army
The highlight of today's Beijing Xi'an Shanghai itinerary is the 'Eighth Wonder' of the world, the
Terracotta Army Museum
, which is a huge underground military museum constructed as an accessory pit of the Emperor Qin Shi Huang's Mausoleum. In the museum, you will not only appreciate the amazing warrior figures, but also enjoy the display of Chinese ancient weapons, which exemplify the wisdom of the laboring people over 2,200 years ago. Lunch is on your side. You may get recommendation on the proper restaurants nearby from the guide.
In the afternoon, have a leisure walk at the Jianfu Temple where the
Small Wild Goose Pagoda
is located inside. With delicate appearance, the Small Wild Goose Pagoda is reputed to be the exquisite artistic heritage of Buddhist architecture in the Tang Dynasty. Then continue to visit the
Great Mosque
, a place where the local Muslims attend worship ceremony. You may have a glimpse of Muslims' life here. The surrounding Muslim Street is also a great place to savor for local food. You will have some free time to explore on your own.
Meals: Western buffet breakfast
Day 6
Xi'an to Shanghai by Flight
Bicycle riding on the ancient City Wall
Health has received increasing attention in China and more and more people will go to the park to do exercises and many different kinds of activities. In the morning today, we will head to the
City Wall Park
, where you could take a stroll and join in the locals to do some morning exercises. Here, we have specially arranged a Tai Chi lesson for you. Tai Chi is a popular exercise in China, which is considered a sport that integrates edifying one's temperament and building one's body. With every movement and every breath, you will understand the charm of Tai Chi. Then we will ascend to the
City Wall
, which was originally built as military defensive systems in the Ming Dynasty (1368-1644) and now a must-see tourist attraction for all travelers coming to Xi'an. Standing on it, you may overlook the view of this ancient city. If you are interested, you can also visit the wall by cycling or sightseeing car at your own expense. Your guide will make proper arrangements according to your preference.
After that, you will have a
local family visit
and enjoy an a la carte lunch (valued at CNY120.00 per person and included in our price) to taste authentic home cooked dishes. If you are interested in cooking, you can choose your favorite dishes in the menu of our
Chinese food cooking class
and the host will teach you step by step how to cook this dish. This is totally for free and you do not need to pay any fee for this.
Then you will take a flight to Shanghai. Upon arrival, our local guide and driver will meet you at the airport and transfer you to the hotel. Have a good rest tonight.
Meals: Western buffet breakfast, Home-cooked a la carte lunch
Shanghai Bund
In the morning, you will visit
Shanghai Museum
first. Then, proceed to the
Yu Garden
, which is a famous classic garden of the south region. The beautiful scenery and quiet atmosphere here make it a peaceful place in the bustling city.
Around noon, you will have an
a la carte lunch
(valued at CNY150.00 per person and included in our price) at a fancy and famous local restaurant, which offers authentic Shanghai and Cantonese cuisines.
In the afternoon, we will transfer you to the Bund area for
a one-hour cruise
on the Huangpu River. Standing on the boat, you will see many western-style buildings from Shanghai's colonial days in Puxi area. While on Pudong side, rows of skyscrapers will come into view. The utterly different buildings are the best records of the development of the city. You will explore
the Bund
area and then visit
Tianzifang
cultural and art zone before returning to the hotel.
Meals: Western buffet breakfast, A la carte lunch
Day 8
Shanghai - Suzhou - Shanghai
Today, accompanied by our guide and driver, you will have a one day excursion to Suzhou to appreciate the charms of private gardens and ancient water towns in the southeast region of China. Drive for around 2 hours you will arrive at the
Humble Administrator's Garden
, one of the four great gardens in China. It is so ingeniously designed that every step you move, you will see a different view. If observed carefully, you will find that the porches in the garden, the stone walls with hollow patterns, the pavilions, and the carved flowers in the windows are all different. What is more surprising is that these seemingly dead things actually correspond to the surrounding view of flowers and trees.
Then, after a brief stop at the nearby
Suzhou Museum
, we drive about one hour to
Tongli
, one of the most prestigious water towns in the southern region of China. Relatively speaking, Tongli still retains the simplicity of the ancient town. And it is the only ancient water town with a world cultural heritage - Tuisi garden, which makes it a very unique place to visit. When you finish the tour here, we will transfer you back to the hotel in Shanghai.
Meals: Western buffet breakfast
Day 9
Departure from Shanghai
Your private 9 days China tour package ends today. Our guide and driver will pick you up from the hotel and escort you to the airport for your homeward flight. We wish you a pleasant journey home.

Meals: Western buffet breakfast
B-- Breakfast
L-- Lunch
D-- Dinner
Christmas & 2023 Special Deal
Enjoy
12% off
if you book before Dec 25, 2022
Tour Prices with Luxury Hotels
2-3 travelers
4-5 travelers
6-9 travelers

$2259

$1987

$2039

$1794

$1809

$1591
Tour Prices with Standard Hotels
2-3 travelers
4-5 travelers
6-9 travelers

$2029

$1785

$1819

$1600

$1579

$1389
Prices are per person in US Dollars based on double occupancy.
The prices in red reflect 12% discount.
Any part of the itinerary e.g. tour length, activities & hotels can be tailored to your individual interests.
Price Includes
Domestic airfares
Hotel accommodation with breakfasts
A la carte lunches as itinerary specifies
Private English-speaking guides
Private drivers & air-conditioned vehicles
Entrance fees to tourist sites
Price Excludes
International airfares
Entry Visa fees
Personal expenses
Tips or gratuities for guides and drivers
Comparison with Our Competitors
How Do We Reach Lowest Price?
Based in China, we have been committed to cultivating inbound tours, aiming to directly purchase airline tickets, hotel bookings and cruises etc. Unlike other agencies who seek profits of 50%, our profits are as low as 6%. So many of our competitors' itinerary quotations are twice as high when compared with ours, and many of their 4-star hotels itinerary prices exceed ours with 5-star international brand hotels. You will be shocked and we are shocked as well.
No Annoying Shopping Stops
Shopping tours will not only take your time from sightseeing, but also waste your money on overpriced items. Our no shopping promise will enable you to thoroughly enjoy the trip without facing aggressive selling. All our guides are well-paid so they will concentrate on delivering the holiday experience you expect.
Some companies claim they have "No Obligatory Shopping", please be cautious as they just give their shopping tours a happy gloss. Some do not mention any shopping in itineraries, which doesn't mean they are shopping-free tours. You are advised to ask the operators directly before booking.
People to People Connected
We will make your trip more than just sightseeing. In addition to the popular attractions that every agency will arrange, you will be deeply involved in the lives of local residents in our tours.
•
Take a rickshaw through the Hutongs and visit a quadrangle courtyard for an up-close look at the old Beijing house and the people's life there. Several generations of a family may live together in such a courtyard. What is the layout of the house? And how do they live together? Your guide will take you to find the answer.
•
Experience benefits of Tai Chi with a lesson from a local master in the City Wall Park of Xi'an. Learn the gestures and motion, feel your breath coming in and going out, and experience the wonders of Tai Chi. Many local people are doing exercises there, so it is also a good chance to step into their lifestyle.
Eat Like a Local Traveling with Us
Why are the Chinese so proud of their food? You will get to know that during this trip. Unlike some travel agencies who provide set-menu food in tourist restaurants, we will offer you a la carte menus at local restaurants where you will order what you like and taste the most authentic Chinese cuisines.
What's more, each city also has their own local specialties, like Rougamo, the best Chinese burger, and Hot Oil Noodles in Xi'an, the Steamed Buns and Chinese Wontons in Shanghai. You will not only have a chance to try these, but also see them freshly made through a glass window.
Hot Oil Noodles
Steamed Buns
Optional Tours Are Tourist Traps
Optional tours mean you will spend much more than you originally booked. Some agencies advertise low-cost tours, but you then find you have to pay high pieces for optional tours of the must-see sites. Our tours are all-inclusive with transparent itineraries.
Tailor-make Your Itinerary for Free
Our guests enjoy the freedom to choose a different travel style. 99% of our valued guests enjoy tailor-making their travel itineraries. We will make a quick reply within 24 hours.
No Change Fee
Should any changes made prior to the start of the tour or even during the trip, there will be no extra charge for our services. You only need to be responsible for the cost of variations incurred with airlines and hotels.
Other levels available for this itinerary:
Customer Reviews

Questions & Answers
We just returned to Canada from our lovely trip in China. The meals they arranged on our tours were absolutely fabulous. I liked the variety of atmosphere and food. I think the best restaurant was the last one, the Western style...unfortunately it closes to prepare for dinner in the early afternoon so we were rushed a bit, but not sent away, they did accommodate nicely. All three of the guides were

very special in their own way. We enjoyed each and every guide and recommend to use them frequently in the future. The guides were all knowledgeable and friendly. We felt they were all three more our friends than guides. Sherise, in Shanghai was the most knowledgeable, we would ask a random question about a building we drove by and she knew what it was. Coco was the most loving and we felt that she was like family. She knew her stuff and she took care of us like we were family. Brian and Mr. Bye were fantastic in their knowledge and their ability to bend over backwards to accommodate us for our personal needs. The best driver was in Beijing with Brian Ma...Mr. Bye. He was as much a part of our experience as our guide Brian was. The drivers in Xi'an and in Shanghai did a great job driving and left the guiding up to the guides. All vehicles were as warm and comfortable as we requested. I requested to stay at the Hotel New Otani Chang Fu Gong in Beijing. This hotel met every expectation. Although the breakfast was similar every morning, there were enough significant changes as to not make it boring. Our room was very comfortable and the service of staff was sufficient. Our guide Brian Ma helped to check us in, making this easy. The maid service was sufficient. We went with the Renaissance Shanghai Yu Garden Hotel in Shanghai and it was not as successful. Although we appreciate the fact that they had no problem changing our reservation and adding a couple extra nights to accommodate my son visiting, it is expected as well being off season for tourists. Although this hotel is lovely on the outside and the front entrance and halls look wonderful, it seemed everything in our lovely room was broken. The breakfast was similar to the one in Beijing but there were not enough changes to keep it from being boring. We were very disappointed with this hotel. I would truly encourage anyone who is visiting China to take the headache out of the experience and leave all of the responsibilities to TravelChinaGuide and their capable staff. My memories include the ease to get to China, the experience and now I feel sad that it is over.

...

More

Beijing:

Meals: All were excellent. I liked each and every one of the restaurants I went to, especially the lunch restaurant. A suggestion I would like to give is that one of the meals be a Cantonese Dim Sum (Dien Xin) meal.

Guide: Maggie was an excellent guide and would recommend her anytime to anybody traveling to Beijing. Very attentive, knowledgeable, and provided great service. She had excellent

domination of the English language.
Hotel: The hotel was excellent and comfortable. It was in a good location with a shopping mall next door.
In terms of the tour itself I would like to offer the following suggestion. It would be nice to include a day trip to Gubei Water Town.

Xi'an:
Meals: The meals were OK, but I definitely liked the food in other cities better.
Guide: Roger's service was very good. His English and knowledge of the sites was excellent.
Hotel: It was OK.
The sites at Xi'an are charming. The landscape on Huashan is so unforgettable.

I would recommend this tour to anybody.

...

More

Posted on February 23, 2020

Abbey made excellent arrangements and was always quick to respond to any questions. So far our tour plan was smooth. Well done Abbey. We look forward to our upcoming trip.