Code: TB23
Trekking to Metok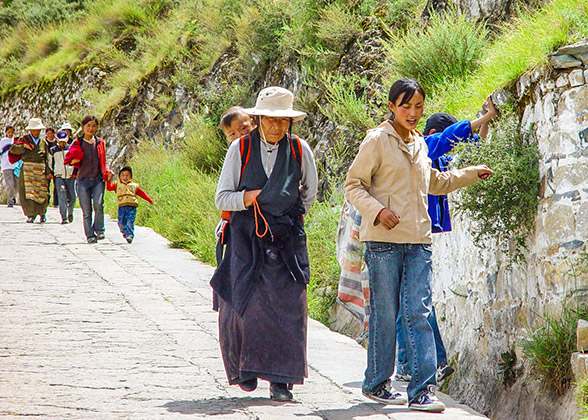 Tibet people
Metok, which means 'Bka'gyur', Motuo, or 'hidden lotus' in Tibetan Buddhist scripture, is Tibet's purest and holiest region. This mystic Lotus Land is hidden the Yarlong Tsangpo Canyon and the last county inaccessible by vehicles in China. A trek in Metok is undoubtedly crowned the No.1 challenging route in the country.
Upon you access in
Lhasa
, you might take a coach to Pai Village (3170m) directly from the West Suburb Coach Terminal. It departs at 08:30 am and costs ¥100.00 net per person.(Telephone: 0891-6824469) You can stay in the local Hostel, which costs ¥15.00 per person per night. Pai Village is memorized as the springboard of the harsh trek to Metok and also the last station for the trekkers to restock your supplies for the trek. You are suggested to contact with the owner of the Yuzhou Restaurant and ask him to find a truck, so that you can take a truck to Songlinkou on next day. The fare for chartering a truck is ¥250.00.
The trekking route starts on the second day. The mountain path is rough and rugged, with lots of sudden turning from Pai to Songlinkou. It costs almost 2 hours for the 18 kilometers route. You are suggested to launch from Pai Village at 5:00 am and you will arrive in Songlinkou around 6:30. Songlinkou is the end of the highway, and also the start point for trekking.
There are approximately 20 kilometers from Songlinkou(3730m) to Lage(3250m). It takes 2 to 3 hours to climb up the Duoxiongla Mt. (4170m) and 3 to 4 hours to cover the downhill path, which winds along small streams and gullies, slippery. It's very hard to cross Duoxiongla Mt. at an elevation of 4221m, you need not only be adjusted the altitude, but also be prepared for the changing weather and uncertain road condition ahead. The path is paved with stones in abrupt slope from 1000m to 4000m. Colorful pray flags flick here, just like in the other Tibetan mountain areas. It takes another 2 hours from the pass to the Lage camp.
Lage is a basic reception station consisting of a few wooden houses, providing accommodations to the trekkers. You might find a lodge in Sichuan style. Lodging is around ¥10.00 per night per person and meal is ¥10.00 per person. You can appreciate the extraordinary scenery in Lage area.
On the third day, you are suggested to pass Dayandong (Big Grotto) (2920m) and reach Hanmi (2240), which is a lodging station similar to Lage. This arduous walking day is supposed to cover 28 kilometers for 8 hours. If you start the tour on 8:00 am, you might arrive in the Big Grotto at 10:00 am. Big Grotto is a small Menba Lodge and you might rest for 1 hour there. After lunch, continue to Hanmi, where is the horrible "Leech Zone". This is really a difficult journey, which continues along the narrow stone path in the jungle, accompanied by attacking leeches all the way to Hanmi. The condition will be worse in rain, with more slippery path and leeches. The best way to tackle leeches is by cigarettes or spirit usu. Tip: There is a military depot in Hanmi, and a Sihai lodge is in face of it. It costs ¥10.00 per night. There is also a satellite telephone in the military depot, which costs ¥1.00 per minute.
Praying wheels, Tibet
On the fourth day, the route will cover Laohuzui (Tiger Mouth) and end at Ani Qiao(Ani Bridge), which is about 15 kilometers. The road starting from Hanmi is narrow and steep in some parts, especially at Tiger mouth, a path excavated along the rocky cliff, with a terrain of steep valley dotted by a few waterfalls, which is the most dangerous part of the Metok trek. Walking here is as dangerous as in a tiger's mouth, hence comes the name. Trekkers should be highly concentrated and cautious with every step. Although the journey is fairly short comparing to that of the previous days, which can be finished within 5 hours; due to the harsh road, it's still quite challengeable, spiritually and physically.
A muddy road after Tiger Mouth leads to Ani Qiao, is around 2 hours walk. There are 2 lodgings at the end of the bridge run by Menba villagers, offering connective wooden beds for ¥10.00 per night.
On the fifth day, the 23 kilometers route will pass Jiefangdaqiao(Liberation Bridge) and you might accommodate in Beibeng. The walk along the river is also a hard journey, with endless steep slopes waiting for you ahead. After the No.2 Bridge, there is a crossroad hugging another path starting from Dexing. Though closer than Beibeng to Metok, the road is much harsher, we recommend taking the Beibeng to Metok path.
After the Liberation Bridge, it will be a long uphill trekking; the Beibeng village seat at the top. There are lodging available at Beibeng Zhaodaisuo, a hostel runs by the Beibeng village committee. It costs ¥10.00 per nights. Important Note: Try to avoid eating in the Menba and Luoba villagers' homes, as people of the 2 ethnic minorities are good at poisoning the food or drink, which is part of the tradition.
On the sixth day, you will reach Metok by 30 kilometers trekking for 13 hour. Metok is the last Pure Land featuring the pinnacle of one's faith. Situated on a mountaintop platform beside the Yarlung Tsangpo, Metok is surrounded by plowlands, forests, clouds and fog, looks like a dreaming fairyland.
Tibet lamas
Beibeng boasts a beautiful morning, after 1 hour walking, you might see a great waterfall. Along this gentle route, you are supposed to reach Yangrang Village of Luoba minority ethnic group. You should pay special attention to not eat and even drink anything there, as they do pretty well in poisoning. For another 2 to 3 hours, you will reach a large village, named Dexing Village and a big bridge, named Dexing Bridge. Turn a left branch after half an hour walking and cross a bridge to Dexing. Continue to walk in this direction; you are on the pilgrimage way to Lotus Holy land, Metok. It spends 1 more hour to reach the summit of the hill. Metok mountain is just at the foot of this mountain. There is a Yulan restaurant, where you can have some food safely.
On the seventh day, as the road from Metok to Miri Village has been repaid and able to pass autos, thus we suggest you to take a jeep there (¥100.00 per person). It will spend about 4 hours for the 20 kilometers distance. Upon arrival in the Miri Village, you will see a small waterfall. You need to start trekking again from the 118K. There are many short-cut on the way and you will also see the Galong Tsangbu River. As it turns right and you need to turn left. When you reach 113K, you will continue to walk for 5 kilometers until you see an Iron Bridge. After this bridge, you will reach 108K lodge. The end of a long trekking is supposed to be the 96K after another 3 hour trekking. You can accommodate yourself in 96K lodge. Remark: The location name of 118K, 113K, 108K, and 96K means the distance from Bomi to Metok along the road.
On the eighth day, starting from the 96K, you will meet an Iron Bridge, and there is a stele state on one side of the iron bridge, with Galong Tsangbu River Nature Reserve on it. 80K is actually a small village and you can lodge there.
Praying Tibetans
On the ninth day, you can either walk to Bomi or proceed to trek there. If you are still energetic or want to challenge yourself further, you might continue to hike to the following 46 kilometers. The walk is along a fairly good road and the journey is much easier. Mt. Galongla (4700m) has rains and snows even in summer. Galong village is at the foot, with Galong Temple housing the Fingerprint of Buddha lotus master. A few monks look after the monastery. An inhumation site nearby is decorated with white pray flag, waving at high. After crossing Galongla Pass, it comes to Bomi, the ending point of the trek.
If you are so tired of walking, you can also wave for a truck to Bomi at 80K, where the road from Bomi to Metok ends. A supply transfer station is located in the small village, just like the one in Pai, where the trek starts.
Bomi is located on the east bank of Galong Tsangbu River. As Chuan-zang highway pass Zhamu town, it makes Bomi an important transportation convergence. Once you reach Bomi, your soul-stirring Metok trekking will call an end.
On the tenth day, you might take a seven-seat jeep to return Bayi town. The jeep departs at 7:15 am and arrives in Bayi at 7:00 pm. The transfer fare is ¥100.00 per person. Have a simple supper there and lodge in the local hostel.
The coach from Bayi to Lhasa departs at 8:30 am every day and arrives in Lhasa at 3:00 pm. You can find the coach at the coach station easily and the transfer fare is ¥80.00 per person.
Reminders on Necessities: 1. Anti-slip shoes with uppers, raincoat, warm coat, sunglass, sunglow, flashlight or torch, lighter, waterproof packing bags,adhesive tapes. Medicines for altitude sickness, cold, stomachache, injury, insect or snake bites,etc. 2. Tent is almost useless on this route, as it's hard to find out a good place to camp, but a sleeping bag is very helpful, for warming and sanitation. 3. Leg wrappings is highly necessary to keep out leech, viper and poisonous insects. Shorts should be definitely avoided.

Recommended Tibet Itineraries with Cheap Price:
Lhasa Tour Package
: 4 Days, visit Tibet Museum, Potala Palace, Drepung Monastery
Tibetan Buddhist Tour
: 7 Days, Lhasa - Gyangtse - Shigatse - Lhasa

More Hiking Routes:
Yarlung Tsangpo Exploration
: 6 days tour from Chengdu to Nyingtri, Pailong Village, Drachu Camp, Yarlung Zangbo Grand Canyon and Lulang Village
Trekking to World's Highest Peak
: 4 days of Old Tingri - Lunjang - Nam-La Pass - Zemukh Village - Rongbuk Monastery - Everest Camp
Tibet Tour
: Trekking along the Oracle Lake Lhamo Latso