Motuo
Motuo, also named Metok or Medog County, is under the jurisdiction of Nyingchi Prefecture in southeast Tibet. Motuo, called Baimagang in Tibetan sutras, refers to "a hidden lotus flower", giving the place a mysterious tone. Geographically, it lies in the lower reaches of
Yarlung Tsangpo River
and southern slope of Himalaya – Kangri Karpo Mountains and adjoins India.
Motuo has a mild subtropical climate. As the lowest area in Tibet Plateau, it is an ideal place in Tibet with the mildest climate, the most abundant rainfalls and the best preserved ecological environment. Known as Tibet's
Xishuangbanna
, it is abundant with immense forests, alpine lakes and raging waterfalls.
Visitors can find various kinds of primitive forests in this region, ranging from forests of alpine frigid Zone to tropical zone. More than 80 kinds of precious and rare plants like camphor tree, ebony, Chinese yew and alsophila spinulosa grow here. No wonder it is famed as 'Museum of Natural Vegetation'.
Small alpine lakes are scattered near the mountain passes of Eastern Himalaya Range. Large lakes, such as Xigong Lake and Buqun Lake, lie in Beibeng Town. Tropical lakes spread in the southern part of Motuo.
To appreciate the waterfalls, visitors shouldn't miss Hanmi Waterfall (Three-layer Spring), Tiger's Mouth Waterfall and Beibeng Waterfall.
China's Last County Without a Highway
Medog was China's last county without a permanent highway. The land was almost isolated from the world and people living there used to deliver supplies only by manpower. In the 1990s, Bome-Medog Highway was constructed but discarded merely three days after completion because of severe earthquake, landslide and mud-rock flow. On April 20 of 2009, the renovation project of this highway commenced at the pass of the Galongla Snow Mountain. Then on October 31 of 2013, the renovated highway was open to traffic officially. It marks the end of Medog's history without a permanent highway. Before the highway was renovated, there were two ways to reach Motuo. People walked along the old damaged highway, or they climbed over Mt. Duoxiongla from Paizhen Town, arrived in Beibeng Town and then went up north to the town area of Medog. The tough road condition challenges many enthusiastic backpackers, making the place a popular trekking destination.
Tourists who are eager to explore Medog can take the following trekking route.
A Classic Trekking Route
The three-day trekking route starts from Songlinkou in Paizhen Town and finishes at Beibeng Town. With a total length of around 78 kilometers (48 miles), it is famed as No.1 trekking route in China.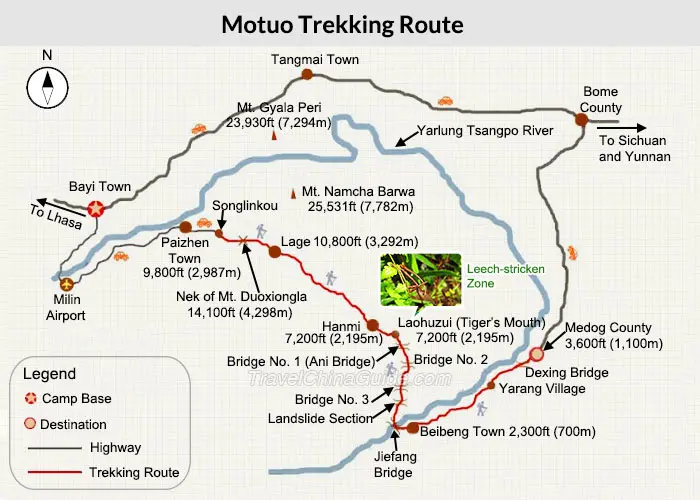 Map of Medog Trekking Route

Day 1: Paizhen – Songlinkou – Mt. Duoxiongla - Lage
Distance: around 18 kilometers (11 miles). Duration: 6 hours.
Trekkers are required to pay CNY 240 for the Yarlung Tsangpo Grand Canyon Scenic Area when they enter Paizhen by bus. Afterwards, they can take a truck to Songlingkou. It costs around CNY 50 per person. Getting to Lage, they should also pay CNY 160 for Medog entrance ticket.

Day 2: Lage – Hanmi
Distance: about 28 kilometers (17 miles). Duration: 7 hours.

Day 3: Hanmi – Beibeng
Distance: around 32 kilometers (20 miles). Duration: around 7 to 10 hours.
Trekkers can continue their trekking or carpool together to reach Motuo. Carpool fee is around CNY 100 per person.
Trekking Tips:
1. Keep your backpack light. However, some necessities including alpenstock, sun glasses, sunscreen cream, lighter, penknife and water bottle shouldn't be missed.
2. Bring some high-energy snacks, such as jerked beef, chocolate and energy sticks.
3. Bring a small medical kit, just in case.
4. Wear a pair of hiking shoes and gaiters to prevent leech bites. If you were bitten, use a lit cigarette or lighter to remove the leeches.
How to get to Motuo

By air
Fly to Nyingchi Milin Airport from
Lhasa
,
Chengdu
,
Kunming
or
Chongqing
and take the airport shuttle bus to Bayi Town in Nyingchi. It costs around CNY 25 and takes about one hour. Then take a regular minibus from Bayi Town to Paizhen Town. Bus fare is around CNY 60. Alternatively, visitors can charter a taxi to Paizhen Town. It costs around CNY 350.

By bus
Take a long distance bus from Dongjiao Bus Station in Lhasa to Bayi Town in Nyingchi. It costs around CNY 200. Then catch the above-mentioned minibus to Paizhen.
Entrance Fee
CNY 160 (valid for 15 days at the most)
Notice:
1. It's an all-inclusive ticket for all attractions in the county, including the above-mentioned three-day trekking route, Gawalong Heavenly Pool, Yarlung Tsangpo River Scenic Belt, Dexing Folk Village, Guoguotang Great Bend of Yarlung Tsangpo River, Gonglagabu Snow Mountain, Buqun Lake and Rinchenpung Monastery.
2. Tickets can be purchased at 52K and Lage Town.
3. Visitors should use their tickets within five days after purchase.
Opening Time
May to October
Best Time to Go
June to August
- Last modified on Sep. 15, 2018 -
Questions & Answers on Motuo
Asked by michael from BOSHER | Sep. 04, 2016 02:57

Reply
How much does a guided tour in Medog cost?
Hi,

Me and my wife would like to have a guided tour in metuo on the 1st of October till the 6th.. How much does the guided tour cost? Does the price include equipment or accommodation?

Please, could you email me back

Best regards,
Michael Bosher
Answers (2)
Answered by TravelChinaGuide | Sep. 05, 2016 03:31

0

0

Reply
Dear Michael,

Thanks for your question! We do not arrange tours to Medog. Sorry for that!

Best Regards,
TravelChinaGuide
Answered by Bill from BRAZIL | Sep. 05, 2016 04:29

0

0

Reply
Hi, Michael! I heard that foreign visitors are not allowed to enter Motuo. U'd better search for the info further.