Beijing Aquarium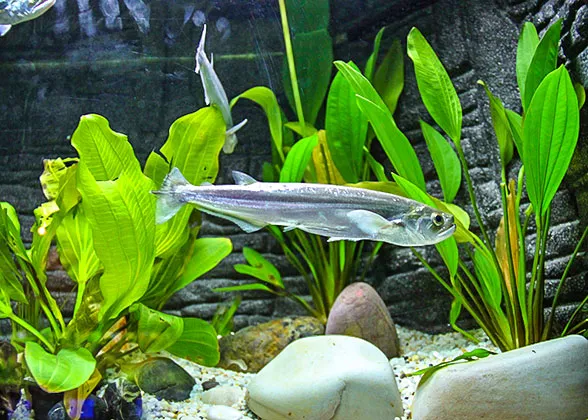 Aquarium
Located in
Beijing Zoo
, it is the largest and most advanced inland aquarium in China, covering a total area of 4.2 hectares. It is designed in conch shape with orange and blue as its main color, symbolizing the mysterious vast sea and endless vitality of marine life. It has six halls: Rainforest Wonder, Shark Hall, Whale and Dolphin Bay, Seabed Travel, Feel Pool and Ocean Theater.
Visitors will be fascinated by the beautiful blue world upon entering it and where the unforgettable journey of getting close to ocean creatures begins. One will also feel like returning to mother nature upon entering the miniature rainforest that consists the primary jungles of the Amazon Basin, home to over 100 species of rainforest fish and fresh water fish. Sea elephant, man-eating fish, variegated carp, glass catfish and many other rare and precious fish are some of the species found here.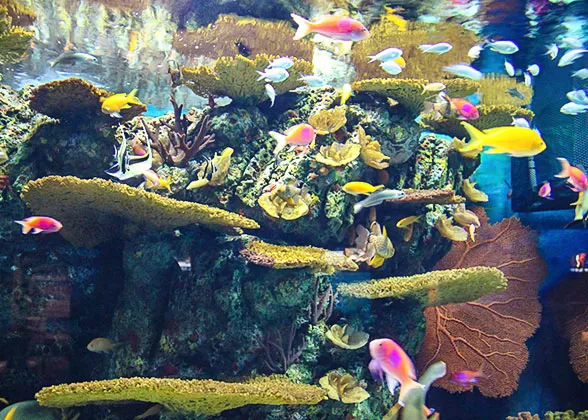 From the movie "Shark Tale", sharks were depicted to be voracious and powerful as they feast on other creatures in the ocean. However, what the shark world is really like is for visitor to find out in the Shark Hall. They are not as depicted in the movie but somewhat serene instead!
Whale and Dolphin Bay is the home and school for whales, dolphins and sea lions. It is here that they are being trained by professional trainers for performances to entertain visitors.
The Feel Pool measures 39 yards long, resembling the long and winding coastline. Many mollusks such as trumpet shells and echinoderm such as holothurians, sea stars and sea urchins live there. Visitors can gently caress them, though with caution as some are rather timid while others are poisonous. Green turtles also swim about in the pool without a care.
Seabed travel takes visitors to a wonderful trip to the bottom of the sea. The undersea tunnel leads you into a colorful and calm ocean world, with all kinds of fish swimming inside the circular tank. Visitors can virtually touch the belly of the furious white sharks and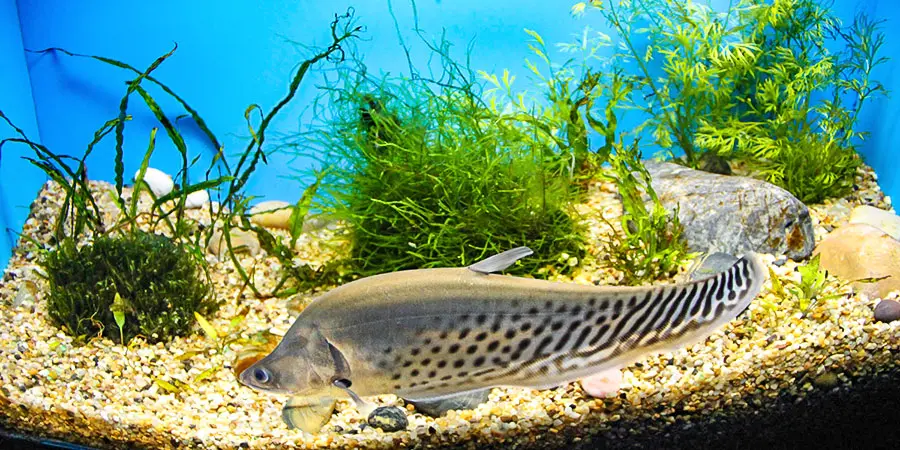 shake hands with turtles. The 32 fish tanks exhibit fancy fishes from home and abroad and visitors are sure to gain much knowledge about them at the end of their visit.
Finally, the Ocean Theater is a venue where animals perform their tricks. It has a capacity for 3,000 viewers, with hot and romantic Hawaii scenery in the background. The incomparably superior performance from these animal stars win rounds of applause from spectators every day.
So, please come by. All the stars of the ocean are awaiting you!
Transportation:
By Bus:
Take bus no.360, 347, 362, 534, 714, 87, Yuntong 106, Yuntong 104, 563, Yuntong 205, Te 4, 608, 107, 105, 111, Yuntong 105, 27, 632 and get off at Dong Wu Yuan Station.
By Subway:
Subway Line 4
: get off at Zoo Station, get out of the station from Exit A (northwest exit), and you'll find the south gate of Zoo where it is located.

Bus / Subway Search
Table of Animal Performance Information
Date
Shows
Show Time
Where to see
Nov. 1, 2015 to Mar. 31, 2016
Animal Performance

Monday to Sunday
11:30
15:00
Ocean Theater
White Whale Performance
Tuesday to Sunday (excluding Monday)
10:30
Bering Strait
Sea Diving and Feeding Performance
Monday to Sunday (excluding Tuesday)
10:30
13:30
Seabed Travel
Archerfish Performance
Monday to Friday (excluding Thursday)
11:00
14:30
Rainforest Wonder
Snailfish Performance
Monday to Friday
11:30
Seabed Travel
Feeding Chinese Sturgeon Performance
Tuesday, Thursday and Saturday
11:00
Chinese Sturgeon Hall
Feeding Elephant Seal Performance
Wednesday and Friday
14:40
Rainforest Wonder
Ticket Information
Admission Fee:
CNY 160 for adults
Children below 1.2 meters (3.9 feet) are free of charge.
Opening Hours:

10:00 - 16:30 ( ticket sales stopped at 16:00)

Suggested Itinerary:
One Day Aquarium Tour: Wanshou Temple - Purple Bamboo Park - Five Pagoda Temple (Former Zhenjue Temple) - Zoo - Aquarium
More Beijing Tours
Print