Beijing, the heart of China, is always the first choice of travelers who are willing to know a time-honored and developed city of China. It has been the political, economic and cultural center of China for over 800 years from the Yuan Dynasty. The numerous royal buildings with long history endow it with incomparable charm, not only the 'Nation's Best' but also the 'World's Best'. On the other hand, as the host city of the 2008 Olympic Games, this oriental ancient city presented her best fashion fascination to the world.


Top Attractions

Imperial Gardens & Mausoleums

Temples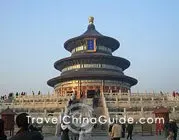 Due to religion was always related with the supreme imperial power, it at one time served as the focus of religious life with lots of beautiful temples. The Temple of Heaven, where the Emperors paid homage to the glory of heaven, is the largest group of structures in the country dedicated to rituals. To be opposite, the Altar of Earth was used to worship the God of the Earth. The Great Bell Temple, where the Emperor prayed for rainfall in the Qing Dynasty.

Historical Sites


Modern Scenic Spots

Natural Beauties