Best India Tour
TIN02: 9 Days Private Tour of Delhi - Varanasi - Jaipur - Agra - Delhi
Tour Type:
Private tailor-made tour, experienced guide and driver
Accommodation:
4 to 5-star hotels, also be open to your own choice
Highlights:
9 World Heritages in Golden Triangle circuit and quasi-heritage city Varanasi.
See Ganga bath, soul-stirring cremation rituals and Ganga Aarti Ceremony.
Know ancient Indian history through Mughal forts, palaces and royal tombs.
Top 3 most photogenic sights: Taj Mahal, Hawa Mahal, Jal Mahal.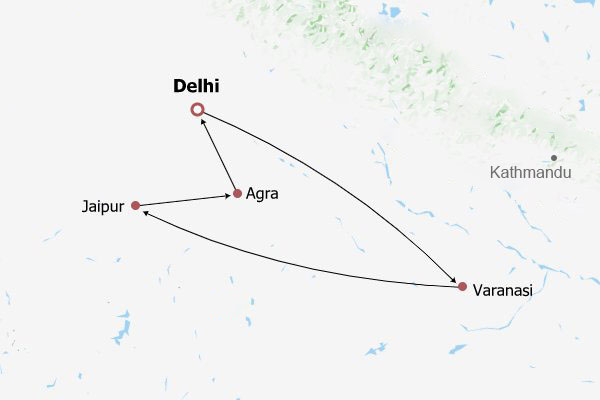 Day 1
Welcome to Delhi, Aiport Pick-up
When your flight lands at the Delhi Airport, our local representative will greet you at the arrival lobby by holding a signboard with your name on it, and then escort you to the hotel in our well-prepared private car.
* Activities & Dinner Suggestion:
If you arrive late, you can stay at the hotel for the rest of the day and recuperate from jet lag. The hotel we have chosen for you after our field trip has excellent service and facilities, including nice restaurants, as well as a bar and a pool to relax in. If you arrive early and have enough energy, you can walk around by yourself. The India Gate Garden is recommended for our 5-star hotel guests to take a walk, while the Japanese Park near the 4- star hotel is also a good place to spend a leisurely afternoon.
Day 2
Delhi Highlights & World Heritages
Our tour will begin from the Raj Ghat, the resting place of Gandhi who is known as the national father of India. At the cemetery, you can join other visitors in remembering this world hero. Next, you will be escorted to marvel at the iconic Red Fort of Mughal Empire (1526 - 1857) from outside, and then follow our guide to have a thorough visit of the nearby Jama Masjid, the largest mosque in India. At the top of the mosque, one could capture the entire layout of the capital Delhi. Afterward, the guide will take you on a rickshaw ride through the bustling Chandni Chowk, a time-honored local market packed with tiny shops and a dazzling array of local products.
In the afternoon, we will move onwards to New Delhi and first visit the Qutub Minar, the highest tower of India built in 1193, and then wander at the Humayun's Tomb, a typical Mughal architecture. Later, we will show respect to the impressive India Gate, a monument built in memory of unknown Indian soldiers during the World War I. Finally, let's admire the Gurudwara Bangla Sahib, one of India's most prominent Sikh temples.
★
What makes our service superior:
1.
See all three of Delhi's World Heritage sites in one day – Qutub Minar, Humayun's Tomb, and Red Fort.
2.
In addition to guided tour of regular attractions, we will also arrange a special rickshaw ride to the most popular local bazaar, giving you up-close insights into the real Indian life.
Meals: Breakfast
Qutub Minar
Humayun's Tomb
Day 3
Fly from Delhi to Varanasi, Evening Ganga Aarti Ceremony
After breakfast, you will be escorted to the airport to catch a flight to Varanasi. Upon landing, our local driver will greet you and serve you with a smooth drive to the hotel in our well-equipped private car. After checking in, you can rest at the hotel or, if you have time, simply walk around to get a first impression of this holy city by the Ganges River.

★ Special Evening Activity: Ganga Aarti
When night falls, one thing you should not miss is witnessing the sacred and unique Ganga Aarti Ceremony. Our guide will pick you up from your hotel and head to the site of the ceremony, the Dashashwamedh Ghat, to get the best vantage point for the spectacular scenes. You will see some funeral pyres in blaze for the cremation of dead Hindus, as well as many pandits dressed in long robes, holding large lamps and marching in a set pace. The devotees put numerous floating 'diya' lamps in the Ganges. Things you've never seen before will make this night unforgettable!

Meals: Breakfast
Day 4
Explore Holy Varanasi: Boat on the River Ganges, Deer Park in Sarnath
Get up in the early morning, and we will take a boat cruise along the holy Ganges River to revel in the mysterious ghats, where devout pilgrims take their morning prayers at sunrise. We will pass by the most notable Manikarnika Ghat and Harishchandra Ghat with thousands of devotees. Along the bank, you may see a lot of locals bathing in the river in the chill morning, as they believe that the holy water could wash away their sins. A cruise is the best way to watch the religious funeral rituals along the river, but taking photos is not allowed.
Return to the hotel for breakfast, and then you will be accompanied by our guide to enjoy a Varanasi day trip covering highlight attractions, such as the Bharat Mata Temple, Durga Temple, Tulsi Manas Mandir, and Banaras Hindu University. In the afternoon, we will escape the city center and head to the Deer Park in Sarnath, a renowned Buddhist shrine, to enrich your religious exploration of India. Here, you can not only appreciate the exquisite murals in the Buddhist temples, but also encounter a lovely herd of deer roaming the meadows.
Meals: Breakfast
Local people at the River Ganges
Day 5
Varanasi to Jaipur by Flight
Depending on the flight time, our driver will transfer you from the hotel to the Varanasi Airport for your flight to Jaipur. After a 2-hour flight, you will arrive and be met by our local driver who will escort you to the hotel.
►
Crowned as the Pink City, Jaipur has most of its roofs and walls painted pink, and even the local women prefer pink saris. As the capital of Rajasthan, Jaipur is a quite poetic destination endowed with a number of grand forts, palaces and natural wonders. If there's still time after checking into the hotel, you can wander around downtown Jaipur, with our private car and driver at your disposal.
Meals: Breakfast
Day 6
Heritage Jaipur: Amber Fort, Jal Mahal, City Palace, Jantar Mantar, Hawa Mahal
A morning excursion to the grand Amber Fort will be a highlighted experience of your holiday. Towering on an isolated mountain, the splendid palatial complex was accomplished with red sandstone in 1592. The Palace of Mirrors in the fort will astonish you with its rather exquisite and elegant architecture.
★
Let's refuse to mistreat elephants!
From the Amber Fort's parking lot to the fort's hilltop entrance, there are locals offering elephant rides and jeep transfers for an extra fee. We do not include the transfer, not for the cost, but because we want to do our best to let everyone know the plight of these elephants and refuse to ride them. It's actually not a long way and only takes 15 minutes to walk.
After visiting the fort, we will drive to the Jal Mahal for a short stop to take photos of the serene palace on water before continuing our journey back to downtown Jaipur to visit several sites. The guide will show you around the Maharaja City Palace, with luxury design and abundant collections, through which you'll see the extravagant lifestyle of the royal family. Next, we'll move to the Jantar Mantar Observatory, a masterpiece of Sawai Jai Singh II - the founder of the whole Jaipur City. The astronomical instruments there are still in function to present his intelligence. The final stop will be the Hawa Mahal (Palace of Winds), another architectural wonder of Jaipur, with smart design that allows wind to travel through every window. The guide will take you to the best viewing point across the road to take a panoramic photo of its grand pink facade.
Meals: Breakfast
Amber Fort
Day 7
Drive to Agra & Visit Fatehpur Sikri En Route
Today we will start a road trip to Agra, and en route visit an UNESCO World Heritage site, the centuries-old Fatehpur Sikri. It was once the capital of the Mughal Empire in the 16th century, but was abandoned just 15 years after its completion due to water shortages. The palace enjoys a delicate mix of Islamic, Hindu and Christian architectural styles. Follow our guide to take a closer look at the highlights there, including the Jama Masjid, Tomb of Salim Chishti, Panch Mahal, Guland Darwaza, and Ibadat Khana. Before dark, we will arrive in Agra and check into a local hotel.
Meals: Breakfast
Fatehpur Sikri
Day 8
Agra Essence: Taj Mahal & Agra Fort
Our first destination today will be the iconic Taj Mahal. This magnificent mausoleum was built between 1632 and 1653 by Mughal Emperor Shah Jahan in memory of his beloved wife Mumtaz Mahal. The white marble palace, with grand design and resplendent decorations, will make visitors awestruck.
★ What makes our service superior:
1.
We will offer you an all-inclusive ticket that includes access to the main mausoleum of Shah Jahan and Mumtaz Mahal, free drinking water, shoe covers and a tourist map.
2.
If the weather is clear and you would like to get up early to see the sunrise, please let our guide know in advance and he or she will take you inside the Taj Mahal early in the morning to find the best angle for you to wait for the stunning sunrise.
After visiting the Taj Mahal, we will set off for the Agra Fort. Built of red sandstone, it is one of the most exquisite forts of India that enjoys a long history of more than 400 years. The maze-like fort boasts numerous halls, magnificent towers, and mosques. Please follow our guide to uncover the historic stories and mysteries of the fort. If there is time left, you can explore Agra further at your own leisurely pace, with our private car and chauffeur at your disposal within the downtown area.
Meals: Breakfast
Taj Mahal
Agra Fort
Day 9
Drive from Agra to Delhi Airport & See-off
Your 9 days best tour of India is drawing to an end. After breakfast, our driver will escort you in a comfortable private car for a 3 to 4 hours' drive to the Delhi Airport, where you can fly home or continue your journey. Have a nice trip!
Meals: Breakfast
►
If you would like to make an extensional stay for further exploration in India, or you want to explore other destinations, please feel free to contact us.
This trip can be customized to meet your individual needs!
| Destinations | Luxury Hotels | Standard Hotels |
| --- | --- | --- |
| Delhi | Le Meridien New Delhi - Downtown | Crowne Plaza New Delhi Rohini |
| Varanasi | Ramada Plaza JHV Varanasi | Ramada Plaza JHV Varanasi |
| Jaipur | Hilton Jaipur | Holiday Inn Jaipur City Centre |
| Agra | Courtyard by Marriott Agra | Holiday Inn Agra MG Road |
Tour Prices
Christmas & 2024 Special:
12% off
- Book before Dec 31, 2023
Jan-Mar, Oct-Dec
Apr-Sep
Tour Prices with Luxury Hotels
Month
2-3 travelers
4-5 travelers
Jan-Mar, Oct-Dec

USD2049

USD1803

USD1879

USD1653

Apr-Sep

USD1919

USD1688

USD1749

USD1539
Tour Prices with Standard Hotels
Month
2-3 travelers
4-5 travelers
Jan-Mar, Oct-Dec

USD1649

USD1451

USD1469

USD1292

Apr-Sep

USD1519

USD1336

USD1349

USD1187
Prices are per person on twin sharing basis.
The prices in red reflect 12% discount.
Any part of the itinerary e.g. tour length, activities & hotels can be tailored to your individual interests.
Price Includes
Economy class airfares of Delhi/ Varanasi/ Jaipur in the itinerary
Accommodation with daily breakfast at selected hotels
Personal assistance by our representative on airport arrival/departure
Service of English speaking local guides per the itinerary
All transfers in private A/C vehicle with an experienced driver
Entrance fees for all mentioned monuments per the itinerary
Rickshaw ride through Chandi Chowk bazaar in Old Delhi
All government applicable taxes and service charges
Price Excludes
International flight into and out of Delhi
Lunches and dinners, but advice freely available
Personal expenses (such as laundry, telephone, drinks, etc.)
Tips for guides and drivers
Personal travel insurance
India visa fee & camera fee
Comparison with Other Sellers
Tailor-make Your Itinerary for Free
All our tours are private family tours, which means you will not join tours with other people and no strangers will join yours. Our guests enjoy the freedom to choose a different travel style and 99% of our guests enjoy tailor-making their travel itineraries. We will make a quick reply within 24 hours.
Surprisingly Low Price
If you spare a few minutes to compare our prices with those of our competitors, you will find our prices are at least 50% lower. Why? No secret! Our company works with low profit margins, as low as 6% rather than 50% like other operators. In most cases, our competitors' prices for group tours are higher than those for our private tours. So, you can imagine what they might charge for a private trip. We strongly recommend that you make a comparison with our competitors online or in your local community. Pay attention to our well-selected chain hotels and fully packed daily activities.
No Annoying Shopping Stops
Shopping tours will not only take your time from sightseeing, but also waste your money on overpriced items. Our no shopping promise will enable you to thoroughly enjoy the trip without facing aggressive selling. All our guides are well-paid so they will concentrate on delivering the holiday experience you expect.
Some companies claim they have "No Obligatory Shopping", please be cautious as they just give their shopping tours a happy gloss. Some do not mention any shopping in itineraries, which doesn't mean they are shopping-free tours. You are advised to ask the operators directly before booking.
People to People Connected
We have specially arranged a home visit, which provides a perfect opportunity for you to have an in-depth understanding of the local people's living habits, diet, education and other aspects that may interest you. At the same time, you can learn how to make local food if you are interested. A delicious and authentic meal at a local home is sure to be a memory of a lifetime.
On the way from one city to another, our driver will show you the local villages. It is interesting to visit their houses. You'll see how they make fire, fetch water and how they cook. In some houses, there is no door and you can see all their belongings without entering their so-called rooms.
Taking a rickshaw to the local market is really a happy ride, as you can not only experience the most popular means of transportation, but also get infinitely close to the local people's life.
Optional Tours Are Tourist Traps
Optional tours mean you will spend much more than you originally booked. Some agencies advertise low-cost tours, but you then find you have to pay high prices for optional tours of the must-see sites. Our tours are all-inclusive with transparent itineraries.
No Change Fee
Should any changes made prior to the start of the tour or even during the trip, there will be no extra charge for our services. You only need to be responsible for the cost of variations incurred with airlines and hotels.
Itineraries you may also like: