Things to Do in Thailand
Top Places and Scenic Spots to Visit
During a Thailand travel, there are several places you must pay a visit to. They are Bangkok, Chiang Mai, Pattaya, Phuket and Koh Samui. These places are the representatives of Thai culture and scenery. After traveling there, you may have a brief understanding about the country and its unique culture.
1. Bangkok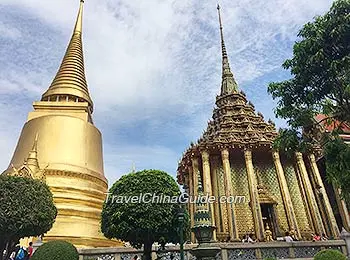 Grand Palace, Bangkok
Bangkok is the capital and largest city of Thailand. It is known as "The Holy City of Buddhism" and "The City of Angels". The city combines eastern and western culture, where you can see both modern tall buildings and traditional eastern temples. In Bangkok, Grand Palace and the Four-Faced Buddha are where you must visit.
Grand Palace, the grandest ancient architectural complex in Bangkok, is the palace of the Thai royal family from 1782 to 1925. It is located in the center of Bangkok and lies along Chao Phraya River. The palace is surrounded by the walls with a height of 15 feet (5 meters) and a length of 2,080 yards (1,902 meters) in total, mainly in white and ancient Thai style. It is composed of several palaces and a temple named Wat Phra Kaew, the Jade Buddha Temple.
The Four-Faced Buddha is in the Erawan Shrine in Bangkok. The statue of the Buddha is 13 feet (4 meters) tall with four faces facing four directions: north, south, east and west, representing four hopes, loving-kindness, compassion, joy and equanimity. The four faces are the same and all in the same position. Famous for its efficaciousness, the place attracts people worldwide. When in peak season in January and February, there is even no place for prayers to kneel down. To visit the Four-Faced Buddha, it should be noticed that it is not allowed to take photos of the Buddha statue; and once your wish comes true, you are supposed to come back to fulfill your promise.
2. Chiang Mai
Chiang Mai is the second largest city in the country, taking an area of 7,763 square miles (20,106 square kilometers). Abundant plants and flowers can be seen in the city, especially roses, gaining the city a beautiful name, "The Rose of the Northern Thailand". For its cool climate since it is located in the plateau, Chiang Mai is also a famous summer resort. Apart from that, as the capital of Ancient Thailand for long, Chiang Mai has preserved a lot of historical and cultural relics, especially in Chiang Mai Old City. It is the remains of Thai royal palace first built in 1296, where left many traditional temples and pagodas like Wat Chedi Luang, Wat Phra Singh and Wat Chiang Mun. These temples and pagodas are free to visit, where you can have a glimpse on Thai history and Buddhism culture. As the old city is not large, you can choose to visit it by walk or by bike.
3. Pattaya
Pattaya, known as "The Oriental Hawaii", is a world-famous resort located 95 miles (153 kilometers) southeast to Bangkok. It is the place attracting tourists most among all Thailand travel destinations. It covers an urban area of around 10 square miles (26 square kilometers). The weather there is mild with the annual average temperature at around 68℉ (20℃). Besides, lady-boy shows and Thai boxing performances are what you shall not miss in Pattaya.
4. Phuket Island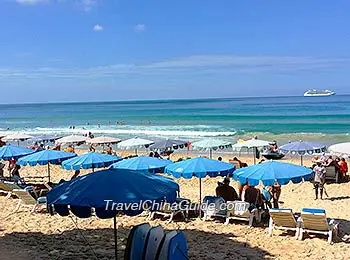 Phuket Island
Phuket Island belongs to Phuket changwat (similar to province), which is the largest island and the smallest changwat in the country. It takes an area of 210 square miles (544 square kilometers) with over 60 thousand dwellers. Located in the southwest of the country, Phuket is a long and narrow island with the length from north to south reaches 30 miles (48 kilometers) at most and the narrowest width from east to west reaches 13 miles (21 kilometers). As the island faces the Andaman Sea and is affected by the oceanic monsoon climate, it is hot in the first half of the year and rains a lot in the latter half, so take a sun cream or a rain gear with you when traveling there.
In Phuket, diving is a popular sport that tourists prefer to experience. The programs include experiencing activities for newcomers, training for diving licenses and various activities for diving fans. These activities are provided by local shops. In peak season from late October to next early May, if you want to have a try, a reservation is required.
5. Koh Samui
Koh Samui is the third largest island in the country taking an area of 95 square miles (246 square kilometers). It is surrounded by 80 islands, but few have people living. The island is famous for its white beach and natural scenery like limestone caves, coral reefs and tropical fish. People come here not only for the natural view but also for the simple and primitive atmosphere of the island. The best time to go is from November to next April and usually 2 days are needed. During this time, there are large local festive events you can take part in.
Special Activities and Performances to Enjoy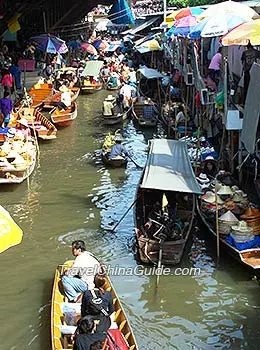 Floating Market
1. Thai Massage & Spa
Massage and spa are both common health care methods. Massage is a way stretching your body to relax your bones and muscles. Generally a period of service lasts 60 to 120 minutes and costs around THB 150 to 350. Compared with traditional Thai massage, spa is usually with a better environment and more professional skills, which generally lasts for 2 hours at least and costs around THB 800 to 1000.
Thai massage and spa may stretch your body with a strong strength and it might make you hurt. Therefore, it is suggested that people with bone disease do not try the services. If you feel hurt when having the service, please let the massagist know.
2. Lady-boy Show
Lady-boy is a unique cultural symbol in the country. The lady-boy shows are most popular in Pattaya and Phuket, at the cost of from THB 800 to 1500. Lady-boys usually have a beautiful face like ladies but can be distinguished from their larger bones especially hands and feet. There is a saying that if you haven't watched a lady-boy show, it won't be complete Thailand travel.
3. Thai Boxing
Thai boxing is a special performance for Thailand nightlife. It is a lethal skill and generally the performances are divided into two kinds: for show and for real. The performance has no time limit and only lasts until one defeats the other. If interested, you can take a training class to learn.
4. Playing with Elephant
Elephant is the mascot and national symbol of the country. It not only served as a mean of transportation in daily life but also a mount in war in ancient times. In Surin changwat, Thai people hold Elephant Festival every year in the third weekend in November to express their love to elephants. You can play games with elephants, take a ride or watch an elephant show to have a close contact with the national treasure animal. Elephant Nature Park in Chiang Mai and Elephant Village in Pattaya are also places recommended to go.
5. Cruising Floating Market
Floating market is a special kind of marketplace in Thailand. As the country lies along rivers, ships are frequently-used transport tools and trading on boats gets popular. In the floating market, you can take a boat along the river passing by the wooden houses with local characteristics, and stop to have a taste of local snacks and buy some souvenirs or local handcrafts for friends and family. Among all, Amphawa floating market and Damnoen Saduak floating market in Bangkok are the most noted ones.
Top Dishes and Snacks to Taste
Local Snacks
1. Tom Yam Kung: It is a kind of soup and a representative of Thai food. "Tom Yam" means sour and spicy while "Kung" means shrimp in Thai, so Tom Yam Kung is actually a shrimp soup with sour and spicy taste. In this soup, coconut milk is sometimes added and shrimp shall be replaced by fish then.
2. Mango Sticky Rice: It is a local dessert that most tourists love. It is made from sticky rice, fresh mango pieces and topped with coconut milk.
3. Som Tam: It is actually a kind of papaya salad. It is an appetizer that local people enjoy. It combines the sour and sweet of papaya and the taste of chili. In the salad, there is also lettuce and peanut. Rice noodles can be added in and papaya can also be replaced by cucumber.
4. Tom Kha Kai: It is a kind of chicken soup made from coconut milk, chicken, turmeric, citronella and lemon leaf. It tastes a bit sour but fresh.
5. Khao Ka Mu: It is referred to the pork rice. It is cooked with braised pork leg and Thai rice which is not fat and tastes good.
Other popular dishes and snacks: Coconut Pancakes, Pineapple Fried Rice, Khao Soi (Curry Noodle), Fried Curry Crab.
- Last updated on Aug. 31, 2023 by Brenda Lian -