Chiang Mai Weather
Chiang Mai is located in tropical monsoon climate zone, so an obvious feature of Chiang Mai weather is hot with small temperature difference all year round. The annual mean temperature is around 25.5℃ (77.9℉). However, the rainfall differs a lot. From May to October when is the rainy season, the rainfall increases dramatically. But the rain usually does not last for long and visitors could go out for sightseeing soon after. Whenever you go there, thin and breathable clothes are proper like t-shirt and light pants. If you plan to go to surrounding mountainous areas, an additional coat is needed. Sunscreen equipment like sunhat, sunglasses and sun cream is also necessary. If in rainy season, do not forget to pack rain gear.
Best Time to Visit Chiang Mai
November to next April are the best time to visit Chiang Mai, when the temperature is lower and weather is cool. More importantly, it rains a little during the period. Some budget travelers also prefer May to October, when the accommodation rate, dinning cost and transportation fee is much lower.
Chiang Mai Weather by Month
Averages for Chiang Mai Weather
High/Low Temperatures of Chiang Mai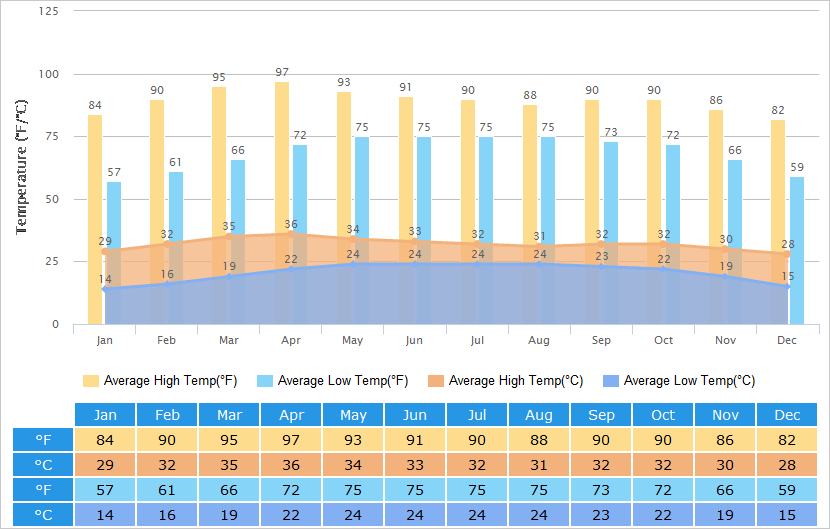 Average Temperatures of Chiang Mai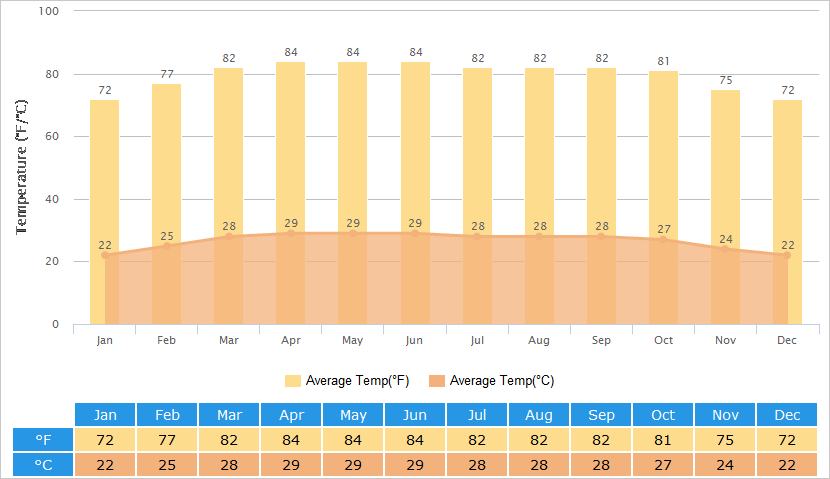 Humidity Graph of Chiang Mai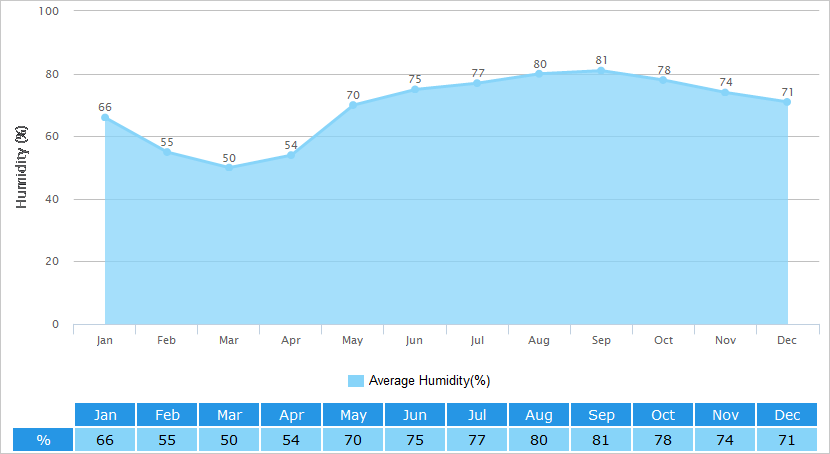 Average Rainfall of Chiang Mai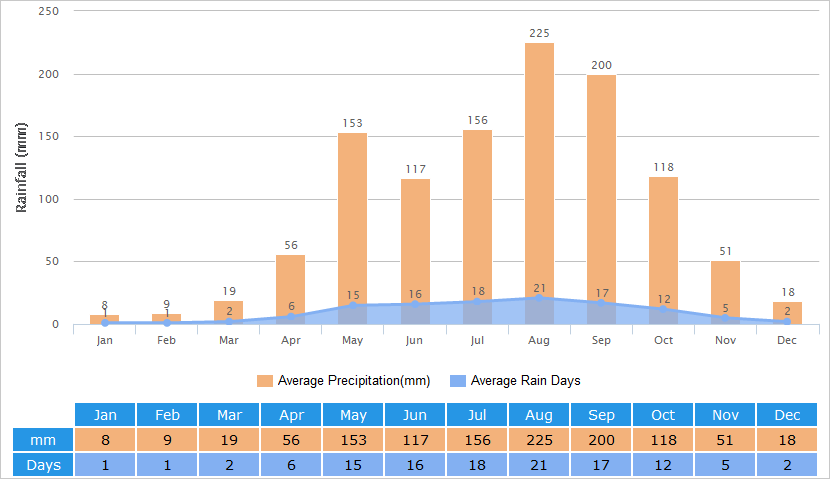 Chiang Mai Climate - Seasons & Travel Advice
As its temperature difference is not obvious, the different seasons in Chiang Mai is mainly characterized by rainfall.
Dry Season (November - April)
As the name indicates, there is only a little rainfall in the dry season of Chiang Mai. The temperature is also relatively low, at 14-29℃ (57-84℉) on average, hence many visitors from southern Thailand or other places go there to enjoy themselves, making it a peak travel season. Caused by much larger visitor flow, the travel cost gets higher than in the rainy season and it is advised to book hotel rooms and flight tickets in advance to ensure you could sightsee there worry-free. You can just wear summer clothes like dress and shorts and remember to protect yourself well from strong sunshine. In addition to summer clothes, an overcoat is also needed when going to the nearby mountains.
Every year from March to May, it is the ploughing and sowing season in Chiang Mai and farmers burn grasses to clean the land, which usually leads to bad air quality.
Rainy Season (May – October)
In rainy season, the rainfall of a month can reach the quantity of the whole dry season. The rain is often heavy, but end in a short period of time. The temperature is also higher, varying from 22-29 ℃ (72-84℉) averagely. After the rain, the sky is blue and clear, and the weather turns cool and not scorching anymore, suitable for outdoor activities as well. But the rain may cause floods sometimes and hiking in the mountainous areas can be dangerous things to do. To keep safe, check the weather forecast before going. Pack summer clothes to cope with the weather and do not forget to put rain gear in your luggage. As it receives fewer visitors, the cost is lower in rainy season.
- Last updated on Mar. 06, 2023 by Brenda Lian -