Thailand Travel Tips
Visa
Currently, tourists of nearly 60 countries have been granted visa exemption by Thailand government, including those from USA, UK, Canada, Australia, New Zealand, France, Germany, Singapore and South Africa; the period of stay lasts for 30 days. About 20 countries are allowed to apply for the visa on arrival, including China, India and Ukraine; the period of stay lasts for 15 days. When entering, visitors must hold a passport with over six months' validity. An overstaying will lead to a penalty of THB 500 per day with the upper limit of THB 20,000 and those who overstay will be forbidden to enter Thailand for at most 10 years.
Currency and Cost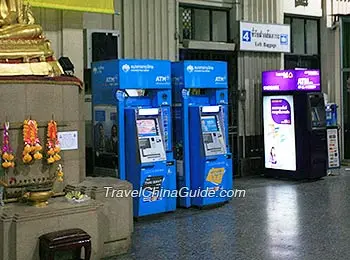 ATMs in the Station
The official currency is Thai Baht (฿, THB). In most hotels, airports, restaurants and shopping malls, major credit cards such as Visa, Mastercard and American Express are acceptable, but cash is more convenient. To exchange from mainstream currencies like USD, EUR and GBP, it is recommended to exchange on arrival instead of beforehand because the rate is more advantageous. ATMs and FOREX (Foreign Exchange) booths are common in the country almost everywhere. The withdrawal from ATMs with foreign debits and credits usually cause a 150-250 baht fee. FOREX booths accept all major currencies and they post their daily exchange rates on the electronic board.
The cost for a four-day trip generally is THB 25,000. On average, a simple meal or snack costs THB 15 to 50 and bike rental fee is THB 30 to 150 per day. The price of commodities in most shopping malls is fixed, but in some small markets and shops, bargain is acceptable and the price can reduce by 10%-40% depending on your bargain skills.
Tipping
It is a custom in Thailand to tip for service. Generally the tip shall not be lower than THB 20 and remember DO NOT TIP IN COIN, because coins are for beggars. Following are the recommended tipping amount in different occasions:
Restaurant: 15% of the bill. For fast food and buffet, tipping is not necessary. Nor do tipping required once the service fee has been included in the bill.
Baggage handling: THB 20 on average.
Taxi: 15% of the bill on average.
Pub: THB 20. If you order a drink, you are supposed to leave the bartender an extra tip.
Tour guide and driver: THB 100 to 200 per day on average.
Spa or Massage: 20% of the cost on average.
Hotel
Most guesthouses and hotels are clean with complete facilities. With the cost of THB 400 per night, you can live in a room including a clean bathroom and double beds. Spending over THB 1,000, you can live in a room with better conditions including a fridge, TV, balcony and even a swimming pool.
Following are the reference cost of hotels in different levels:
Hostel: Around THB 100 to 500/night/room
One or two-star hotel: Around THB 500 to 1,500/night/room
Three-star or four-star hotel: Around THB 1,500 to 3,000/night/room
Five-star hotel or beach villa: Around THB 3,000 to 10,000/night/room
Food and Drinking Water
Thai food is actually a combination of eastern and western flavors. The raw materials involve seafood, vegetables, fruits and even herbs, mixing the spicy taste of eastern food and the sweet or sour taste of western food, and contributing to a special Thai style. Since Thailand is a country of Buddhism, chunks of meat are usually avoided in Thai food. Thai people prefer to chop the meat and cook with herbs and seasonings.
Running water cannot be drunk directly. You can buy purified water and generally a large bottle of 1 liter costs THB 12 to 15. Since the weather is mostly hot, drinks sold are normally a bit cold. If you want it warmer, please tell the servers in advance.
Shopping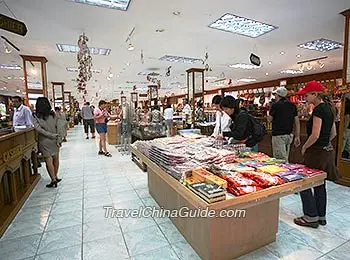 Shopping Mall
Different city has different characteristics in shopping. Chiang Mai is the center of handcrafts, while in Bangkok and Pattaya, goods are cheap but with high quality. Floating markets are great places to buy souvenirs and fruits.
What to Buy: handcraft, silk, tropical fruit, jewelry…
Where to buy: Amphawa floating market, Damnoen Saduak floating market, Chatuchak Weekend Market and Siam Square in Bangkok; Night Bazaar in Chiang Mai...
Festivals
If have chance, you can take part in the national festivals to enjoy the happy atmosphere or explore the culture.
Songkran Festival: 13-15 April
It is the Thai Lunar New Year. During the festival, national flags will be hung everywhere and the whole country will be celebrating the festival, especially in Bangkok. On this festival, people will celebrate by splashing water to the elders to pray for blessings. Therefore, the festival is also called Water Festival.
Loi Krathong Festival: Full moon of the 12th Thai lunar month (usually in November)
In the evening, people will decorate a basket with candles and flowers. By floating the basket on a river, they make a wish and pray for blessings for their families. In addition, some people will light sky lanterns to observe the festival.
Etiquette and Manner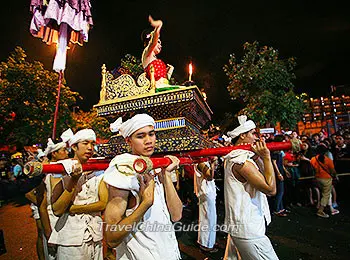 Loy Krathong Festival
1. When greeting, Thai people put palms together and bow to each other instead of shaking hands. They will say "Sawatdee ka" as "Hello", and you are supposed to do the same as a response. When talking, do not put your hands on the waist which is impolite in Thai manner.
2. Do not touch Thai people's head. They believe that people's soul is above their head, so it is disrespectful to touch one's head.
3. Respect Thai royal family and mind your words and behaviors. An inappropriate discussing on the King or royal family might lead to legal punishments.
4. Pay attention to your behaviors in temples and pagodas. When visiting temples, it is not allowed to wear a vest or clothes with no sleeve. The dresses and pants should cover the knee. When entering the Buddha hall, you need to take off the shoes and do not step on the threshold. Walls and pagodas are not allowed to climb on. In some places, it is banned to take photos of Buddha statues, so you need to pay attention to the indicating board. Do not point at Buddha statues with fingers or let your foot face forward them. You should sit with your feet forwarding the door. Women are not allowed to passing things to monks directly. All things in temples are regarded holy, which shall never be damaged. When meeting monks, please give your seat to them on the bus, train or ship and do not step on their shadows on the road.
5. Smoking is forbidden in public areas according to Thai laws. Smoking rooms are available and you can order smoking rooms in the hotel if you need.
6. Drive and ride on the left. If you rent a bike, motorbike or car, remember to wear a helmet and park your vehicle in the specific position, and follow the local transportation laws.
7. Every day at 8:00 and 18:00, the national anthem will be played in many public areas. Before a movie starts in the cinema, the anthem will also be played. It is all for commemorating the King of Thailand. Hearing the anthem, please follow local people to stop the things you are doing and stand up to show respect.
Power Supply
Power Outlet: Type A

Voltage: 220V
Frequency: 50Hz
Telephone and Internet
Wifi is widely covered. When in the country, it is not recommended to use your own SIM card, because the signal is bad and the cost is high. You can buy a local phone card and recharge in any 7-11 convenience stores, which will be more convenient for you to call or use the Internet in emergencies. Remember that you need to activate the phone card with your passport.
Emergency Numbers:
Country code: 66
Police: 191
Tourism Authority of Thailand (providing tourism service): 1672; Working Hour: 08:00-20:00 per day
Tourism Police (providing traveling emergency assistance): 1155; Working Hour: 24 hours per day
First Aid Center: 1691
Medical Assistance: 1669
Fire Emergency: 199
Bangkok Tourist Assistance Center: 02-2281-5051; 02-282-8129
- Last updated on Aug. 31, 2023 by Brenda Lian -