Thailand Transportation
How to get to and get around Thailand by Air
In Thailand, there are 37 airports including 8 international ones. About 90 international routes cover over 40 cities worldwide. Domestic routes connect 21 cities in the country. The most commonly-used airports are Suvarnabhumi International Airport and Don Mueang International Airport in Bangkok and Phuket International Airport in Phuket.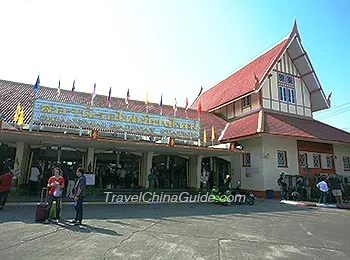 Chiang Mai Railway Station
1. Suvarnabhumi International Airport (code: BKK)
This is the new Bangkok airport, located 20 miles (32 kilometers) east to the downtown with about forty minutes' drive. Most international flights depart and land here, including that from USA, UK, Canada, Australia, New Zealand, Germany, France, China, and Japan.
Suvarnabhumi Airport-Downtown Express
Three Airport Express lines have connected the airport with downtown: two to Phaya Thai with duration of 17 minutes and 30 minutes respectively, and ticket price of THB 90 and THB 25 to 45 for a single trip; one to Makkasan with travel time of 15 minutes and ticket price of THB 90 per single trip. Operating time is 06:00 to 24:00.
2. Don Mueang International Airport (code: DMK)
It is the old Bangkok airport, which is located in the north of Bangkok, 15 miles (24 kilometers) away from downtown and about half an hour's drive. Don Mueang Airport now mainly serves domestic flights, but there are still several international flights departing and landing in Don Mueang, like flights from China and Vietnam.
Tips:
1) There are free buses connecting the new and the old airport, taking about 40 minutes for a single journey. Operating time is from 05:00 to 24:00.
2) Since local taxi drivers are not good at English and usually misunderstand the old and the new airport, you need to make it clear to the driver.
3. Phuket International Airport (Code: HKT)
It is located in the north of Phuket Island nearly 20 miles (32 kilometers) away from downtown. Every week there are flights from China, America, Canada, Australia, England and many other countries to Phuket. Also you can choose to take flights from Bangkok, Koh Samui, Chiang Mai or other cities to get there.
Train
Taking a train is a convenient way to get in or around the country. The major railway station is Hua Lamphong Railway Station in Bangkok. There are trains between Bangkok and nearly all domestic cities and neighboring countries including Malaysia, Laos and Cambodia. Currently there are six major railway lines including two international ones.
International Trains:
1. From Malaysia and Singapore: Between Bangkok and Penang, Malaysia, there is one train available regularly per day. The whole length is nearly 720 miles (1,159 kilometers) and it takes about 24 hours for one way at the cost of from THB 870 to 960. If you come from Singapore, you can transfer in Penang.
2. From Laos: Two trains are available from Thanaleng, Laos, to Nong Khai. It takes about 15 minutes for one way at the cost of from THB 20 to 30.
Domestic Trains:
| | | | | |
| --- | --- | --- | --- | --- |
| Routes | Bangkok-Chiang Mai Northern Line | Bangkok-Nong Khai Northeastern Line | Bangkok-Aranyaprathet Eastern Line | Bangkok-Hat Yai Southeastern Line |
| Intermediate Stations | Ayutthaya, Lopburi, Phitsanulok, Lampang | Ayutthaya, Nakhon Ratchasima, Khon Kaen | Nakhon Ratchasima, Ubon Ratchatani | Hua Hin |
| Length | 530 miles (853 kilometers) | 390 miles (628 kilometers) | 160 miles (257 kilometers) | 615 miles (990 kilometers) |
| Schedule | 8 pairs of trains per day | 4 pairs of trains per day | 2 pairs of trains per day | 6 pairs of trains per day |
| Duration | 14 hours | 11 hours | 6 hours | 16 hours |
| Ticket Price | THB 271 to 1,453 | THB 258 to 1,317 | THB 48 | THB 339 to 1,594 |
Note: If you come from or want to go to Siem Reap in Cambodia by train, you can cross the border at Aranyaprathet.
Bus
In addition to the international trains, there are also cross-border buses from Vietnam, Laos, Maylaysia, and Cambodia to Thailand. Inside the country, long-distance buses are also frequently used, centering on Bangkok. The destinations include Chiang Mai, Koh Samui, Pattaya and Phuket. You can take a bus from Mo Chit2 Terminal (North Bus Terminal), Ekamai Bus Terminal (East Bus Terminal) and South Bus Terminal. Following are some route information provided by North Bus Terminal for your reference.
Destination
Fare (THB)
Duration (Hrs)
Departure Time from Bangkok
Chiang Mai
837
9.5
09:00, 21:00
Phuket
650
12
07:35, 18:30, 18:45
1,011
12
07:30, 18:20, 18:30, 20:00
Koh Samui
437
12
07:00, 19:30
874
12
06:45, 18:45
562
12
19:05
BTS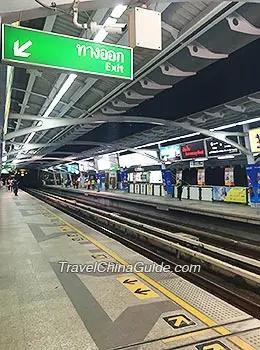 BTS Station, Bangkok
BTS, Bangkok Mass Transit System, running on elevated roads, is usually called Sky Train. There are two lines of BTS, meeting at Siam station where you can have a transfer. Each station has information in English providing convenience for global tourists. By taking a BTS, you can have a view of the scenery of Bangkok. Generally a one-way ticket costs THB 10 to 40. Operating time is from 6:00 to 24:00.
Main BTS Stations:
1. Silom Line
National Stadium: Destination of Silom Line.
Siam: Shopping center in the city heart and the transfer station for Sukhumvit Line.
Sala Daeng: The transfer station for MRT.
Saphan Taksin: Near Chao Phraya River and the tourist information center.
2. Sukhumvit Line
Phaya Thai: Able to change to Phaya Thai Airport Express to reach Suvarnabhumi Airport.
Chit Lom: Near Four-Faced Buddha.
Nana and Asok: The transfer stations for MRT.
On Nut: Able to take Bus No.155 to Don Mueang Airport.
MRT
MRT, Mass Rapid Transit, is running underground. Currently it has only one line from Hua Lamphong Railway Station to Kamphaeng Phet. The operating time is from 6:00 to 24:00. The ticket for adults costs THB 14 to 36, while that for kids from 3 to 4 feet (90 to 120 centimeters) tall costs THB 8 to 20, and kids under 3 feet (90 centimeters) is free of charge.
Main MRT Stations:
Hua Lamphong: Near the Hua Lamphong Railway Station.
Sala Daeng: The transfer station for BTS.
Phetchaburi: The transfer station for Airport Express Line.
Chatuchak Park: The transfer station for BTS Mo Chit Station. Near Chatuchak Park and Jatujak Green Night Market.
Phra Ram 9: Near many shopping malls like Central Plaza Grand Rama 9, Fortune Town Building and Metro Nine.
Tip:
1. BTS and MRT are ONLY IN BANGKOK and useful means to avoid traffic jams.
2. The tickets for BTS and MRT can only be bought in coin and used individually.
Chao Phraya Express Boat
To avoid traffic jams, taking a boat in Bangkok is as convenient as BTS and MRT sometimes. It is a public water transport, serving passengers to travel along Chao Phraya River in Bangkok.
Line
Route
Operating Time
Fare
Local Line (No flag)
Nonthaburi-Wat Rajsingkorn
Monday - Friday
06:45 - 07:30
16:00 - 16:30
THB 8 / 10 / 12
(Depending on distance)
Orange Flag Boat
Nonthaburi-Wat Rajsingkorn
Everyday
06:00 - 19:00
THB 14
Green Flag Boat
Pakkred-Nonthaburi-Sathorn (Centre)
Monday - Friday
06:10 - 08:10
16:05 - 18:05
THB 10 / 12 / 19 / 31
(Depending on distance)
Yellow Flag Boat
Nonthaburi-Sathorn (Centre)
Monday - Friday
06:15 - 08:20
16:00 - 20:00
THB 19 / 29
(Depending on distance)
Tuk-tuk and Taxi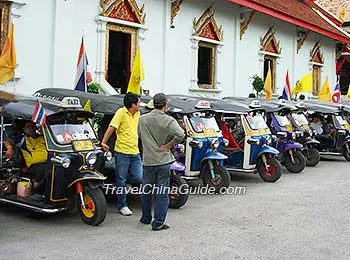 Tuk-tuk in Thailand
On the streets, you may see a kind of auto-rickshaw with a canopy frequently. It is called Tuk-tuk, not only popular in Thailand but in Southeast Asia. It is a convenient transport for a short-distance trip. Although with a canopy, the vehicle's space is opened up, which means you need to consider the weather when taking it and should better take a sun cream or rain gear with you. As for the cost, you can bargain with the driver and make it done before getting on. Generally the 30-minute walking distance costs about THB 30. Although Tuk-tuk is convenient for a short distance trip, for a long distance, taking a taxi is a better choice. When taking a taxi, remember to ask the taxi driver to charge by meter. The fare starts at THB 35 for the first 2 kilometers (1.2 miles) and THB 5 every additional kilometer (0.6 mile). Taking a taxi in downtown Bangkok usually costs THB 60 to 150. The highway toll shall be borne by the passengers.
Thailand Transportation FAQs:
1. What is the best way to travel from Bangkok to Phuket?
We recommend you to take a flight because it is not expensive, safe and fast. However, if you want to have an experience on the trains and buses, these are also abundant resources at your choice.
2. How to get to Pattaya from Bangkok?
Among all, it is recommended taking a bus from Ekkamai Bus Terminal in Bangkok. It will take you around 2.5 hours at the cost of THB 130. The operating time is from 05:00 to 23:00 and the bus departs every 30-40 minutes.
3. What is the best way to get from Bangkok to Koh Samui?
Taking a flight directly from Bangkok to Koh Samui is the quickest and easiest way. If you book the ticket early it can be cheap.
Another choice is to take a bus and then ferry, which is the cheapest way. Make sure you buy a bus and ferry combo ticket. Following are the reference information for ferry schedule provided by the most popular Lomprayah Company:
Destination
Departure Time
Arrival Time
Price (THB)
Koh Samui (Pralarn Pier)
06:00
16:40
1,400
21:00
11:20 of next day
1,450
- Last updated on Aug. 31, 2023 by Brenda Lian -