Railway Stations in Vietnam
Hanoi Gia Lam Station
The international train journey from three cities in China: Beijing, Guilin and Nanjing, terminates in Hanoi Gia Lam Station due to the difference of the tracks of two countries. Gia Lam Station is located at Gia Lam Town, a small town which takes about 20 minutes from Hanoi city center by taxi. The entire station is very compact and the entrance lies in a small alley.
The
train from Nanning to Hanoi
arrives at 4:45 in the early morning. Once you get off the train, a few seconds' walk leads you to pass an iron gate, where you'll see a small 'Exit' sign on the top. On the right hand side of the exit, there is a white two-floor building. It is the ticket office and waiting hall of Gia Lam Station. Passengers can purchase the tickets to Lao Cai, Sapa and Hai Phone here.
During the overnight journey from Nanning to Hanoi, passengers need to disembark the train with all luggage twice for frontier inspections: once at the Pingxiang Border of China at about 10:45pm and again at the ?ong ?ang border of Vietnam at about 1:00am. The whole journey is a little disruptive as passengers would not be able to have a sound sleep throughout the night, but the experience is really new and interesting.

Transport:
There are many unlicensed taxicabs and motorcycles waiting outside the station, but they may detour a lot. To avoid this, you can go straight southwest for two or three minutes to get to a street, where you can wave and flag a legal taxi. Due to the language barrier, it is better to show the driver your destination clearly in both English and Vietnamese.
Public buses are also available, but it is not easy to find out which stop to get off as there is no English announcement on the bus. However, if you do want to take the bus, go straight to another side of the crossing when you get to the street mentioned above, and you will find the starting station for buses 03, 11, 22 and 34.
Hanoi Railway Station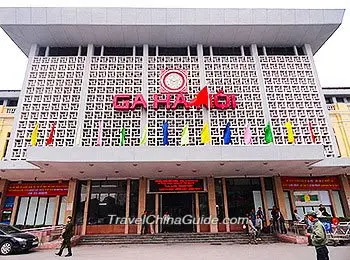 Located at 120 D Le Duan Street and to the west side of P Tran Hung Dao Street, Hanoi Main Station has a white building with a hollowed-out exterior. People call it A Station. Trains leaving for the south all depart from here. Entering the station, passengers can see a door leading to the platform. The door opens 40 minutes before the train's departure time and all passengers go through here to the designated platform to get on the train. The restroom is to the right side of the terminal building and the ticket windows and waiting area are on the left. Passengers need to get a number from a number generating machine and there are staff who can help you. After getting the number, passengers only need to take a seat in the waiting hall and pay attention to the calling information on the electronic screen, for the broadcasting is in Vietnamese only.

Apart from A Station, there is a B Station, which is a three-floor yellow building located on P Tran Qui Cap Street, two blocks to the rear of the Main Station (A Station). Trains going to northern destinations like Sapa and Hai Phone leave here. Tickets to northern destinations can be purchased at both stations, but passengers can only get on the train from B Station. Please do pay attention to this to avoid any issues.



Transport:
Taxi is very convenient. Public buses 01, 11, 32, 38, 40, 43 and 49 stop at Ga Hanoi (Hanoi Station).

Danang Railway Station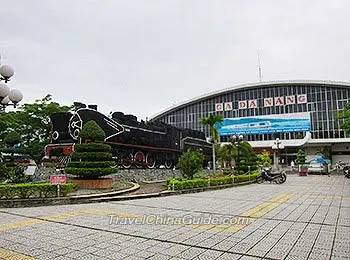 Located at 200 Hai Phone Street, Danang Railway Station is about 3 miles (5 kilometers) from the city center and it is also one of the most important stations in central Vietnam. Danang Station is a fan-shaped building with a garden in the front of the entrance, exhibiting a large mould of a vintage steam locomotive.

Upon entering the station you will see a spacious waiting hall with rows of chairs. The ticket windows are on the left. Passengers need to get a number from the machine first, and then wait for until they are called.

If getting off the train at Danang, leave the rail track and pass by a row of small offices and shops where passengers would find the exit.



Transport:
Danang is a prosperous city and many taxis are waiting outside of the station. Passengers can take one easily. 7-seats taxis are pretty common in Vietnam and passengers need not worry about lots of luggage.



Best Way to Hoi An:
Hoi An is a small antique town along the east coast, about 18 miles (30 kilometers) from Danang. Outside of Danang Railway Station, passengers can easily arrive at a street where you can find a blue bus sign indicating the destinations and direction. Here passengers can get on the yellow buses with clear destination sign of 'Hoi An' on the windshield. The whole journey takes about 1-1.5 hours. The locals only need to pay 15,000 VND per person, but foreigners are usually asked to pay more, about 50,000 VND per person. Taxis to Hoi An are also available. It takes about 45 minutes and costs about 450,000 VND.

Saigon (Ho Chi Minh City) Railway Station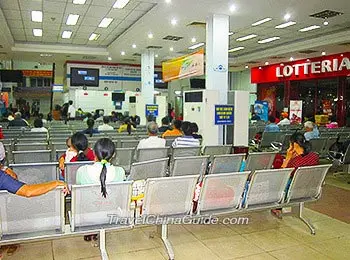 First built in 1930 by the French colonial government, the train station still uses its original name Ga Sai Gon (Saigon Station), although the city was renamed to Ho Chi Minh City in 1975. Tickets also show the name Saigon. Only 0.6 miles (1 kilometer) from the city center, Saigon Station is the north end of the Reunification Express - the rail route between Hanoi and Ho Chi Minh City.

Saigon Station has a two-floor white building. The first floor is the waiting hall with a small area for ticketing. Every day after 20:00 when the main ticket windows on the second floor are closed, the ticket windows on the first floor will be open. The tickets for trains departing within 30 days are sold in this station.

Free wifi, mobile phone charger, postage, shops, fast food, coffee bar and ATM service are available on the first floor.

Upstairs to the second floor, ticket windows and waiting area can be found. On the wall on the right side, there are posters showing train departure and arrival information, but only in Vietnamese. Foreigners should better check the information online beforehand to avoid any misunderstanding caused by the language barrier.



Transport:
Taxi fare from the city center of Saigon to the railway station is about 60,000 VND. From the railway station to the Tan Son Nhat International Airport, a taxi costs about 100,000 VND, and only takes about half an hour.
- Last updated on Jun. 08, 2021 -
Questions & Answers on Railway Stations in Vietnam
Asked by Eric from CANADA | Sep. 30, 2017 16:41

Reply
We have a 4 hr. wait in Danang. Is there any baggage storage in Danang station?
Answers (1)
Answered by Mr. Thompson from AUSTRALIA | Oct. 01, 2017 02:24

0

0

Reply
The luggage storage counter is available in each station, but you need to pay for it, not for free.
Asked by Arpad from CANADA | Jul. 08, 2017 20:47

Reply
Money exchange at Vietnam border
I heard about that I can exchange money at the Vietnamese border where the frontier inspection will take place.
However, it sounds a little strange, since the train will arrive there at 1:00a.m.
Therefore, I do not know where I will be able to exchange money when I arrive to Hanoi (at 4:45a.m.)?
Answers (1)
Answered by Fraser | Jul. 09, 2017 02:17

1

0

Reply
During the journey from Nanning to Hanoi, you have to go through frontier inspections twice. You can change currency at Dong Dang station at around 1:00am, which is preferably "cheap". There will be a currency exchange desk in Dong Dang station at that time as they know the arrival time of the train.
Asked by Arpad from CANADA | Jul. 08, 2017 20:30

Reply
Luggage Storage at Gia Lam
Is there any luggage storage office (or locker) at Hanoi Gia Lam railway station?
Answers (1)
Answered by Johann | Jul. 09, 2017 01:52

1

0

Reply
I didn't see any luggage storage in Gia Lam station. But there are some small shops in the waiting room. You can try to ask them whether you can deposit your luggage there. Of course it is chargeable.
Asked by NEIL from AUSTRALIA | May. 01, 2017 21:17

Reply
luggage storage ho chi min city train station?
Answers (1)
Answered by Colin | May. 05, 2017 02:53

0

0

Reply
Did not notice a luggage storage service there.
Asked by Rachael Trowton from UNITED KINGDOM | Mar. 26, 2016 04:53

Reply
Is there anywhere near Gia Lam station to withdraw money?
Answers (1)
Answered by Mr. Roy from CA | Mar. 27, 2016 01:36

2

0

Reply
I do no suggest you try to find counter to withdraw money near Gia Lam station for the train arrive there at very early morning around 5am, it will be not convenient.