Trains between Vietnam and China
There are two railway lines between Vietnam and China, one is Hanoi - Pingxiang - Nam Ninh (Nanning, China) line, and the other is the historical Vietnam - Yunnan line. If you would like to take the cross-border overnight train, Hanoi - Nam Ninh is the only choice. While the other route of Lao Cai - Hekou - Kunming (Vietnam - Yunnan line) is faster and more convenient.
Hanoi - Pingxiang (China) - Nanning Cross-border Train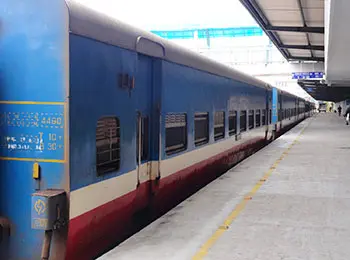 The cross-border railway between Pingxiang, China and Hanoi, Vietnam was firstly built in 1940. In November 1951, construction of the Nanning - Pingxiang section in China started. Since the railway in Vietnam is a narrow-gauge track built by France in the past, the section from Pingxiang to Youyiguan was also paved with narrow-gauge for the convenience of docking. In this way, Pingxiang Station on the Chinese side has actually become a transfer station for the combined railway transportation between the two countries.
On August 2, 1955, the first Sino-Vietnamese international intermodal train departed from Beijing and reached Pingxiang after dozens of hours, then went all the way to Hanoi. However, at the end of the 1970s, this international railway was completely interrupted. 17 years later, on February 14, 1996, the ceremony of the restoring of China-Vietnam International Railway was held at the Pingxiang Railway Station. The Hanoi-Pingxiang-Beijing-Moscow international train shuttled back and forth, and Pingxiang Station became an important hub for the intercontinental railway transportation line from Eastern Europe to Southeast Asia.
Since the journey time for Hanoi - Beijing is too long, most of the travelers will only take the train from Hanoi to Nanning, then connect China high speed train or domestic flight from Nanning to Beijing.
The travel distance for this route is about 400km and takes around 12 hours. Only soft sleepers are set on the train, one cabin contains 4 berths, the carriages are air conditioned. Toilet, hand sink, water heater, pillow and blanket are available. The ticket fare is around USD45 one way. One thing to notice is that the train departs from Gia Lam station in Hanoi, which is a little far to the city center. Passengers need to get off the train with their luggage for immigration inspection at Dong Dang (Vietnam) and Pingxiang (China).
Hanoi to Nanning Train Schedule (MR2 - T8702)
Country
Train No.
Station
Arr. Time
Dep. Time
Vietnam
MR2
Hanoi (Gia Lam)
-
21:40
Bac Giang
23:39
23:42
Dong Dang
03:00+
04:09
China
T8702
Pingxiang
04:41
06:31
Chongzuo
08:10
08:16
Nanning (Nam Ninh)
10:10
-
Nanning to Hanoi Train Schedule (T8701-MR2)
| | | | | |
| --- | --- | --- | --- | --- |
| Country | Train No. | Station | Arr. Time | Dep. Time |
| China | T8701 | Nanning (Nam Ninh) | - | 18:05 |
| | | Chongzuo | 20:11 | 20:17 |
| | | Pingxiang | 22:10 | 23:41 |
| Vietnam | MR1 | Dong Dang | 00:22+ | 02:55 |
| | | Bac Giang | 05:33 | 05:36 |
| | | Hanoi (Gia Lam) | 06:30 | - |
Lao Cai (Vietnam) - Hekou (China) - Kunming (China)

Lao Cai in Vietnam and Hekou in China face each other over the Red River. The two cities are at the junction of the Red River and the Nanxi River. Hekou Port is the transportation hub of the Yunnan-Vietnam Railway, Kunhe Highway, and Red River Channel. It is the most convenient land route from southwest China to Southeast Asia and the South Pacific.

Now, travelers could cross the border at Lao Cai Vietnam to Hekou, China. From Hekou, you could take high speed train to Kunming to start your China trip, this line was developed from the historical Vietnam - Yunnan Train, which was originally built from Haiphong (Vietnam) - Kunming (China) by France during 1904-1910.

Border Opening Times (China is one hour ahead of Vietnam)

Vietnam Time: 07:00-22:00
China Time: 08:00-23:00

Time Table for Hekou to Kunming Train
(Updated on Aug 20, 2020)

Train No.
Departure
Arrival
Train Type
Ticket Fare
C8332
08:10
12:29
High Speed Train
USD14 for 2nd Class Seat
USD23 for 1st Class Seat
C8336
13:00
17:25
C8340
18:02
21:59
K9826
09:00
16:16
Normal Train
USD8 for Hard Seat
USD13 for Soft Seat
- Last modified on Nov. 18, 2020 -