Kaili Attractions - Things to Do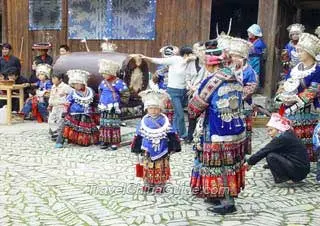 Langde Miao Village
Top Things to Do

Flying Clouds Cliff


Langde Miao Ethnic Minority Village


Leigongshan Nature Reserve


Sunday Market


Xijiang Qianhu Miao Village


Zhenyuan Ancient Town
Lying in the southeastern area of Guizhou Province, Kaili City is a living quarter of the Miao ethnic minority. So it is a nice place to learn about the culture and life of the Miao people. However, as a tourist destination, this city also boasts its natural landscapes, karst landform and the ancient architecture.
Located in the southeastern area of Kaili, the Langde Miao Ethnic Minority Village and Xijiang Qianhu Miao Village are two top sightseeing sites for visitors to savor the unique Miao ethnic culture. Here visitors will receive a special welcoming ceremony from the hospitable Miao people. During the ceremony, a series of ethnic customs such as Miao dancing and folk musical instruments performance will be presented whilst visitors are usually invited to dance and drink with the local people. In addition, the Miao style houses namely 'Diaojiaolou' represents the typical feature of Miao's architecture. Still, if you want to know more about the local ethnic minorities, the Kaili Ethnic Museum will be a good choice.
Natural landscapes around here also deserve your traveling. If you would like to view the mountain, you can go to the Leigongshan Nature Reserve in Leishan County, southeast to Kaili. On the mountain, you can admire the highest peak of southeastern Guizhou Province. Covering an area of nearly 17 square miles, the nature reserve is rich in species of animals and plants. If you like to appreciate the local waterscape, you will feel satisfaction at the Wuyang River Scenic Area. Spanning Huangping, Shibing and Zhenyuan counties, the Wuyang River (main waterway) is 21.7 miles long. Traveling in the river by boat and admiring the riverside scenery is really fantastic.
| | |
| --- | --- |
| Xijiang Qianhu Miao Village | Local Sunday Market |
Since the karst landform here is another typical feature, you are suggested to have a view of the Yudong Karst Cave, only two hours by car from Kaili. Discovered in 1984, the cave is about five miles long. Now 1.2-mile long section has been explored and opened to the public. The stalactites, stalagmites and cave flowers inside the cave are rather amazing.

Traveling in this city, you will find there are much ancient architecture built in the Ming (1368-1644) and Qing (1644-1911) dynasties, including the Dage Park, the Flying Clouds Cliff, the Zhenyuan Ancient Town and the Black Dragon Cave to the east of the town.

Finally, do not forget to pay a visit to the local Sunday Market. Opening on Sundays, it is a perfect attraction for visitors to browse the local ethnic people's living goods including special foods, herbal remedies and all sorts of decorations.