Ruoergai Grassland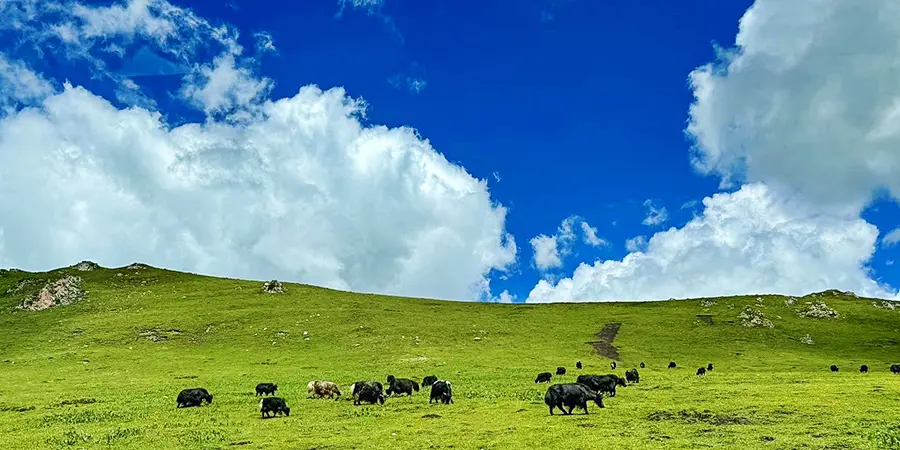 Ruoergai Grassland, Aba, Sichuan
Located in the northwest of Sichuan Province, Ruoergai Grassland covers four counties- Ruoergai, Aba, Hongyuan and Rangtang. Covering over 13,745 square miles, it is the vast home of Zang (Tibetan) People who mainly live on stock farming.
This charming grassland is endowed with a unique peace and harmony. Even the
Yellow River
turns its first bend here to glance at its beauty. Countless small lakes are scattered all over like stars. Galloping a horse across the vast land, you will feel that you are the master of this amazing land. The wind brings you a good smell of grass. At sunset, the shepherds call back their sheep and cows. The poetic idyll resounds everywhere creating the most wonderful melody in the grassland.
Have you ever seen pieces of pretty flowers blooming in the water? If not, please come to
Flower Lake
(Huahu Lake) which is about 25 miles northwest of Ruoergai County. It is a vast lake dotted in the wetland areas. Every August, the grass in it comes into beautiful blooms, which gives the lake its name. The calm water sparkles in the sunlight. Although it looks shallow, the lake has a deep marsh below the surface. Across the lake, there is a wooden bridge designed for visitors to take pictures. The blacked-necked cranes, one of the rare birds in China, fall in love with this fairyland and make it their home for a long time.
Besides the charming natural scenery, Ruoergai Grassland has witnessed and recorded the touching stories of the Red Army when they passed here during the Long March, which in turn makes the grassland famous at home and abroad.
The best time to visit the grassland is the summer time in May to June. During that time, everywhere is green and it is the flower phase. Besides, in the middle September, the leaves begin to turn red and red color spread from the top of the mountain to the bottom of the valley. One will surely be absorbed by the wonderland.

Transportation
Everyday there are two to four buses available from Chengdu Chadianzi Bus Station to Ruoergai County and the departure time is around 07:00 to 08:00. The duration on the way is about 12 hours. Then from Ruoergai, one can hire a local car to visit different attractions.

Or visitors can fly to reach Jiuzhaigou Jiuhuang Airport and then hire a local taxi to reach Songpan County. The taxi from the airport to Songpan is around CNY90 and takes about 50 to 60 minutes. Then from Songpan, one can choose to take the direct bus or hire a car to reach Ruosergai. The bus leaving for Ruoergai from is around 07:00 at both Songpan Bus Station and Aba Transportation Company Bus Station and the ticket fare is around CNY35. If hiring a car, the fare is around CNY200 to CNY400.

The bus from Jiuzhaigou to Ruoergai is always changeable [do you mean it does not follow a schedule?]. If one intends to take the bus, it is suggested to go to Jiuzhaigou Bus Station to confirm it. Or one can take a bus to reach Songpan County first and then change bus to reach Ruoergai County.



Tips:
1. Ruoergai Grassland measures 11,483 feet above sea level on average. Please be sure to bring warm clothes and raincoat before setting off. Besides, the sunglasses and sun cream are necessary during day time. It is suggested to keep attention on the weather forecast before going there. During periods of continual rainy days, the roads to the grassland may be damaged by the rains, so that visitors may not be able to go.
2. Do not get too close to Huahu Lake (Flower Lake) or you might get stuck in the mud! Do not get too close to flowers in order to prevent hay fever.
3. The best time to photograph the Yellow River's First Bend is just at the sunset.
4. When riding a horse on the grassland, it is recommended to wear long trousers. Please do not take your valuable items such as cameras. If it is the first time to ride a horse, one may need to be accompanied by groom.
5. For accommodation, visitors traveling there can choose to live in Ruoergai County. The three-star Shang Ba La Hotel in Ruoergai County is one of best hotels and one can taste authentic Tibetan and Sichuan Cuisine there. If one plans to live at Yellow River's First Bend area, there are tents which charges around CNY30 to CNY40 per person.
- Last updated on Jul. 11, 2022 -
Questions & Answers on Ruoergai Grassland
Asked by Marek Fenners from BELGIUM | Jul. 22, 2018 09:09

Reply
At what times does the bus from Songpan to Zoige leave?
What is the best way to visit the ruoergai grasslands while staying in Zoige?
Answers (1)
Answered by Mark from USA | Jul. 23, 2018 00:57

0

0

Reply
The departure time is at 10:00 and 14:30. In fact, the best way is to hire a car or ride a bicycle.
Asked by Carys from UNITED KINGDOM | May. 12, 2015 07:06

Reply
What time is the morning bus from Ruoergai/Zoige to Chengdu?
And which bus station does it go from?
Answers (1)
Answered by Alan from INDIA | May. 12, 2015 20:45

0

0

Reply
You need to hire a car or van from the grassland to Ruoergai County first. At the Ruoergai Passenger Transport Center, buses to Chengdu are scheduled at 07:10, 07:15 and 07:20 in the morning.