Century Sun

Rate & Booking

Discount Cruise Rate in 2020 (Based on double occupancy)
Season
High Season
(May, Sep, Oct)
Shoulder Season
(Jan, Feb, Mar, Apr, Jun, Jul, Aug, Nov)
Downstream
USD379.00
USD349.00
Upstream
USD379.00
USD349.00
Free Inquiry

Cruise Itinerary

Downstream: Chongqing - Yichang (Sailing Date 2020)
4DAYS /3NIGHTS DOWNSTREAM ITINERARY (Chongqing -> Yichang) 
Day
Times
Events
1
16:30-20:00 pm
Depart Chongqing
2
15:00-17:30 pm

Shore excursion to the Shibaozhai.

3
11:00-16:30 pm
Sailing through the Qutang Gorge and the Wu Gorge; Excursion to Shennv stream.
4
8:00 am
Disembark at Maoping Port
08:00-11:00 am
Excursion to the Three Gorges Dam site, bus transfer to Yichang
12:30 am
Say goodbye at the Three Gorges Tourist Center in Yichang city

Upstream: Yichang - Chongqing (Sailing Date 2020)
5 DAYS/4 NIGHTS UPSTREAM ITINERARY (Yichang -> Chongqing )
Day
Times
Events
1
19:00-21:30
Take free shuttle bus from Yichang City to Maoping Port; Pre-boarding and Reception
2
08:30-11:30 am
Excursion to the Three Gorges Dam Site
11:30 am
Depart Maoping Port
20:30 pm
Captain's Welcome Party
3
07:30 am-15:00 pm
Sailing through the Wu Gorge; Visit the Shennv stream; Sail through the Qutang Gorge.
4
08:30-11:00 am
Shore excursion to the Shibaozhai
5
08:30 am
Disembark Chongqing

Cruise Ship Information
The super 5-star Century Sun cruise ship, having a capacity of 306 passengers, at a length of 126.80 meters, width at 17.20 meters, it offers all of the comfort and amenities you would expect from a 5-Star hotel. This well-decorated ship, in a classic and elegant style as a whole, has a magnificent 5-storey transparent revolving lobby, the best quality tablewares from Europe and American, spacious all-outsides cabins, simple but comfortable European style bathroom, separate riverview balcony and other necessary facilities. Guests can not only enjoy the customary western-style buffet meals, but also the delicious Chinese-style dishes as well. Under the international standards of comfort and service, Century Sun cruise ship can ensure you every comfort during the cruise at anytime. Furthermore, guests can appreciate the beautiful scenery at daytime since all the attractions are passed during the day.


2020 Sailing Date: Chongqing - Yichang (Downstream), Yichang - Chongqing (Upstream)

Fact-Sheet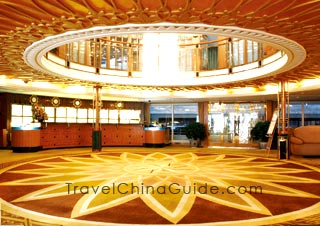 Entered Service:
2005
Passenger Capacity:
264
Star-Rating:
5-star
Deluxe Cabins:
143
Deluxe Suite:
6
Electricity:
220V
Junior Suite:
4

Deck Plans
Second Floor (Upper Deck): Reception Desk, Dining-Room, Souvenir Shop, Public Washroom, Deluxe Cabins
Third Floor (Promenade Deck): Business Center, Internet Bar, Reading Room, Conference Room, Clinic, Deluxe Cabins, Junior Suites
Fourth Floor (Bridge Deck): Deluxe Cabins, Deluxe Suites, Junior Suites
Fifth Floor (Recreation Deck): Multi-Function Hall, Cafe, Card Room, Beauty Salon, Massage Room, Gym Room, Deluxe Cabins, Deluxe Suites
Six Floor (View Deck): Sun Deck, Beer House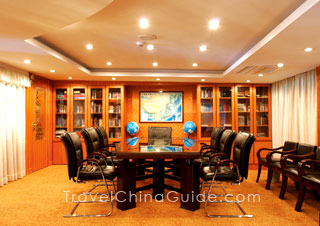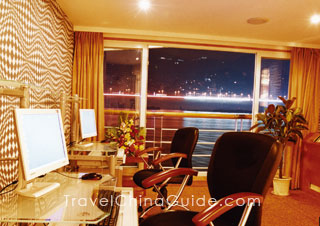 On-Board Service

Cabins
264 with outer balconies; 4 Junior Suites, 6 Deluxe Suites
All cabins have private bathroom with shower, hair dryer, A/C, TV and ship phone, mini refrigerator
Deluxe Cabin: 143, one bedroom with private bathroom and balcony; area:25.9 sqm
Junior Suite: 4, one bedroom with private bathroom and balcony; area:30 sqm
Deluxe Suite: 6, one bedroom, one sitting room with private bathroom and balcony; area:35.6 sqm
Safety deposit box are available at the front desk.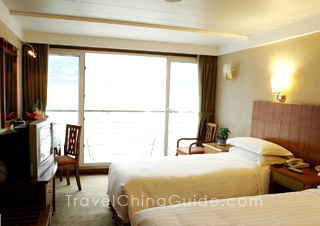 Cabin Facilities
Room: Radio, Satellite Phone, Color TV-set, Mini Refrigerator, Mini Bar, Shower, Balcony

Meals
Breakfast: Chinese and Western style buffet
Lunch: Chinese and Western style buffet
Dinner: Chinese and Western style buffet