China Embassy in Albania

Visa Application Form of PRC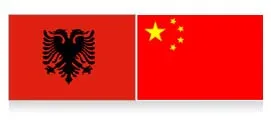 Ambassador: Mr. Zhou Ding
Address: No. 57 Skenderbej Road, Tirana, Albania
Tel: +355-4-2232385
Fax: +355-4-2233159
Email: chinaemb_al@mfa.gov.cn

Consular Office of Chinese Embassy in Albania
Tel: +355-4-2232385

Economic and Commercial Counselor's Office
Tel: +355-4-2232077, 2253505
Fax: +355-4-2232077
E-mail: al@mofcom.gov.cn

Defense Attaché Office
Tel: +355-4-2230490

Note: Albanian citizens are exempt from visa fees according to the Agreement with China.



People: The total population of Albania is 3,135,000. Albanians, the principal ethnic group of the country, constitute nearly 98 percent of the population, especially as distinguished from Greeks, Macedonians, Serbs, Croatians and other minorities.



Language: Albanian



Religion: Muslim 70%, Albanian Orthodox 20%, Roman Catholic 10%



Geography: This state is about 28,748 square kilometers in the area. It lies in the west bank of the southeastern region of the Balkan Peninsula. It shares a border with Montenegro to the northwest, Serbia to the northeast, Macedonia to the east, and Greece to the southeast. In the west, it is situated along the Adriatic Sea, and faces Italy across Strait of Otranto. The terrain in the country is predominantly mountainous, but there is plain along the coastline with Adriatic Sea.



Climate: Subtropical Mediterranean Climate, temperate, wet, cool, mild, dry and hot summers.



Big Cities:

Tirana is the capital and largest city as well as the political, economic and cultural center. It was originally built in 1614, and was appointed to be the capital in 1920. During the Second World War, it is the significant center of National Liberation Movement. Scanderbeg Statue and Ancient Mosque in the city center are the landmark buildings in Tirana. Here there are three universities, academies of scientists, cultural palaces, history museums and international culture center. The Rinas Airport is the only international airport all over the country.
Durres, the second largest city, lies in the shore of Adriatic Sea. Here its biggest seaport handles 90 percent of maritime transportation. First constructed in 627 BC, it is one of the oldest cities in the country. This city in its long history has several times destroyed in earthquake and then rebuilt. Now it preserves the cultural relics of ancient city wall and Colosseum.



Please contact Embassy of Albania in China if Albanians are in distress there.



Related China Embassies in Europe: Andorra, Austria, Belarus
- Last modified on Oct. 29, 2020 -
Questions & Answers on China Embassy in Albania
Asked by SHEILA Bishop from UNITED KINGDOM | Oct. 02, 2018 03:33

Reply
Can UK passport holder get visa for China from the embassy in Tirana?
Answers (1)
Answered by Abraham from FINLAND | Oct. 08, 2018 01:11

0

0

Reply
It's possible for you to apply from there. You can have a try.
Asked by charles johnstone from BRITISH | Jan. 08, 2015 01:12

Reply
I have a British passport. do I need a visa to visit your China?
Answers (1)
Answered by shirley from AUSTRIA | Jan. 09, 2015 01:47

1

0

Reply
Charles, if you want to travel in mainland China, you will need to get one L type. If you are travelling to Hong Kong and Macau, then it is not necessary for you to get it if you stay for less than 180 days.
Asked by Erdemchimeg from MONGOLIA | Apr. 15, 2012 20:26

Reply
How much is visa fee of ALbania for ordinary and official passport?
Answers (1)
Answered by Bobby | Apr. 16, 2012 02:25

0

1

Reply
The visa fee is 30 Euros no matter for ordinary or official passport holders.
Asked by Mr.Rrustem from KOSOVO | Apr. 28, 2011 06:32

Reply
hello.my friend has a trade company in china. He invets me to visit. l want a lot go there. But l am citizen of Kosovo. l have Kosovo passport. l heard that the embassy dosent't give visa to any Kosovo passport. l don't know if that is true or not. If my friend send me invitation letter, can l take visa? The best regards,
Answers (1)
Answered by Ms.NANCYMOON from MACAU | Apr. 29, 2011 03:12

0

1

Reply
I also hear that too, they don't issue visa to Kosovo passport holders