China Embassy in Austria

Visa Application Form of PRC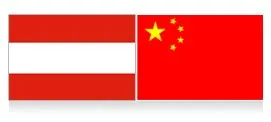 Ambassador: Mr. Zhao Bin
Address: Metternichgasse 4, A-1030 Vienna (Wien), Austria
Tel: +43-1-714314918
Fax: +43-1-7136816
Office Hours: 08:30-11:30, 14:00-16:00, Monday-Friday (except holidays)
Email: chinaemb_at@mfa.gov.cn
Consular Office of Chinese Embassy in Austria
Address: Neulinggasse 29, Stiege 1, 3.Stock, 1030 Vienna (Wien)
Tel: +43-1-7103648
Fax: +43-1-7103770
Manual Telephone: +43-1-710364816 (please call between 09:00-11:00 on Tuesday & Thursday)
Office Hours:
08:30-11:00, 14:00-16:00, Monday, Wednesday (except holidays)
08:30-11:00, Friday (except holidays)
Fees
Regular Fee per Person
| Types | Austrian Citizens | US Citizens | Other Countries |
| --- | --- | --- | --- |
| Single-Entry | EUR 30 | EUR 120 | EUR 33 |
| Double-Entry | EUR 45 | EUR 120 | EUR 50 |
| Multi-Entry with 6-month Validity | EUR 60 | EUR 120 | EUR 70 |
| Multi-Entry with 12-month Validity | EUR 90 | EUR 120 | EUR 100 |
Note:
1. The embassy does not accept Cash as the mean of payment, please pay by Debit Card or Credit Card.
2. The citizens of the following countries are exempt from visa fees: Pakistan, Maldives, Bulgaria, Bosnia and Herzegovina, Poland, Yugoslavia, Slovakia, Romania, Micronesia and Albania.
Expedited Service Fee per Person
The regular processing time is 5 working days. For urgent cases, the expedited service is available. Moreover, additional fees will be paid as following:
| | |
| --- | --- |
| 1 working day processing | EUR 33 |
| 2-3 working days processing | EUR 23 |

Note: The expedited service had been suspended by the embassy of PRC for applicants from some Schengen countries including: Netherlands, Belgium, Luxembourg, Austria, Czech, Denmark, Estonia, Finland, Germany, Greece, Iceland, Norway, Portugal, Spain, Sweden, Switzerland, France. The processing takes at least 5 working days. Please make sure submit applications to the consular office at least two weeks before travel.
2019 Holiday Schedule of the Embassy
| Public Holiday | Date | Day |
| --- | --- | --- |
| New Year's Day | January 1 | Tuesday |
| Chinese New Year | February 5 - 7 | Tuesday - Thursday |
| Easter Day | April 22 | Monday |
| International Labor Day | May 1 | Wednesday |
| Chinese National Day | October 1 | Tuesday |
| Austria National Day | October 26 | Saturday |
| Christmas | December 24 - 26 | Tuesday - Thursday |

Please contact Embassy of Austria in China if Austrians are in distress there.



Related China Embassies in Europe: Belarus, Belgium, Bosnia and Herzegovina
---
Selected Questions and Answers:

Asked by Mr. CHRISTIAN
I am Nigerian citizen, residencing here, I would like to take short visit to China base on varification and tie up business trade proposal, What are my requirment?

Answered by Mr. Leo
A tourist visa is required for your entry into China. Since you are a foreign passport holder, besides the basic documents (valid passport, application form, photo), you should also hold a valid Austrian visa or resident permit. Other materials such as flight tickets, confirmation of hotel reserve and your bank statement of last 3 months may also be required.
---

Asked by Mr. Puhl
Hi, I would like to do a 3 month internship in Hong Kong. I do not need a visa for visits and business for 3 month. But does that include internships? Or do I need an extra visa? Thank you for your Time.



Answered by Mr. Nicholas
You are free of visa to Hk for 90 days not 3 months.
I'm not sure whether that include intership, you can confirm this with the Immigration Department by enquiry hotline at (852) 2824 6111 or by fax at (852) 2877 7711
- Last modified on Mar. 04, 2019 -
Questions & Answers on China Embassy in Austria
Asked by Tim from USA | Mar. 04, 2019 01:37

Reply
Am I able to go to the Munich consulat as it is closer?
Hello,

I am an American residing in Austria. I am going on a study trip to China. Do i need to go to the Consulat in Vienna twice (once to drop of the application and once to pick it up)? Or is there another way for me to do this?

Answers (1)
Answered by Alex from UNITED KINGDOM | Mar. 04, 2019 18:18

0

0

Reply
I think you can go to the CVASC in Austria. Or you can send the application by post.
Asked by Toni Sharma from ÖSTERREICH | Jan. 27, 2019 03:45

Reply
Tourist visa for 4 persons,
We are 4 Austrian (tirol) going to visit peking from 12.4.2019 to 21.4.2019. Do we have to apply all the visa in person or it can be done by post. How much does it cost. It's single entry, entering Peking and back. We are getting different amount, is there a family-friendly price. How to get application form. Would it be problems as I am traveling to peking on same date but on different flight due to reservation problem. Please advice . Thanks
Answers (1)
Answered by Kearns | Jan. 28, 2019 00:10

0

0

Reply
If you apply from the CVASC in Austria, you can submit the application by post. You can find the application form from the official website of the CVASC. There is no family-friendly price, and you need pay 126 per person.
Asked by Ronald Perz from AUSTRIA | Jan. 14, 2019 00:54

Reply
shanghai
Hi. i am Austrian citizen staying in the Philippines right now. From here to Thailand, then Hongkong. Beginning of April I plan to go to Shanghai (for about 8 days). How can I get a visa for China when I am abroad. Regards. Ronald
Answers (1)
Answered by Pierce from FINLAND | Jan. 14, 2019 01:35

0

0

Reply
First, prepare your passport and copy of its data page, the application form, a passport-style photo, round trip air tickets and hotel reservation and others. Next, submit the application to visa office to apply for tourist L type.
Asked by Robert from AUSTRIA | Nov. 14, 2018 08:00

Reply
Austrian visiting Hongkong, Macao, Shenzhen and Zhuhai
I was planning to fly to Shenzhen then visit Hongkong and Macao after that i planned visit Zhuhai.
But there are three different visa-typs, one-time entry, two-time entry and multiple entry.
To be on the safe side i would prefer the multiple entry visa, but i'm not sure if there is any multiple entry one for Austrian tourists?.
Answers (1)
Answered by Randy from RUSSIA | Nov. 14, 2018 19:06

0

0

Reply
There is any multiple entry visa for Austrian tourists. You can apply it from the CVASC in your country before the trip.