China Embassy in Andorra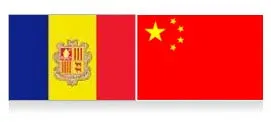 Ambassador: Mr. Wu Haitao (Concurrently Conduct as Chinese Ambassador in Spain)
Address: No. 113, Arturo Soria, 28043 Madrid, Spain
Tel: +34-91-5194242
Fax: +34-91-5192035



Religion: Most of residents are followers of Roman Catholicism.



Language: Catalan is the official language; French and Spanish are the universal languages.



People: It has a population of 66,000. The natives are Catalonians; the majority of foreign immigrants are Spanish, Portuguese and French in the next place.



Geography: Situated in a valley in the eastern Pyrenees, Andorra, is a tiny mountainous nation, nestled between France and Spain. It occupies an area of 468 square kilometers.



Climate: It belongs to mountain climate. The winter is long and cold; snow on high mountains can last as long as eight months. The summer is dry and cool.



Diplomatic Relations: Before the reform of administrative system in 1993, its diplomatic relations were controlled by its suzerains Spain and France. Then it starts to gradually establish and develop external relations.



Economy: Before the 1960s, Andorran residents mainly engaged in stockbreeding and agriculture. They chiefly raised cattle and sheep, and plant potato and tobacco. Then Andorra changed its economic structure, paying more attention to the development of commerce and tourism. This miniature state has neither tariff nor domestic currency. Pesetas and franc circulate freely in Andorra's territory.

Politics: On March 14, 1993, the first constitution was ratified by a popular referendum. The constitution stipulates that Andorra is a parliamentary principality; that Andorra should pay nominal yearly homage to France and Spain.



Related China Embassies in Europe: Austria, Belarus, Belgium
---

Selected Questions and Answers:

Asked by Mr. y.abuomar(Andorra)
Hi There, I'm citizen of Andorra living in the uk /london, just wondering what do i need to do in order to get the visa? Thanks in advance

Answered by Mr. Phelps (Iran)
You have to provide the following documents:
1. A passport, which must have at least six months validity period left before expiration
2. A duly filled application form with a passport-sized photo affixed
3. Confirmed hotel reserve and round-trip flight ticket
4. A valid UK visa or resident permit
---

Asked by Mr. Ron Driscoll(Andorra)
I am planning a trip for my wife and myself to China in October/November 2009. we will fly into HongKong on 22nd October. We then plan to travel by Rail from HK to Beijing, then from Beijing to Xi'an, then Xi'an to Shanghai and finally Shanghai to HK. Dates of train journeys cannot be confirmed as I understand I can only try and book a ticket 3 days in advance of each train journey. Therefore, I also cannot confirm hotel bookings. Is this going to be a problem when I try and apply for our Visas?



Answered by Mrs.Wang
Sometimes, that may be kind of obstacles to your application. I advise you contact the consular office where you plan to apply for it to get an exact answer for this and ask for some practical help if possible.
- Last updated on Mar. 31, 2023 by Brenda Lian -
Questions & Answers on China Embassy in Andorra
Asked by Patrick from ANDORRA | May. 23, 2018 10:10

Reply
Swiss citizen living in Andorra needs China tourist visa
We are planning a trip to China in November this year and are Swiss citizens living in Andorra. Where must we apply for a Chinese entry permit and what are the required documents?
Many thanks
Patrick
Answers (1)
Answered by Khaleesi from UK | May. 23, 2018 22:37

0

0

Reply
Patrick, you could make the application from the CVASC in Spain, you need to provide a filled-out application form affixed with a passport-style photo, your passport and its photocopy, residence permit in there, round trip air tickets and hotel reservation.