China Embassy in Eritrea

Visa Application Form of PRC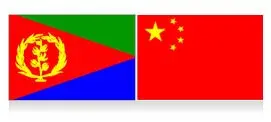 Ambassador: Mr. Cai Ge
Address: No. 16, Abo Street, Zone 3, Administration 02, Asmara, State of Eritrea
Mailing Address: P. O. Box 204, Asmara, State of Eritrea
Tel: +291-1-185271 (Administrative Office)
+291-1-185273 (On-duty Office)
+291-1-185272 (Press Office)
Fax: +291-1-189361
Email: chinaemb_er@mfa.gov.cn
Office Hours: 09:00-12:00, 14:00-17:00 from Mon. to Fri. (except holidays)
Economic & Commercial Counselor's Office of Chinese Embassy in Eritrea
Address: No.137, Ribda Street, Administration Tiravollo, Asmara, Eritrea (P.O.Box 204)
Counselor: Mr. Wang Lipei
Tel: 00291-1-155009
Secretary:
Mr. Zhu Zhe (00291-1-155010)
Mr. Zhang Ruijuan (00291-1-155011)
Fax: 00291-1-155025
Email: er@mofcom.gov.cn



Brief Intro
The State of Eritrea is situated in the northeast of Africa, off the Red Sea in the east. Plateaus make up the most part of country, endowing it an elevation if 2,000 meters above the sea level. Long and narrow area along the coast belongs to desert lowland. The temperature varies greatly in different regions. The annual average temperate is about 17℃ (62.6℉) in plateau, 30℃ (86℉) in Red Sea Coast, and even 50℃ (122℉) in southeastern hollow area which is some of the highest temperatures in the world. The rainfall is also unbalanced. Plateau area has much rain than that depression area. June to September is the rainy season.
Neighboring countries: Ethiopia, Sudan, Djibouti
Land Area: about 125,000 square kilometers (48,263 square miles)
Capital: Asmara
Time: It is 3 hours earlier than GMT and 5 hours later than Beijing Time.
Language: There are nine main language groups in Eritrea. Tigrinya, Arabic and English are official languages.
Major Religions: Islam, Christianism (mainly Orthodox)
Currency: cent, nakfa



Notices for Chinese Going to Eritrea
1. Chinese citizens should hold passport valid for six months and above, together with visa, a recent passport type picture and application fee (about $50).
2. Notes should be attached for diplomatic travel and invitation is a must for business travel. You should have to wait at least three working days for the visa which is valid for two months from the date of issuance.
3. Visa can be only extended or renewed two times in national and passport office of local immigration bureau. The address is P.O. Box 250 – Immigration, National and Passport Office, Asmara, Eritrea. A picture and some fees paid in USD or EUR.
4. Officially appointed entries: Asmara International Airport and Assab International Airport. Some 20 USD or EUR of tax should be paid before leaving the Asmara airport. Please confirm the certain amount of tax in the airport.
5. There are at least 20 bus and minibus lines serving in the capital city. Long-distance bus are available from the capital to other cities and towns.



Please contact Embassy of Eritrea in China if Eritreans are in troubles there.



Related China Embassies in Africa: Ethiopia, Gabon, Ghana
- Last modified on Oct. 27, 2020 -
Questions & Answers on China Embassy in Eritrea
Asked by desbele from ERITREA | Jul. 17, 2018 07:30

Reply
I am an eritrean, i need to visit china what are the visa requirements
Answers (1)
Answered by Camden from USA | Jul. 17, 2018 20:28

0

0

Reply
If you go there for sightseeing purpose, you should prepare your passport and copy of its data page, the application form, a passport-style photo, round trip air tickets and hotel reservation.
Asked by Osama from ERITREA | Mar. 06, 2014 21:57

Reply
Papers needed for Visa/confirmation
Hello,

I'm Eritrean and got a work contract papers from a company in china, currently i'm visiting china and will go back to Eritrea to do my papers.

My question is, do i need to sign the contract from Eritrean Embassy in China or other special requests?
Answers (1)
Answered by Ray from CANADA | Mar. 07, 2014 02:22

0

0

Reply
Hi, have you got work permit/Employment certificate and invitation letter issued by relevant Chinese entity? if yes, these documents are enough for work Z application. I have never heard of the need to sign the contract from your embassy in China.
Asked by khewanit from SUDAN | Aug. 19, 2011 06:32

Reply
I am an eritrean, admitted to a chinese university, what are the visa requirements
Answers (1)
Answered by Ms.ENID from CHINA | Aug. 20, 2011 21:14

0

0

Reply
1. Your passport with blank pages and at least 6 months validity left before expiration.
2. A truly and completely filled application form affixed with one passport-size or 2x2 colored photo.
3. An original admission notice from the Chinese school is required.
4. X Visa applicant (will study for more than 6 months) shall also provide an approved Foreign Student Visa Application Form (JW101 or JW202) issued by the Chinese authorized unit or the Ministry of Education.
5. The applicant who will study in China for more than 6 months shall also provide a Physical Examination Certificate for Foreign Citizen (Forms and the lists of designated hospital are available at the visa counter).
6. Other documents required by the visa officers if necessary.