China Embassy in Latvia

Visa Application Form of PRC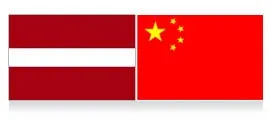 Ambassador: Mr. Yang Guoqiang
Address: 5 Ganibu Dambis iela, Riga, LV 1045, Latvia
Tel: Switch Board +37-1-6735023/67357024
through local operator during 09:00 - 12:00, and 14:00 - 17: 00 on working days
Fax: +37-1-67357025/67323263
Email: chinaemb_lv@mfa.gov.cn
Consular Office of Chinese Embassy in Latvia
Address: 5 Ganibu Dambis Street, Riga, LV 1045, Latvia
Tel: +37-1-67509127/67357023
Fax: +37-1-67357025/67357024
Office Hours:
Monday & Friday: 09:00-12:00
Wednesday: 14:30-16:30
Note: The consulate office will be closed during holidays.
Transportation to Consular Office of Chinese Embassy
You can reach the Consular Office of Chinese Embassy by bus No. 1 and No. 19, by trams No. 5 and No. 9, or by bus No. 2 and No. 24. Please get off at Petersalas Iela Stop for city-bound direction and at Ganibu Dambis Iela Stop for an opposite direction of the city, then walk along the street about 200 meters northeast.
Brief Intro
Latvia is situated in the west region of East European Plain, neighboring the Baltic Sea to its west. There are many lakes and swamps. Climatic features intermediate between Oceanic and continental climates.
Neighboring Countries: Estonia, Russia, Lithuania, Belarus
Land Area: about 62,050 square kilometers (23,958 square miles)
Capital: Riga
Time: It is 2 hours later than GMT and 10 hours later than Beijing Time.
Official Language: Latvian (More than 95% of the residents can understand Russian and English is also used.)
Major Religions: Roman Catholic and Russian Orthodox
Currency: santimi, lat
Important Holidays
New Year's Day (January 1), Easter (late March or early April), Labor Day (May 1), Mother's Day (the second Sunday in May), Summer Solstice (June 23-24), Independence Day (November 18), Christmas (December 25), New Year's Eve (December 31)
Fees
Regular Fee per Person
Types
Latvian Citizens
American Citizens
Third Country Citizens
Single-Entry
EUR 60
EUR 105
EUR 30
Double-Entry
EUR 60
EUR 105
EUR 45
Multi-Entry with 6-month Validity
EUR 60
EUR 105
EUR 60
Multi-Entry with 12-month Validity
EUR 60
EUR 105
EUR 90
Group Visa
EUR 48
EUR 88
EUR 24 (Single Entry)
EUR 36 (Double Entry)
Expedited Service Fee per Person
The regular processing time is 5 working days. For urgent cases, the expedited service is available. Moreover, additional fees will be paid as following:
| | |
| --- | --- |
| Next working day processing (Please submit application before 12:00) | EUR 30 |
| Third working day processing | EUR 20 |
Note:
1. All payments needs to be made only by Euros cash.
2. Group one is for tourism groups (no less than 5 people) organized by legally registered Chinese travel agencies.
Notices for Chinese Going to Latvia
1. Latvia has been a member of the Schengen visa area since December 21, 2007. Unless otherwise specified, people with Latvian visa can travel freely in all the 24 member countries of Schengen countries, including Austria, Belgium, Czech Republic, Denmark, Estonia, Finland and many others in Europe.
Schengen business/private/family visa fee: CNY650

2. With valid visa, foreign people can make a stay at most for 90 days and more than 90 days are allowed with a long-term visa/residence permit. The Embassy will make the decision to issue visa 7 days later after receiving all the needed documents. It will be longer (30 days) if some info needs to be renewed.



Please contact Embassy of Latvia in PRC if Latvians are in distress there.



Related China Embassies in Europe: Vilnius, Lithuania, Luxembourg, Macedonia
- Last modified on Sep. 10, 2018 -