China Embassy in Lithuania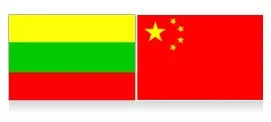 Ambassador: Mr. Shen Zhifei
Address: Algirdo Street 36, Vilnius 03218, Lithuania
Tel: +370-5-2162861, 2162862
Fax: +370-5-2162682

Office Hours
09:00-12:00, 14:00-17:00, Monday-Friday (except holidays)
Email: chinaemb_lt@mfa.gov.cn

Consular Office
Tel/Fax: +370-5-2162972
Office Hours: 09:00-11:30, Tuesday & Thursday (except holidays)

Sections of Chinese Embassy in Lithuania
Sections
Information
Secretary to the Ambassador
Tel: +370-5-2162861, 2162862
Fax: +370-5-2162682
Political Office
Chief: Counselor Guo Zhijun
Tel: +370-5-2162659 (for Cultural & Educational Affairs)
+370-5-2162863 (for Press Affairs)
+370-5-2162972 (for Protocol & Consular Affairs)
Fax: +370-5-2162682
Defense Attaché Office
Chief: Yang Xuguang
Tel: +370-5-2337432
Fax: +370-5-2162682
Commercial Office
Chief: Zhao Qiuyan
Address: Blindziu g.34, 08110 Vilnius, Lithuania
Tel: +370-5-2722375, 2722223
Fax: +370-5-2722161
Email: lt@mofcom.gov.cn
Fees
Regular Fee per Person
| Types | Lithuanian Citizens | American Citizens | Citizens of Other Countries |
| --- | --- | --- | --- |
| Single-Entry with 3-month Validity | USD 42 | USD 140 | USD 30 |
| Double-Entry with 6-month Validity | USD 63 | USD 140 | USD 45 |
| Multi-Entry with 6-month Validity | USD 84 | USD 140 | USD 60 |
| Multi-Entry with 12-month Validity | USD 126 | USD 140 | USD 90 |
| Group Visa | USD 34 | N/A | N/A |
Expedited Service Fee per Person
The regular processing time is 4 working days. For urgent cases, expedited service is available. Moreover, additional fees will be paid as following:
| | |
| --- | --- |
| Second working day collection | USD 20 |

Please contact Embassy of Lithuania in PRC if Lithuanians are in distress there.



Related Chinese Embassies in Europe: Luxembourg, Macedonia, Malta
---

Selected Questions and Answers:

Asked by Ms. Jurgita
Hello, my name is Jurgita Cerniauskaite. I would like to ask couple a question's about Hong Kong visa. In march im fligting to Australia via Hong Kong,so i will stop there maybe for a couple hour's and i would like to know or i need to apply for it? Thank u very much

Answered by Mr. Steven
Lithuanian passport holders are free of visa to Hk for 90 days, so you don't need one for your stopover there and if you like you can even move out of the airport.
---

Asked by Mr. Mindaugas
Hello i planing to stay in china Yantai city for 3-4 years to learning in academy, which type is the best? many thanks for your help.



Answered by Mrs. Linda(Malaysia)
You need to apply for student X.
- Last updated on Mar. 31, 2023 by Brenda Lian -
Questions & Answers on China Embassy in Lithuania
Asked by mateo kupstys chica from AUSTRIA | Jan. 10, 2020 04:15

Reply
I'm Lithuanian, travelling to Australia through Shang-hai. Do I need a Visa?
Hello! I'm a Lithuanian living in Austria. I'm travelling to Australia on Feb. 2dn. I travel Vienna-Prage-Shanghai-Melbourne. I don't intend to leave the airport or international area in Shanghai's airport. Do I need a VISA for China? Thank you in advance!
Answers (1)
Answered by Belle from SPAIN | Jan. 12, 2020 19:44

0

0

Reply
If the layover is not more than 144 hours, you don't need a visa.
Asked by john from NIGERIA | Aug. 21, 2019 12:52

Reply
can I apply for china visa with my marriage certificate my wife is Chinese.
can I apply for china visa with my marriage certificate my wife is Chinese but I live in Lithuania my resident permit in china have expired while am outside china.and I want to go to see my wife in china.we married in china.
Answers (2)
Answered by Noah | Aug. 22, 2019 18:40

0

0

Reply
yes, you can apply for the Q visa.
Answered by jonfu71 from NIGERIA | Aug. 27, 2019 00:30

0

0

Reply
what types of documents do I need for q visa thanks.
Asked by Ro from LITHUANIA | Jun. 02, 2019 12:20

Reply
Chinese visa in Vilnius.
How easy or difficult is to open a multi entry commercial visa for 12 months at Chinese embassy in Vilnius for the EU passport holders?
Answers (1)
Answered by Susan from NORWAY | Jun. 02, 2019 23:08

0

0

Reply
It's hard to say because the result is often on a case-by-case basis and yes, it always changes according to the relationship status between the two countries. Generally, it will be not difficult for EU passport holders, especially that you have travelled a lot out of your country.
Asked by Danielius from NORWAY | Mar. 05, 2019 05:16

Reply
Registration
Hello, I was wondering if the Chinese embassy in Lithuania is a drop-in or am i required to register before-hand? If i need to register before-hand, how can i do so? Is there a website i can access or an email address i can contact? What is the procedure of registration? Can a trusted person, such as a relative, can pick up the finished visa? Or perhaps it can be mailed? I Live in Norway currently, but I am still a Lithuanian citizen and I am unable exactly stay for 5 days or so it would take to finish it.
Answers (1)
Answered by May from NETHERLANDS | Mar. 05, 2019 18:54

0

0

Reply
As I know, you don't have to make appointment for the application. You can check the detailed information from the official website of the China embassy. You can find someone to pick up the result on your behalf.
Asked by Jonathan James Matthews from LITHUANIA | Dec. 26, 2018 02:05

Reply
Is the embassy open December 27th, and what times for Consular service,
Answers (1)
Answered by Becci from DENMARK | Dec. 26, 2018 19:00

0

0

Reply
The embassy opens on December 27th, and the Consular Office Hours: 09:00-11:30, Tuesday & Thursday (except holidays)