Embassy of the People's Republic of China in the Kingdom of Morocco

Visa Application Form of PRC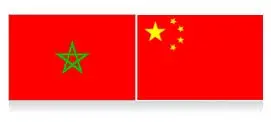 Ambassador: Mr. Gong Yuanxing
Address: 16, Charia Ahmed Balafrej-Souissi-Rabat, Morocco
Tel: +212-37754056
Fax: +212-37757519
Email: chinaemb_ma@mfa.gov.cn

Office Hours:
09:00- 11:30, Monday-Friday (March 15 - April 15, September 15 - October 15)
09:00-11:30, Tuesday-Thursday (Except for March 15 - April 15, September 15 - October 15)



Sections of Chinese Embassy in Morocco
Sections
Information
Cultural Office
Chief: Qi Jianwei
Address: 100, Rue Jaafar Essadiq Appt 3R. Belvedere Agdal-Rabat
Tel: +212-37670286
Economic & Commercial Office
Chief: Counselor Wang Baoyi
Address: 2, Cadi Mekki El Bitaouri Souissi-Rabat
Tel: +2212-37754128, 37752718, 37754940
Fax: +212-37756966
Office Hours: 08:30-12:00, 14:30-17:00
Email: bcecchine@menara.ma
Defense Attaché Office
Chief: Sun Zhengzheng
Consular Office
Tel: +212-37754056, 37754092
Office Hours:
09:00- 11:30, Monday-Friday (March 15 - April 15, September 15 - October 15)
09:00-11:30, Tuesday-Thursday (Except for March 15 - April 15, September 15 - October 15)
Press Office
Tel: +212-37659375

Brief Intro
Morocco is located in northwestern Africa, facing westward to the Atlantic Ocean and northward to the Mediterranean Sea. To its south is the controversial Western Sahara. It enjoys Mediterranean, mountain and desert climates from the north to the south region.
Land Area: about 459,000 square kilometers (177,221 square miles)
Capital: Rabat
Time: It is the same as GMT and 8 hours later than Beijing Time.
Official Language: Arabic (French is also widely spoken.)
Major Religions: Muslim, Christianism, Judaism
Currency: Morocco franc, dirham



Holidays:
Regular holidays: Independence Manifesto (January 11), Labor Day (May 1), Anniversary of King Hassan's Accession (March 3), Youth Day (August 21), Anniversary of the Green March (November 6), Independence Day (November 18)
Islamic festivals: Islamic New Year, the beginning and end of Ramadan
(Around August, clerks in official departments and companies will be on holiday gradually.)



Notices for Chinese Going to Morocco
1. There are ordinary and official (service) visas available. Morocco embassy in China will first send visa applications back for checkup and then hand in to its National Security Counsel for the record. After that, the visa is sent back to China.
2. Domestic currency of Morocco is not allowed to taken in and out of the country. Declaration of foreign currency is not necessary while entering the country, but necessary while leaving. There is no restriction on traveler's checks, bank notes, post checks and credit cards.



Please contact Embassy of Morocco in China if Moroccans are in difficulties there.



Related China Embassies in Africa: Maputo, Mozambique, Windhoek, Namibia, Niamey, Niger