China Embassy in Namibia

Visa Application Form of PRC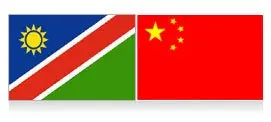 Ambassador: Mr. Zhang Yiming
Address: 28 Hebenstreit Street, Ludwigsdorf, Windhoek (P. O. Box 22777)
Tel: +264-61-402598
24 Hours Service Tel: +264-61-402656 (day time); +246-61-811228200 (24-hour cell phone number)
Fax: +264-61-402655
Office Hours: 08:30-12:00, 14:30-17:00, Monday-Friday (except holidays)
Email: chinaemb_na@mfa.gov.cn
Consular Office of Chinese Embassy in Namibia
Tel: 00264-61-372814
00264-61-372800 (Overseas Chinese Affairs)
Emergency Call: 00264-61-247189
Fax:00264-61-249122
Office Hours: 09:00-11:30, Monday, Wednesday, Friday
Economic & Commercial Counselor's Office
Address: 66 Gevers Street, Windhoek (P.O. Box 21350)
Tel: +264-61-277370
Fax: +264-61-221325

Brief Intro
Located in the southwestern Africa, Namibia belongs to the west part of South African Plateau, bordered on the north by the Atlantic Ocean. It has tropical desert climate. Due to its high altitude, the climate is mild and the temperature varies not great during the year. The annual average temperature is about 20℃ (68℉). There are four seasons: spring (September - November), summer (December – February), autumn (March to May) and winter (June - August).
Land Area: about 824, 269 square kilometers (318,252 square miles)
Capital: Windhoek
Time: It is 1 hour earlier than GMT and 7 hours later than Beijing Time.
Official Language: English (Afrikaans and German are also spoken.)
Major Religions: Christianism (90%)
Currency: cent, Namibia dollar



Holidays:
New Year (January 1), Independence/National Day (March 21), Labor Day (May 1), African Independence Day (May 25), Heroes' Day (August 26), Day of Goodwill (October 7), Human Rights Day (December 10)
Religious festivals: Easter, Ascension Day, Christmas



Notices for Chinese Going to Namibia
1. Namibian embassy in China issues the visa. Hong Kong and Macau citizens with valid passport or round-trip ticket can stay without visas for 30 days.

2. Chinese motor vehicle driver license issued by Chinese traffic authority is recognized in Namibia. But the license holder should get a certificate and then have it attested by Chinese Department of Consular Affairs and their Embassy. After re-attestation in Chinese Embassy there, one can get a local driver license from Namibian traffic departments.



Please contact Embassy of Namibia in China if Namibian citizens are in problems there.



Related China Embassies in Africa: Niger, Nigeria, Rwanda
- Last modified on Dec. 20, 2020 -
Questions & Answers on China Embassy in Namibia
Asked by Courtney from SOUTH AFRICA | Dec. 17, 2020 09:52

Reply
Regarding applying for a visa in a third country
Hello,

I am wanting to get a Z visa to begin my teaching job in China. Currently South Africa's Chinese embassies are not issuing visas. Can I go to Namibia and apply for one?
Answers (1)
Answered by Sean | Dec. 20, 2020 19:26

0

0

Reply
Dear, if you cannot get a visa in South Africa, I'm afraid you can neither get it from Namibia.
Asked by Claudia Till from NAMIBIA | Dec. 02, 2020 01:14

Reply
e mail address
Please send me you e-mail address for the Windhoek embassy
Answers (2)
Answered by Moreen | Dec. 03, 2020 21:56

0

0

Reply
chinaemb_na

mfa.gov.cn
Answered by Cladia Till | Dec. 04, 2020 23:44

0

0

Reply
This email mail address doesn't work

Asked by Hedwig from NAMIBIA | Sep. 09, 2020 11:50

Reply
More about Work visa
When should I apply for a work visa?
How long does it take for me to get it?
How much does it cost?

Answers (1)
Answered by David | Sep. 13, 2020 23:52

0

0

Reply
You can apply for a China work visa after you get the work permit from your Chinese employer.

The normal processing time for a work visa is four working days.

The cost is 1,300 Namibian dollars.
Asked by Julia from NAMIBIA | Jan. 28, 2020 04:48

Reply
Chinese Agency number needed
I am applying for a Chinese Government scholarship and i an required to fill in the Agency number if China to Namibian? Can you help me out or provide me with the contact details of the person i can contact regarding Chinese Government scholarship there at the embassy in Namibia.
Answers (2)
Answered by Chris from NAMIBIA | Feb. 01, 2020 18:51

0

0

Reply
You can call the embassy to inquire about this.
Tel: (+264 61)402598
Answered by Julia mp from NAMIBIAN | Feb. 02, 2020 07:39

0

0

Reply
I tried calling them but no pick up.?I am frustrated because my applications is on hold because of the Agency number neede.