Embassy of the People's Republic of China in the State of Palestine

Visa Application Form of PRC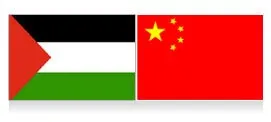 Office of the PRC to the State of Palestine
Chief: Mr. Liu Aizhong (with the title of ambassador)
Address: P. O. Box 1942, Ramallah, Palestine
Tel: +972-2-2951223, +972-59-5776516
Fax: +972-2-2951213, 2951221
Email: chinaemb_ps@mfa.gov.cn



Brief Introduction of the State of Palestine
Martyr Day: January 7. It is to mourn for thousands of Palestinian martyrs who struggled for freedom, independence and glory of the Palestine.

Disaster Day: May 15. Israel declared the establishment of a country on May 14, 1948. In the next day, the first Middle East War between Arab world and Israel broke out. As a result, a great number of Palestinian refugees escaped to other countries. So Palestinians call 'May 15' as the catastrophe to commemorate its national doom and the war of those years.

Geography: Located in the northwest of Asia, Palestine is the crossroads of Europe, Asia and Africa. It is bordered by Lebanon on the north; by Syria and Jordan on the east; by the Sinai Peninsula of Egypt on the southwest and by the Mediterranean Sea on the west.

Climate: It is sub-tropical Mediterranean climate. Summer is hot and dry, and winter is warm and wet. The rainfall in the south and north has a great disparity. The annual average precipitation in the north is 900 mm and 50 mm in the south.



Please contact Embassy of Palestine in China if Palestinians have troubles there.



Related Chinese Embassies in Asia: Manila, Philippines, Doha, Qatar, Saudi Arabia
---
Selected Questions and Answers:

Asked by Mr. ramez
Hi, i hope you can really help and give solution for my case, i am from palestine and i live in kuwait, i used to visit a lot for business and have many orders with many factories and last time before two and half years ago when i am back to kuwait they stamped cancel on my visa and that time i have mutiple entry and still valid, i ask them why no answer, i apply for again from kuwait also rejecet and no give any reason just black list as some says, my questions is: 1- is there any way to solve this problem? 2- if i am really black list so for how long this will be ?

Answered by Mr.Joan
If you are on the black list, you are almost unlikely to get one again. Sorry to say this.
---

Asked by Mr. nilesh (Palestine)
Hi, I am in big problem now. I lost my passport during my visit in china, my return air ticket is for 12 days later, what should I do?

Answered by Mr. Russel(Russia)
Where did you lose your passport, in mainland? You should report the loss to the local public security and contact your embassy there.
---

Asked by Mr. Evan (Palestine)
I have been invited to study Martial Arts for 5 years in Wudang Shan, Hubei. I am not sure what type of Visa to apply for. Would This be Visitor or Business Class as this is not a registered educational institute.

Answered by Mr. Henry
Probably, you should apply for a business (F) for your visit. After your entry, then you can apply for a long-term residence permit.