China Embassy in Serbia

Visa Application Form of PRC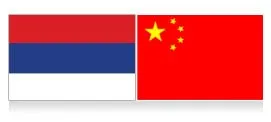 Ambassador: Mr. Li Manchang
Address: Užička 25, 11000 Beograd, Serbia
Tel: +381-11-3695057
Fax: +381-11-3066001
Email: chinaemb_yu@mfa.gov.cn
Consular Office of Chinese Embassy in Serbia
Address: Augusta Cesarca 2V, 11000 Beograd
Tel: +381-11-2067917 (English)
Fax: +381-11-3693163
Working Hours (except holidays):
Tuesday 9:00am - 11:30am 2:00pm - 4:00pm
Wednesday 9:00am - 11:30am
Thursday 9:00am - 11:30am
Notice about the Mutual Visa Exemption between China and Serbia
From 15 January 2017, citizens of Serbia can enter China without a visa for a stay of not exceeding 30 days. Visitors need to bring valid passport, return/onward ticket, accommodation arrangement, and enough travel fees.

However, if they plan to stay for more than 30 days, or they want to study, work, engage in media activities or reside in China, they need to apply for a visa in advance.
Basic Facts of Serbia

Population: 10.7 million (2013)

Religion: Orthodox Church

National Anthem: "Heil, Slav"

National Stone: Coral

Official Language: Serbo

President: Boris Tadic came in at the election on June, 2004 and won a reappointment on February, 2008.

Location: Situated in the north-central area of Balkan Peninsula, Serbia borders Romania on the northeast, Bulgaria on the east, Macedonia on the southeast, Albania on the south, Montenegro on the southwest, Bosnia-Herzegovina on the west and Croatia on the northwest.

Capital: Belgrade lies in the core location of Balkan Peninsula. It stands in the confluence of the Danube and Sava rivers. Because of its location as a portage point, it is the significant liaison between Europe and the Near East. The charming Sava River runs through its downtown and divides Belgrade into two parts. One is the antique old city zone, and the other is the modern city zone with high-rise buildings.

Brief History: From 6th century to 7th century, some Slavs had immigrated to the Balkan Peninsula. After 9th century, a country Serbia was formed and joined the Yugoslavia after the World War One. After the World War Two, it became one of the six republic countries of the Federal Socialist Republic of Yugoslavia. In 1990, the original Yugoslavia started to collapse, and then Serbia and Montenegro constituted the Federal Republic of Yugoslavia in the next year. However, the latter Yugoslavia was renamed Serbia and Montenegro on February 4, 2003. The Republic of Montenegro declared independence on June 3, 2006, so the republic of Serbia claimed to inherit the subject of Serbia and Montenegro in the International Law.

Please contact Embassy of Serbia in China if Serbians are in problems there.



Related China Embassies in Europe: Slovak, Slovenia, Spain
- Last modified on Apr. 11, 2018 -
Questions & Answers on China Embassy in Serbia
Asked by Jelena from SERBIA | Apr. 10, 2018 15:03

Reply
First time in China
Hello, I am about to travler to Shanghai for the first time. As I am finding different information about visa requirements for Serbian citizens, could you please confirm If Serbian passport holders need visa to Enter China.

Thanks in advance,
Jelena
Answers (2)
Answered by Emma from HUNGARY | Apr. 10, 2018 22:24

0

0

Reply
Hi, as I know, Serbian passport holders need visa to enter China.
Answered by Jelena from SERBIA | Apr. 11, 2018 07:25

0

0

Reply
Dear

Emma just checked with Chinese Embassy in Belgrade, actually Serbian citizens do not need visa for a stay up to 30 days. Thanks for your effort.
Asked by Tea from SERBIA | Jan. 24, 2018 03:39

Reply
A non-spousal certificate for marrying a Chinese citizen
Hello. My Chinese boyfriend and I are planning on getting married in March in China. I am currently gathering documents for the wedding and I need to have a non-spousal certificate issued in Serbia. When I visited the office which issues this certificate they gave me a document which indicates my personal information and details and the fact that I haven't been married before. However, there are no information about my fiancee in this document. Is this a good non-spousal document or should I seek some other document? Thank you.
Answers (1)
Answered by Stanley from IRELAND | Jan. 25, 2018 03:10

1

0

Reply
The single status certificate is to prove you are unmarried, so it is ok. There is no need to provide your fiancé in this document.
Asked by joy from THAILAND | Oct. 23, 2017 01:24

Reply
Getting singleness document in serbian embassy
Hi there may i ask if u can process singleness documents there for marriage hust to proof if ur partner which is serbian citizen is free to get married..because my partner keep on insisting its hard to get in his embassy which is serbian embassy his having a hard time he said...
Answers (1)
Answered by Kate from USA | Oct. 23, 2017 02:26

0

0

Reply
Hi, if you want to get married in mainland China, your partner needs to get the single status certificate authenticated from the Chinese embassy in Serbia if he/she is a Serbian.
Asked by John from USA | Sep. 16, 2015 08:19

Reply
Hi- Do Americans need to get visa for China?
Answers (1)
Answered by Andrew from CANADA | Sep. 16, 2015 20:40

0

0

Reply
Yes, in normal cases, they need it.
Asked by arian cazimi from SERBIA | Mar. 19, 2015 14:23

Reply
how much does a tourist visa for a person cost by car?
Hi i am a serbian citizen willing to visit china by car. together with 3 friends of mine i wanna go to kashgar or karamay.
Answers (1)
Answered by Cassie from IRAQ | Mar. 21, 2015 02:30

0

0

Reply
Arian, the cost won't change because you enter by car. It depends on where you apply. From Chinese embassy in your country, it costs USD3 for a single entry L type.