China Embassy in Slovenia

Visa Application Form of PRC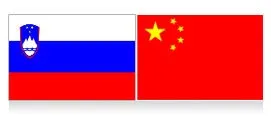 Ambassador: Mr. Wang Shunqing
Address: Koblarjeva 3, 1000 Ljubljana, the Republic of Slovenia
Tel: +386-1-6202507
Fax: +386-1-4202859
Office Hours: 8:00-12:00 & 13:30-16:00 from Monday to Friday
Email: kitajsko.veleposlanistvo@siol.net; chinaemb_si@mfa.gov.cn
Website: http://si.china-embassy.org/eng/

Consular Office of Chinese Embassy in Slovenia
Address: Ob Ljubljanici 12, 1000 Ljubljana, Slovenia
Tel: +386-1-4202855, 6202505
Fax: +386-1-2822199
Office Hours: 8:30a.m.-11:30a.m., from Tuesday to Thursday, except holidays.
Note: please submit application before 11:00a.m., and collection is available only after 11:00a.m. Make sure arrive 10 minutes before your appointment.
Economic and Commercial Counselor's Office
Address: Rozna Dolina Cesta 5/3, 1000 Ljubljana
Office Hours: 08:00-16:00, Monday-Friday
Tel: +386-1-2005870
Fax: +386-1-2005878
Email: ecco@china-embassy.si
Visa Fee
The Embassy does not accept cash as means of payment, so please pay by bank cards on collection.
| Types | Slovenian Citizens | US citizens | Citizens of Other Countries |
| --- | --- | --- | --- |
| Single-Entry | 60 Euros | 117 Euros | 25 Euros |
| Double-Entry | 60 Euros | 117 Euros | 40 Euros |
| Multi-Entry Valid for Six Months | 60 Euros | 117 Euros | 50 Euros |
| Multi-Entry Valid for Twelve Months | 60 Euros | 117 Euros | 75 Euros |
| Group Type | 48 Euros | 100 Euros | 15 Euros |
Processing Time
Please submit application six to eight weeks before departure.
| Service | Time Needed | Fees |
| --- | --- | --- |
| Regular Service | 5 Working Days | Regular Fee |
| Express Service | 2 or 3 Working Days | Additional EURO 15 |
| Rush Service | 1 Working Day | Additional EURO 35 |
Note: If you want to use Rush service, then you should submit your applications before 09:30 am, so that the visa can be picked up from 11:00 am to 11:30 am.
Important Notice about Application
From Nov. 1st, 2013, all applicants are required make an appointment for submitting the application via email: vizatermin@gmail.com, and they should visit the embassy on the confirmed date. Details such as full name, passport number, documents showing the desired date for application should be included.

Please contact Embassy of Slovenia in PRC if Slovenians are in problems there.



Related Chinese Embassies in Europe: Madrid, Spain, Sweden, Switzerland
---
Selected Questions and Answers:

Asked by Dani
Hello! I'm slovenian citizen and im going in february to visit my friend who lives and works in a city near Shanghai. In between of my staying there i will travel to Thailand. I'm going to get a Double-Entry, so i can get back to mainland from Thailand, and now i would like to get a information from you, if i can get a certificate from my friend, that i will be staying at his place, if that's enough and for how long can i be there, how long my doble-entry visa is valid?

Answered by Mr. David
If you'll stay at your friend's, you need to provide following docuemnts as replacement of hotel reservation: copy of passport and the resident permit of your friend, an invitation letter from your friend stating your passport number, purpose of travel and duration of stay, etc and the basic nfo of your friend. A double-entry one is usually valid for 6 months from the issuing date and the duration of stay for each entry is 30 days. If you want to stay longer, you can extend it when it's going to expire. But you may extend the second entry, for the original one will turn invalid once you extend it.
---

Asked by Mr. Rok
Do I need a visa to Enter Macau?



Answered by Ms. Lilian
No, you can visit Macau freely for no more than 90 days for sightseeing, visiting friends or minor personal affairs.
- Last modified on Oct. 29, 2020 -
Questions & Answers on China Embassy in Slovenia
Asked by David from SLOVENIA | Aug. 19, 2019 03:29

Reply
Is it possible to arrange a tourist visa to China in 4 weeks?
My family and I (3 of us) are planning to visit at the end of September. We live in Slovenia. My daughter and I have Australian passports, my wife has a Slovenian passport. Can we arrange all 3 visas at the consulate in Ljubljana? Can we obtain the visas in 4 weeks?
Answers (1)
Answered by Carl from GERMANY | Aug. 20, 2019 00:30

0

0

Reply
yes, you can apply for the visas at the embassy in Ljubljana. Generally, for the regular visa, the processing time is about 7 working days.
Asked by BRANKO from SERBIA | Jul. 13, 2019 00:36

Reply
Does serbian need resident permeant
Hello, good day. Does Serbias needs residence permit to do study visa in Slovenian Chinese embassy?
Answers (1)
Answered by Rita from USA | Jul. 14, 2019 20:45

0

0

Reply
Branko, in principle, you need residence permit to apply at Chinese Embassy in Solvenia.
Asked by Bojan from SLOVENIA | Sep. 12, 2018 06:58

Reply
Can I apply for Visa without detailed Itinerary in China?
I expect to travel to China in October and/or November, but the exact date has not been confirmed yet. May I already apply for visa without the Itinerary details or do I need to wait until the Itinerary in China will be confirmed? I have already been granted a Chinese entry permit several times before.

Answers (1)
Answered by Jamie from ICELAND | Sep. 12, 2018 19:37

0

0

Reply
Hi, personally I think you should apply for the visa after you confirm the detailed itinerary. If you still have doubts, you can call the China embassy to confirm that beforehand.
Asked by Robin from SLOVENIA | May. 17, 2017 13:17

Reply
Can UK national apply for toutist visa from Consulate in Slovenia
I am a UK national, with temporary residency in Slovenia. Can I apply from Consulate in Ljubljana, or do I have to apply from consulate in UK?
Answers (1)
Answered by Nick from SPAIN | May. 18, 2017 04:09

0

0

Reply
Robin, you can make the application from Consulate in Ljubljana.