Private Itineraries
Unique Services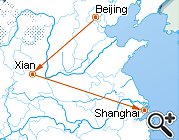 Chinese Culture Learning
ST01:
9 Days China Tours from Manchester UK to Beijing

Xian

Shanghai
Day 1
Manchester - Beijing
For tourists who take China tours from UK, Beijing is always one of the main destinations and frequent regular international flights make it the most often chosen entry gate to China. In addition to the direct flights from London to Beijing, now China Hainan Airlines has a flight HU7904 1225/0505+1 flies from Manchester to Beijing every Monday, Wednesday, Friday and Sunday. The air travel only takes 10.5 hours. Visitors from Edingburgh, Livepool or Newcastle can get to Manchester first, and then fly to Beijing. If you are in Manchester and there is no direct flight on your travel date, you can first take Finnair flight AY934 1024/1510, wait for 3 hours and 10 minutes at Helsinki airport, and then transit to the flight AY051 1820/0655+1 to Beijing. Since Beijing time is 7 hours ahead of Manchester time, you will arrive in Beijing the next day.
Upon arrival, our guide will meet you outside the customs at Beijing Airport, and then transfer you to the downtown 3-star Holiday Inn Express Beijing Temple of Heaven for your 3-night stay. On the way to the hotel, the guide will give you an introduction to this city, including its history, culture and current situation. You are also welcome to share your opinions or ask questions about the city. After checking into the hotel with the help of your guide, you can have a good rest to recover from jet lag for the rest of the day.
Meals: No meals
Accommodation: Holiday Inn Express Beijing Temple of Heaven



Our group visiting the Temple of Heaven
After breakfast in the hotel, your student group China tour from Manchester today will start with the famous
Tiananmen Square
- the largest city square in the world. Following your guide to the north side of the square you will reach the
Forbidden City
. First constructed over 600 years ago, the Forbidden City served as an imperial palace in the Ming and Qing dynasties (the last two feudal dynasties in China) and has now become a grand treasure-house for Chinese history and culture. Around noon, you will have lunch at a good restaurant. On the way to the restaurant, the guide will start a short discussion about the Forbidden City, and you will be encouraged to share your impressions of the royal palace or any ideas about Chinese history.
In the afternoon, you will visit the
Temple of Heaven
, which was a royal altar for the emperors of the Ming and Qing dynasties to worship the god of heaven. Then you will have a chance to experience the extracurricular activity of most Chinese students - flying kites. Kites were invented by the Chinese about 2,000 years ago, and flying kites has been a popular outdoor activity since the Song Dynasty (about 1,000 years ago). Your guide will offer each of you a kite and teach you how to fly it at the Temple of Heaven Park. To help you learn more about the country, we will also arrange a Chinese language learning sessions during the trip when there is some spare time, such as lunch time or during road transfers. Today your guide will teach you some simple greetings in Chinese, such as "Hello" (nǐ hǎo), "Where are you from" (nǐ cóng nǎ lǐ lái), "My name is…" (wǒ jiào…), "Thanks" (xiè xiè), "Welcome to Beijing" (huān yíng dào běi jīng), and so on.
Meals: Breakfast, Lunch
Our clients touring Summer Palace
In the morning, your guide will pick you up at the hotel and take you to visit the
Badaling
section of the Great Wall of China. The Great Wall is one of the world's wonders, and stretches for miles along mountain ranges. You will have sufficient time to take a short hike on the wall and enjoy a KFC lunch box served by TCG. This afternoon, you will visit a martial arts school and learn Chinese Kung Fu. After a welcoming ceremony, the teachers and students of the school will perform a Chinese Kung Fu Show and then teach you some moves of Chinese Kung Fu.
Meals: Breakfast, Lunch
Today's visit begins with the
Summer Palace
, the largest and best-preserved royal garden. After lunch, you will visit a lovely friend - the Giant Panda at
Beijing Zoo
. Then you will take a rickshaw through the narrow
hutongs
(alley) of old Beijing and stop at a courtyard to visit a local family. Different from high skyscrapers and broad avenues, hutongs and courtyards are old and traditional, and keep the original flavor of this city. There are many restaurants and street food stands in the hutongs, so you can take the chance to enjoy some local snacks. Tonight, the guide will see you off at Beijing West Railway Station to catch your overnight train to Xian. The journey takes approximately 12 hours and you will arrive in Xian the next morning.
Meals: Breakfast, Lunch
Accommodation: Overnight soft sleeper train
Terracotta warriors
Your local guide will meet you at the railway station in the morning. You can buy your own breakfast in the KFC or McDonald's near the station before starting today's trip. The tourist bus will take you to the world's eighth wonder - the
Terracotta Warriors and Horses Museum
. As part of the tomb of the First Emperor of the Qin Dynasty, the pottery warriors and horses stood neatly in formation to protect the emperor. After having lunch at a nice restaurant, you will continue your visit to the Great Mosque. Then the rest of day is left for you to sample the local street food and buy some souvenirs on the Muslim Street. Thus, today's Chinese language learning session is about shopping. Your guide will teach you some useful expressions for bargaining, such as "How much" (duō shǎo qián), "It is too expensive" (tài guì le), and "Could you make it cheaper" (pián yì yì diǎn), as well as how to refuse annoying vendors like "No, I don't want it" (bú yào).
Meals: Lunch
Accommodation:
Days Inn City Centre Xi'an



Local vegetable market along City Wall in Xian
Get up early to visit a local vegetable market along the City Wall. The market is also called Dew Market as it only opens in the early morning and is closed by 09:00. All kinds of vegetables, fruits and breakfast snacks can be found in the market, so you can eat a light breakfast in the hotel and have a taste of the local food at the market if you are interested. Then you will go on to visit the landmark building in Xian, the
City Wall
. After learning some background information about the wall, you will have about 1.5 hours free time. You can either take a leisurely walk or rent a bicycle to ride on the wall (the rental charge is not included). Next, you will visit the
Small Wild Goose Pagoda
. Constructed to house the Buddhist scriptures and statues, the pagoda has stood in the city for more than 1,000 years since the Tang Dynasty. At the nearby Jianfu Temple and Xian Museum, you can also see many exhibitions and historical relics. Around noon, you will attend a cooking class with a
local family
to learn how to make one or two Chinese dishes. Lunch is also arranged here so you can enjoy authentic home cooked Chinese meal.
After lunch, you will take a flight to Shanghai. Upon arrival, the local guide will be expecting you outside the luggage area and will transfer you to the 3-star Golden River-view Hotel, which is conveniently located in the downtown area near Shanghai Railway Station, for a two-night stay.
Meals: Breakfast, Lunch
Accommodation:
Golden River-view Hotel



People like Shanghai, even in the freezing winter
After breakfast, you will visit
Shanghai Urban Planning Exhibition Hall
. You will learn how the city developed from a small fishing village into an international metropolis, and about its present situation and future plans. Then you will proceed to the famous
Yuyuan Garden
, which was constructed in 1559 during the Ming Dynasty and is now one of the most famous ancient gardens. At the Yuyuan Market outside the garden, you will find many interesting knick-knacks and local snacks. Around noon, you will enjoy your lunch at a nice restaurant. Then we will transfer you to the Bund area. After our guide's explainations, we will leave you some free time to explore the Bund on your own. Your last destination today is the famous cultural zone. Once a residential area with old houses and an interesting cultural background, it has now been developed into an art zone combining artistic centers, exotic restaurants and bars, where traditional, Chinese styles encounter modern, western styles.
Meals: Breakfast, Lunch
Day 9
Shanghai - Manchester
You memorable student Shanghai tour from UK will come to its end today. We will see you off at the airport for your homebound flight. On the way to the airport, your guide will give you the last Chinese language lesson on ways to say goodbye, such as "Goodbye" (zài jiàn), "Have a good trip" (lǚ tú yú kuài), "Welcome to China again" (huān yíng zài cì lái zhōng guó), and so on. At present, there is still no direct flight from Shanghai to Manchester. You can take Virgin Airlines flight VS251 1150/1645 to London, have a 3-hour stopover there, and then transit to the British Airways flight BA1376 1950/2050 back to Manchester. Although the whole flight journey takes 17 hours, you can still arrive at Manchester intraday due to the 7-hour time difference. We will wish you a nice journey home and hope to welcome you to come back again in the future!

Meals: Breakfast

More Student Itineraries: