Great Traverse of Japan
TJP15: 11 Days Group Tour to Tokyo - Kamakura - Hakone (Mt. Fuji) - Shizuoka - Kusatsu - Nara - Himeji - Hiroshima - Osaka - Kyoto - Osaka
Tour Type:
Group guided tour with a maximum of 40 pax
Transportation:
Air-conditioned van or coach
Accommodation:
Selected 3 to 4 stars hotels
Highlights:
A diverse Tokyo unfolds as we visit its shrines and fashion streets.
Stand on top-rated lookout points to fully enjoy the grace of Mt. Fuji.
Be treated to Japanese food in "Izakaya", an Okonomiyaki dinner, and sake.
Immerse in original Geisha, Ninja, and Sumo cultures.
Mourn the past tragedy of Hiroshima, followed by 1-day free exploration.
This trip can be customized to meet your individual needs!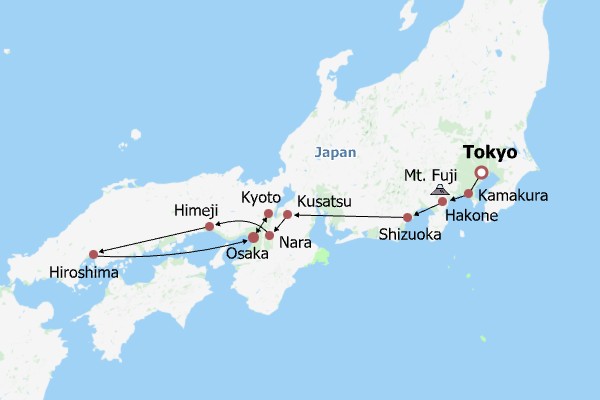 Welcome to take our 11-day group tour in Japan. Upon arrival at the airport, please make you own way to the hotel we've booked for you. Check in after 15:00 and have a rest. Around 18:30, the guide will meet you at the hotel lobby and hand you a brochure introducing our activities in Tokyo.

Your Japan tour starts from a welcome dinner, in an Izakaya or traditional Japanese pub specially arranged for you, where you get to taste authentic Japanese food and familiarize yourself with your guide and other group members.

Meals: Dinner
Accommodation: Kichijoji Tokyu Rei Hotel or similar

Day 2
Tokyo City Highlights: Meiji Jingu Shrine, Tsukiji Market, Takeshita Street
After a hearty breakfast, your guide will meet you at the hotel lobby and then the exciting sightseeing tour starts. Let's join the dynamic life in Tokyo!
First, visit the
Meiji Jingu Shrine
, a Shinto shrine built to commemorate Emperor Meiji (1852-1912 AD), the emperor who led feudal Japan into among the world's greatest powers. Now it is a place for the most celebrated new-year prayer and Japanese Shinto weddings. See if you can come across one!
Next we head to the
Tsukiji Outer Market
, one of Japan's most historic marketplaces. Once a place for wholesale operations, it is now studded with retailing food stalls serving small-sized, already cooked sushi meals or various other traditional food. Enjoy free time having lunch by yourself. If you need recommendations, your guide is glad to help!
An exploration is followed through the
Takeshita Street
, an eye-opening fashion street primarily lined with clothing stores. It's great also just to window-shop, to feast your eyes upon clothes in gothic, Lolita, vintage, or any other styles. After your guide leaves, spend some free time as you like. Hungry? Grab some food in cafes or restaurants, which are cleverly exposing themselves among those shops.
Meals:
Breakfast
Accommodation:
Kichijoji Tokyu Rei Hotel or similar
Meiji Shrine
Tokyo Street Scene
Day 3
Tokyo - Kamakura - Hakone (Mt. Fuji) - Shizuoka
Today we will travel southwest to Shizuoka, a city on the coast by the Pacific Ocean famous for its tea fields and mountain sceneries. Along the way, we'll make two major stops in Kamakura and Hakone to visit some of Japan's most famous sites.

In the coastal city of Kamakura, see the Great Buddha, the second largest bronze Buddha statue in Japan dating back to 1252 AD, representing Amida Budda. Once plated with gold, it has only traces of gold left on its right cheek due to exposure to sun and rain since its dwelling temple collapsed after a tsunami. For what it has gone through, an air of unique dignity can now be felt.

Continue our drive to Hakone to admire the beauty of Mt. Fuji. We will leave you some free time here to explore the surroundings, and, of course, your guide will recommend places for lunch and to take pictures. Its elegant symmetry, as well as its otherworldly scenery of snow-capped peak, make even the most casual snapshot worth appreciating.

Then continue our drive for about 80 minutes to get to Shizuoka before dusk. Check in at the hotel, enjoy free time exploring wherever that may interest you. For history buffs, the 400-year-old Sunpu Castle ruins is a good place to stroll.

Meals: Breakfast
Accommodation: Associa Shizuoka Hotel or similar
Day 4
Shizuoka - Nihondaira - Kusatsu
From downtown Shizuoka, about 20 minutes' drive will get you to its
Nihondaira Plateau
, an open flat land located on a hillside, 300 meters (984 feet) above the ground. It is among Japan's 100 major tourist attractions to view
Mt. Fuji
. Whenever the weather is clear, Mt. Fuji presents before admirers its endless magnificence in its entirety. Down from the hill, take a stroll at a
tea farm
.
In the afternoon, head towards our next destination, with a stop to visit a
Miso factory
on the way. Miso, the magical key ingredient used in many Japanese dishes you may have tasted, will have its secret unveiled today. Upon arrival at Kusatsu, check in at the hotel. To fill your belly, why not try some more miso-ed food at a nearby restaurant?
Meals:
Breakfast
Accommodation:
Hotel Boston Plaza Kusatsu or similar
Mount Fuji
Geishas in Japan
Day 5
Kusatsu - Iga for Ninja & Sumo Cultures - Nara Park - Himeji
After breakfast, continue our historical and cultural trip in the city of Iga, commonly referred to as Iga Uneo, the birthplace of ninjas, Japanese warriors sent for espionage or other covert missions. You will visit the
Iga-ryu Ninja Museum
, and get to know their mysterious way of life in a typical ninja residence, as well as through their costumes and weapons on display. Next up, head for the
Kehaya-za Sumo Museum
, the best place to learn the culture of sumo wrestling, Japan's national sport. Feel what the real wrestler feels in a full-scale wrestling arena, which must be an unforgettable experience to recall.
Then, drive to Nara. After lunch, enter the
Nara Park
, known for its deer and historical sites, and go northward to its most famous
Great Eastern Temple (Todai-ji Temple)
. Here you are to visit the world's largest wooden Buddha hall and the largest bronze Buddha statue in Japan, which together explain why the temple is a World Cultural Heritage site. Out from the temple, take time to have fun with deer. Sometimes they can be arrogant and indifferent with your crackers, but it's only because they are full, so… chill!
After visits for today, drive for about one and a half hours to Himeji City. Check in at the hotel, and enjoy your free time.
Meals:
Breakfast
Accommodation:
Hotel Nikko Himeji or similar
Nara Park
Great Eastern Temple
Day 6
Himeji - Okayama - Hiroshima
Himeji Castle
, one of the best preserved castle in Japan, was fortunate enough to be spared the destruction from World War II and many other disasters. The castle, with more than eighty buildings within its connected baileys, has been designated as a national treasure of Japan. Its white-plastered outer walls, as well as those multi-layered roofs, would leave you with an elegant aftertaste.
After visiting the Himeji Castle, drive to Okayama to visit
Korakuen Garden
- one of the three most famous gardens in Japan. Created some 300 years ago for the feudal lord of Okayama to relax, it covers everything you can expect from a classical Japanese garden: seasonal flowers or plants, tea plantation and houses, and serene ponds, as well as winding paths.
Then, drive for about 2 hours to Hiroshima and check into the hotel. Tonight, we'll treat you to an
Okonomiyaki dinner
. Okonomiyaki, literally "cooked what you like", looks like pizza but with different ingredients, usually with a good amount of cabbage and grilled meat folded into the batter.
Meals:
Breakfast, Dinner
Accommodation:
Hotel New Hiroden or similar
Okayama Korakuen Garden
Try Japanese Okonomiyaki
Day 7
Hiroshima: Kintaikyo Bridge, Itsukushima Shrine, Peace Memorial Park & Museum
Today, the tour in Hiroshima begins with a visit to the
Kintaikyo Bridge
. As one of the three famous bridges in Japan, it cannot be missed. With a floor upon five great arches, its impressive structure is one of a kind. Then head northeast and cross a span of water by ferry to
Itsukushima Shrine
on
Miyajima Island
, a shrine dedicated to gods controlling seas and storms. It's especially famous for its giant torri gate leading inside, which seems to rise from water during high tide.
After lunch, head northeast still to the
Peace Memorial Park and Museum
, to witness the nightmarish slice of Hiroshima's history created by World War II. Built by Atomic Bomb Dome, the only building that survived the blast of Little Boy, the museum now serves as a reminder for us to loathe war and cherish peace.
Return to hotel after today's tour. The late afternoon is free for you to hang out for night views and dinner.
Meals:
Breakfast
Accommodation:
Hotel New Hiroden or similar
Itsukushima Shrine
Atomic Bomb Dome
Day 8
Free Day in Hiroshima
Hiroshima was not defeated decades ago; instead, it rose from ashes to become an even more vibrant, inclusive city that few can catch up. To let you feel its energy in each of your own way, we would like to leave a day free for your personal arrangements.

List of sights to explore on your free day goes on and on, but one we particularly recommend is Ohkunoshima Rabbit Island. You can take JR train and then a ferry to get there. As its name suggests, it's a cute island of nearly 1,000 harmless wild bunnies. You can beckon to these fuzzy animals with bought rabbit food to feed them, enjoy the beach scenery, and take time to see how people live around here. If you are more of a history buff or an art lover, choose to visit Hiroshima Castle or Hiroshima Museum of Art and Other Galleries. The former is a museum exhibiting Hiroshima's ancient history, and the latter where to find genuine art collections of world-famous artists, like Monet and Picasso.

Meals: Breakfast
Accommodation: Hotel New Hiroden or similar
Day 9
Hiroshima - Kurashiki - Okayama - Osaka
This morning, drive towards Osaka. As Kurashiki and Okayama are located on our way, we are going to tour the cities and stop by to enjoy lunch before continuing. A
sake tasting and museum tour
is followed to allow you to learn about the history of Japanese sake making. Then the trip continues to Osaka. On arrival, check in at the hotel and freshen up. The rest of the day is free for you.
►
Suggested Activities:
Dotonbori is the most bustling food street in Osaka, loved by tourists and locals alike. It's a paradise for foodies to savor authentic Japanese food with a local flavor. Entertainment places like movie theaters and bars are also a feature. If you are a "wandering" soul, stroll here by yourself at your own pace. If you need a guided tour, ask your guide to take you to eat or sightsee in most-picked sites or hidden gems. (If you're interested, please contact us as early as possible to check the availability).
Meals:
Breakfast
Accommodation:
Osaka Tokyu Rei or similar
Day 10
Osaka - Arashiyama - Kyoto - Osaka
This morning, drive about 1 hour for a must-have excursion in Japan's ancient capital of Kyoto, which takes a full day. First, take a stroll through the immersive ever-green
Arashiyama Bamboo Forest
, Kyoto's iconic sight in the west. Besides, the importance of Kyoto in the past means we must not neglect its historical sites. Among those, the most famous two are
Temple of Golden Pavilion (Kinkaku-ji Temple)
and
Pure Water Temple (Kiyomizu-dera Temple)
, both placed among UNESCO World Heritage Sites. Temple of Golden Pavilion is a Zen temple dating back to the 1300s. As gold symbolizes spiritual purity in Buddhism, you are to be as stunned as others by the completely gold-leaf exterior of its top two floors. Hoping for a strong body, good scores in school, or a happy love life? Let divine powers responsible for these things in Pure Water Temple know your wish and bless you.
Temple of the Golden Pavilion
Pure Water Temple
In the afternoon, take a leisurely walk around the famous
Gion district
, which themes around geisha culture. Speaking of Geisha, a mysterious profession in Japan entertaining high social class with art performances, one would visualize in their mind a kimono-wearing girl with red lips against a palely white face. As they work in traditional tea houses in the district, join your guide to see if you can catch a glimpse of them!
Later, get back to Osaka. Let's clink glasses over a
farewell dinner
to commemorate your last night in Japan.
Meals:
Breakfast, Dinner
Accommodation:
Osaka Tokyu Rei or similar
Day 11
Tour End at Osaka or Tokyo
As your 11 days Japan tour comes to a conclusion today, remember to check out in time. To find the best way to the Osaka Kansai Airport, feel free to ask for advice from your guide. Safe travel!
►
If you are going back to Tokyo, you can:
1. Take our coach back to Tokyo at no extra charge, but you should know that our coach will leave very early in the morning and the journey will take about 10 hours.
2. Take the bullet train by yourself from Osaka to Tokyo in 2.5 hours.
Meals:
Breakfast
This trip can be customized to meet your individual needs!
Tour Prices
Christmas & 2024 Special:
12% off
- Book before Dec 31, 2023
Arrival Date
Departure Date
Double Occupancy
Sep 04, 2023
Sep 14, 2023

USD3379

USD2969

Free Inquiry
Sep 18, 2023
Sep 28, 2023

USD3379

USD2969

Free Inquiry
Oct 02, 2023
Oct 12, 2023

USD3379

USD2969

Free Inquiry
Oct 16, 2023
Oct 26, 2023

USD3379

USD2969

Free Inquiry
May 06, 2024
May 16, 2024

USD3519

USD3099

Free Inquiry
May 20, 2024
May 30, 2024

USD3519

USD3099

Free Inquiry
July 15, 2024
July 25, 2024

USD3519

USD3099

Free Inquiry
Sep 16, 2024
Sep 26, 2024

USD3379

USD2969

Free Inquiry
Oct 07, 2024
Oct 17, 2024

USD3379

USD2969

Free Inquiry
Oct 21, 2024
Oct 31, 2024

USD3379

USD2969

Free Inquiry
Prices are per person on twin sharing basis.
The prices in red reflect 12% discount.
Price Includes
Service of English-speaking guide
Shared van or bus with a capacity of 40 pax
Accommodation with daily breakfast at hotels
Meals as specified in the itinerary
Price Excludes
International flight into and out of Japan
Meals not mentioned in the itinerary
Airport pick-up and see-off
Personal expenses
Japan visa fee
Itineraries you may also like: